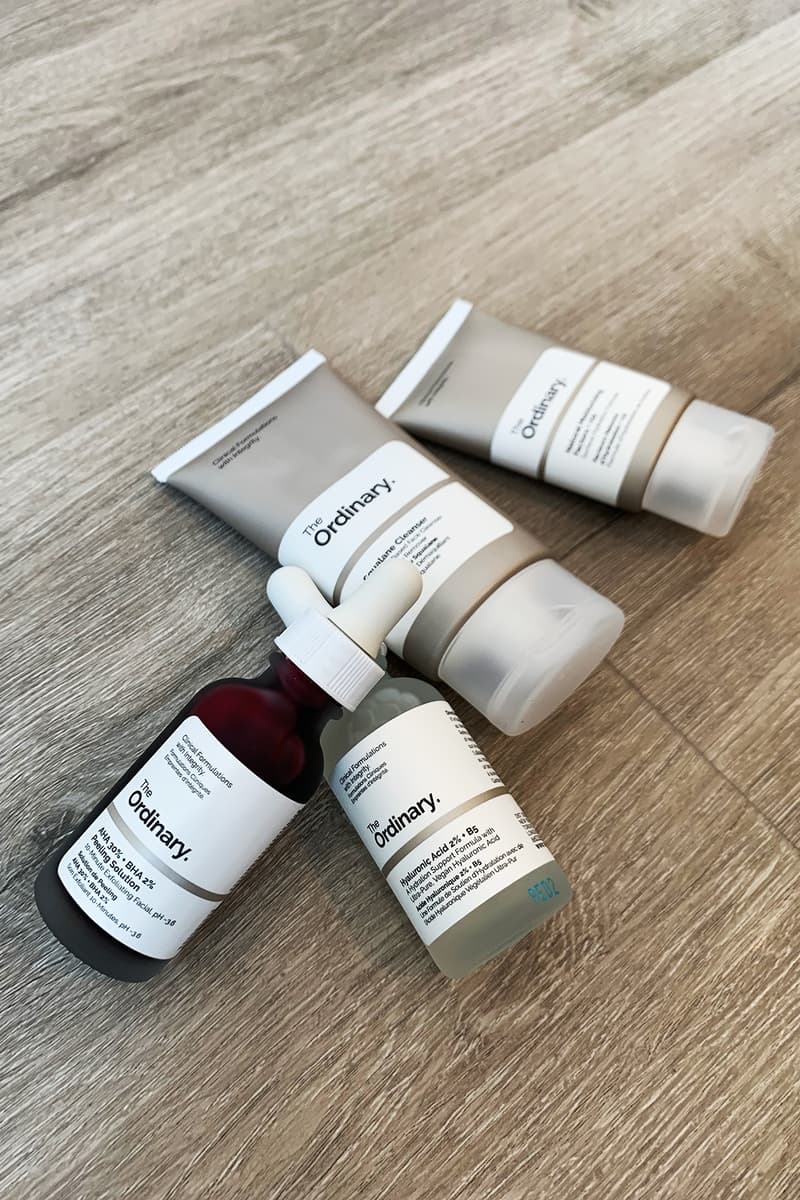 These Are the Products Skincare Beginners Should Be Using From The Ordinary
DECIEM's CEO Nicola Kilner shares her secret tips with us.
Beauty
These Are the Products Skincare Beginners Should Be Using From The Ordinary
DECIEM's CEO Nicola Kilner shares her secret tips with us.
The Ordinary has become a cult-favorite skincare brand over the recent years, along with its sister label NIOD under DECIEM. Founded by Brandon Truaxe who passed away earlier this year, Nicola Kilner has been continuing the legacy of the Canadian beauty company. Just in time for The Ordinary's launch at Harvey Nichols in Hong Kong, we sat down with the CEO to discuss her thoughts behind the brand, along with skincare tips for beginners.
A strong believer in smiling to spread positive energy, Kilner greeted us warmly at her hotel suite in the city. Traveling the globe with her husband and newborn daughter just waking up from her morning nap, the entrepreneur shared with us her passion and approach to skincare and what she tries to achieve in the beauty industry, along with her makeup routine.
Read on to find out more about DECIEM, NIOD and The Ordinary – while you're here, make sure to check out our latest interview on skincare techniques using traditional Chinese medicine.
The Ordinary has finally arrived in Hong Kong, and will be opening soon in Singapore. What made you believe in bringing the brand to Asia?
I guess it's because there's such a demand for The Ordinary all over the world. We really want to make our products accessible for all, and not have people spend more money than they should be – that's not something we believe in. We try to stay as transparent as possible to make The Ordinary accessible and affordable, and that's why we're trying to open as many locations as we can. We know the demand's here for our consumers, so we want to make it available to them.
DECIEM has gone through some big changes in the past year – how has the journey of leading the company alone been for you?
We've gone through some horrible times, but we have a very strong resilient team that has worked for Brandon for many years. For me, after everything happened and everyone in the company was grieving, I decided that it was time we really had to pull together and show him the determination to continue his legacy. I think it probably makes us more committed than ever to his vision where he wanted to bring integrity to skincare.
There is still a common misconception that skincare products tend to be "better" the more expensive they are. What do you look for when shopping for, or creating a good skincare product?
The way I've been trying to change the world of skincare is to think of it as a kind of healthcare. If you had a headache and wanted to go buy some aspirin, you would go into a pharmacy and spend maybe £3 GBP on a pack of aspirin – even if it's affordable, you know it's effective and safe as it has been studied for many years. Similarly, if you wanted to buy a vitamin C supplement, you would already roughly know the price before doing any in-depth research. That transparency has never really existed for skincare products, which is what has allowed brands to use marketing to make people believe that they have to be spending more money to get their hands on a high-quality product.
There are actually skincare ingredients out there that have been around for a long time and are some of the most effective ingredients in the world. I mean, water has been around forever and it's one of the best ingredients ever for the skin. Just because it has been around doesn't mean it's bad – it actually means it is affordable since there are already so many people manufacturing them all around the world, and since it has already been tested many times. We're hoping to bring that transparency so that people can start to understand the ingredients that go into skincare. I have some friends who ask if NIOD is better than The Ordinary because it carries more expensive products. My answer to that is not all the time, as the two brands have very different approaches. NIOD is all about using new technologies and focusing on long-term skincare. If someone wanted to look better next month, I'd probably recommend The Ordinary. 
While The Ordinary products have great reviews, it may be quite intimidating for beginners to get their hands on bottles with all of these long product names – how do you think the brand has been able to approach skincare beginners?
We recently launched The Daily Set which comes with three core products – the Squalane Cleanser, Hyaluronic Acid 2% + B5 and Natural Moisturizing Factors + HA. If you're feeling intimidated or are new to skincare, it's a three-step regime that would suit every skin type. We do also try to have our staff offer as much advice as possible – we have a trained team at Harvey Nichols who give consultations, as well as an online chat service on our website. We're really there to try to help identify which ingredients help and work for different people.
With Hong Kong having a hot and humid climate throughout most of the year, what are some skincare tips for those who live in the area?
I think one of the misconceptions many people have is that they should stay away from oils when it's humid. Actually, by using oil you get your skin to produce less of it, so using products like that actually suits the humid climates more. One product I would recommend specifically for climates like Hong Kong's is NIOD's Superoxide Dismutase Saccharide Mist (SDSM), which is a barrier against polluted air. 
What about for other parts of the world, which are transitioning into the drier seasons?
Our Rose Hip Seed Oil is great for those who want glowing skin – we also recommend lactic acid or glycolic acid which you can actually even use all year. In the more dry season, you might want to increase your moisture content with hyaluronic acid. We've got different kinds of oils in The Ordinary which are 100 percent organic, cold-pressed and nothing is added to make the smell better. Our argan oil actually smells disgusting, but it still does well because we're transparent with our customers. 
If you could choose just one step in your daily skincare routine, which would be the most important and why?
Given that you've already cleansed, it would be anything with copper peptides, which is the best ingredient for long-term skin health. It makes your skin behave younger on its own, so sometimes the effect is even hard to pinpoint since all it's doing is making your skin behave younger. So it takes care of things like anti-aging, elasticity, glow and so on. At NIOD, we have a Copper Amino Isolate Serum, and at The Ordinary we have the "Buffet" + Copper Peptides 1%, which is a mixture of different anti-aging technologies. 
Other than skincare, what are some of your go-to makeup products/tips?
At The Ordinary, we also have foundations that haven't launched just yet at Harvey Nichols. I would definitely use our Serum Foundation, then NIOD's Photography Fluid, which is all about looking better on camera, so I add that to my foundation as well. I then add a bit of blush by Benefit along with color on the lips. What I really like about beauty in Asia is that for so long, people have always prioritized skincare. It's been really nice in the last year or so seeing skincare becoming the first especially in Europe and North America. 
Have you always been more interested in skincare, even before joining DECIEM?
I used to work at Boots in the UK as a beauty buyer, so I guess I have been looking at all kinds of categories in beauty. I get excited when I buy new products, whether it's a fragrance or hair product. I guess the whole of beauty has always been interesting to me.
Along with skincare, inner beauty is as equally important for glowing skin. What are your tips for achieving inner beauty?
We have a beauty supplement line called Fountain, which we have found to be a very difficult category to work with. We're thinking of relaunching the line once we have delved deeper into the field – it does seem like people are more interested in taking it in liquid form rather than tablets. That's something we want to work on. But at the end of the day – although this may sound cheesy – I believe it's all about personality, maintaining positive energy and putting on a big smile all the time.
---
Share this article