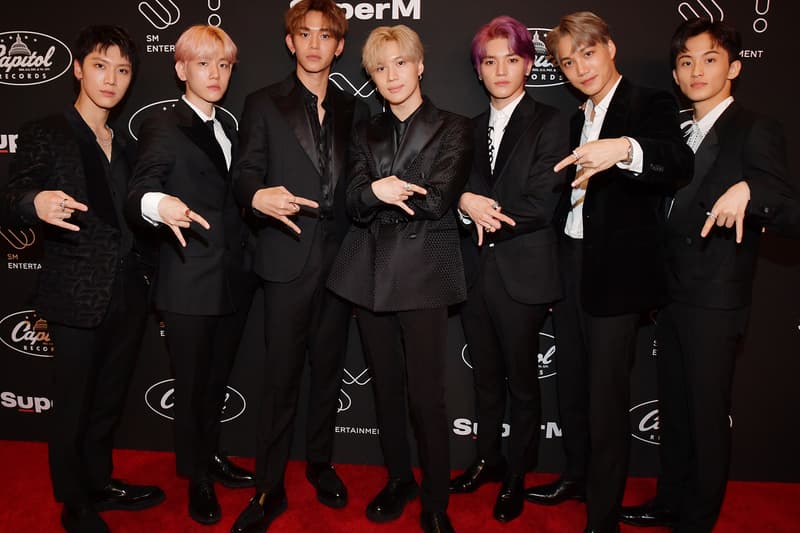 Music
5 Things You Didn't Know About SuperM, the Next K-Pop Idol Group to Rule the World
The K-pop version of 'The Avengers.'
5 Things You Didn't Know About SuperM, the Next K-Pop Idol Group to Rule the World
The K-pop version of 'The Avengers.'
If you're an avid follower of Korean idol groups like BTS or EXO, you probably have already heard of K-pop giant SM Entertainment's latest group SuperM. Comprised of some of the country's biggest figures – SHINee's Taemin, EXO's Baekhyun and Kai, NCT 127's Taeyong and Mark and WayV's Ten and Lucas – the group is rapidly making its way all over the world, from debut EP SuperM – The 1st Mini Album.
Created under the Korean music label's partnership with Capital Music Group as an effort to make Korean pop more accessible to fans all over the world, the seven-man group is also dubbed "The Avengers of K-pop." While each of the members are not leaving their original groups, they will still come together for tours, performances and new music. Chris Lee, an executive at SM Entertainment, told Forbes: "There's already an Iron Man, a Thor and so on; and just like how the Avengers can have their own successful movies, there is a different kind of energy when they are together as The Avengers. We want to create a synergy between their groups, them as solo acts, and the SuperM group to create a big wave in this K-pop industry."
Read on below to learn some fun facts about the new and upcoming K-pop group. In case you missed it, make sure to check out our latest tour inside Tiffany Young's closet. 
1. SuperM's members were selected by SM Entertainment's founder himself. 
At a press conference held in Seoul ahead of their debut on October 4, the group's leader Baekhyun mentioned that each member was picked by Lee Soo-man, SM Entertainment's founder who is also known to be the pioneer of K-pop. According to Soompi, Taemin jokingly added that he was chosen because he was the only member available from his original group SHINee at the moment, as all the others are currently serving in the military.
2. They'll be giving you safety instructions ahead of all Korean Air flights.
South Korea's biggest airline Korean Air has recently enlisted SuperM as its ambassador, revealing an in-flight safety video featuring sci-fi visuals to the track "Let's Go Everywhere," as well as fellow K-pop artist BoA. Launched earlier this week, all passengers on the airline's flights will be watching this video ahead of taking off, and according to SM Entertainment, proceeds from the song will be donated to Global Citizen.
3. They made their U.S. television debut on The Ellen Show.
For their very first appearance on American television, SuperM sat down with Ellen DeGeneres to talk about their debut, teaching the host how to dance to their track "Jopping." At the end of their interview, the group expressed their interest in saving the Earth by donating $50,000 USD to the Ellen Fund for global conservation efforts.
4. Their debut album has been on the Billboard 200 for four consecutive weeks.
K-pop has been going strong in the global music industry, with BTS setting the record for the first K-pop album to stay one year on the Billboard 200. Following the "Boy With Luv" singers' footsteps, SuperM's debut mini-album is keeping its spot on the list for the fourth consecutive week, after ranking No. 1 in the week of October 19.
5. But their chart position has stirred controversy due to their album bundles.
SuperM's EP debuted with 168,000 albums sold, but with the help of album bundles – when artists gift an album download with each purchase of their concert tickets or merchandise. With their North American tour commencing on November 11, some K-pop fans have been debating over whether the group would have been able to reach their position on Billboard without the bundling.
Share this article