Cardi B Becomes the First Solo Female Artist to Win Best Rap Album at Grammys
Fans of the 'Invasion of Privacy' rapper react to the historic win on Twitter.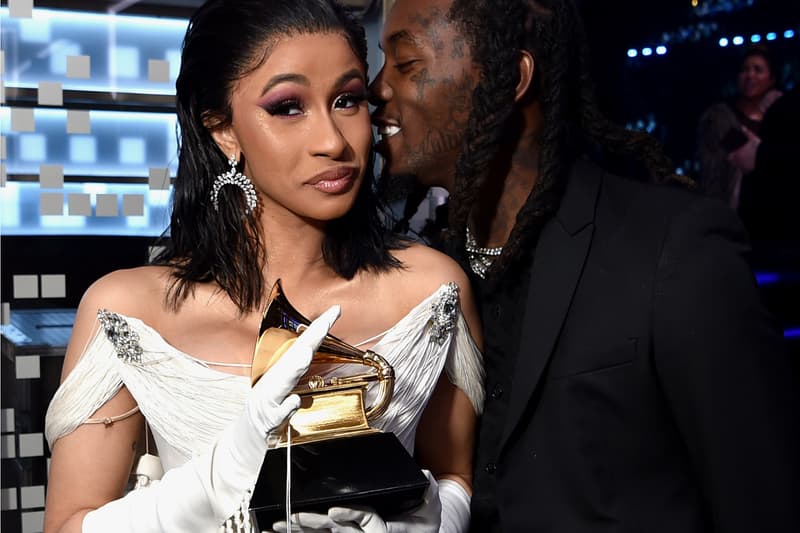 Cardi B just made history at the Grammys tonight by being the first woman to win Best Rap Album as a solo artist, according to The New York Times. The Bronx rapper took home the gold trophy for her 2018 album Invasion of Privacy, which features tracks including the chart-topping "Bodak Yellow" and her popular single "Bartier Cardi." The record is also Cardi's debut album.
With her husband Offset by her side, Cardi held back her tears as she accepted the prestigious award. In her acceptance speech, she especially thanked her daughter Kulture:
"I'm not saying thank you because she's my daughter, it's because… you know, when I found out I was pregnant, my album was not complete. I had like, three songs that I was for sure having, and then you know… you know how it was (laughs). We was like, 'we have to get this album done so I could shoot these video while I'm still not showing.' And it was very long nights."
The artist also gave thanks to her collaborators including SZA, Kehlani, Chance the Rapper and Migos.
Below, take a look at some of the best fan reactions to the emotional moment on Twitter. For more from the eventful night, see the full list of winners at the 61st Grammy Awards here.
Cardi B's FULL ACCEPTANCE SPEECH for her FIRST EVER #GRAMMYs Award! ?✨pic.twitter.com/vPdSN039kF

— Cardi B Fan Team (@CardiBTeam) February 11, 2019
Thank U Jesus!!!! Look at God ?? Congratulations boo @iamcardib you deserve it!! So happy for you ❤️ #GRAMMYs

— Lil' Kim (@LilKim) February 11, 2019
A full circle moment for @IamCardiB at the #GRAMMYs after meeting one of her idols, @LadyGaga. pic.twitter.com/yW725mdazv

— Pop Crave (@PopCrave) February 11, 2019
History was made tonight. #Grammys #CardiB pic.twitter.com/n5A7RFCdiE

— ?????? (@okpucci) February 11, 2019
#CardiB just won her first Grammy ? #Grammys pic.twitter.com/2kXq121hX5

— Hussain Shaikh (@HussainShaikhh) February 11, 2019
It just FEELS good to see Black Women who rap be proud of Black Women who rap! Congratulations Cardi B pic.twitter.com/5ELcrevawc

— Virginia's Very Own ☀️ (@Dxrryl2Times) February 11, 2019
This is the realest acceptance I've heard @iamcardib #Grammys pic.twitter.com/UqyNpasI3w

— Chester Jones Jnr ?? (@chesterjonesjnr) February 11, 2019
If you're still doubting Cardi B, sit your ass down! Let me enlighten you?#Grammyspic.twitter.com/Pi50M2sUsR

— Proxcey (@ItsProxcey) February 11, 2019
Cardi B is thrilled over her #GRAMMYs win, and we like it like that. pic.twitter.com/zSyRl9Jxhi

— E! News (@enews) February 11, 2019
women won all of the major album categories for the first time ever, btw. #grammys history

AOTY: Kacey Musgraves, Golden Hour
Pop: Ariana Grande, Sweetener
Country: Kacey Musgraves, Golden Hour
R&B: H.E.R., Self-titled
Rap: Cardi B, "Invasion of Privacy"

— LADIES…. I'm boiling (@runawaywithmani) February 11, 2019
Cardi B just posted on her IG giving a shoutout to Mac Miller

"I'm sharing this Grammy award with you RIP" #Grammys pic.twitter.com/diU1RSFMu9

— josh from Wingstop (@broshutupjosh) February 11, 2019
If @iamcardib. Didn't make you cry when she accepted best rap album… You have no soul

— DAndre Johnson (@Dwow2112) February 11, 2019
And y'all better give @iamcardib her respect too. She worked for this shit and disproved all her haters, a MF queen. https://t.co/6hQwT6MNmj

— #SaveTheElephants (@JayShindo) February 11, 2019