Sharmadean Reid on How the Beautystack App Is Revolutionizing the Beauty Industry
The WAH Nails founder's next step is taking on the tech world.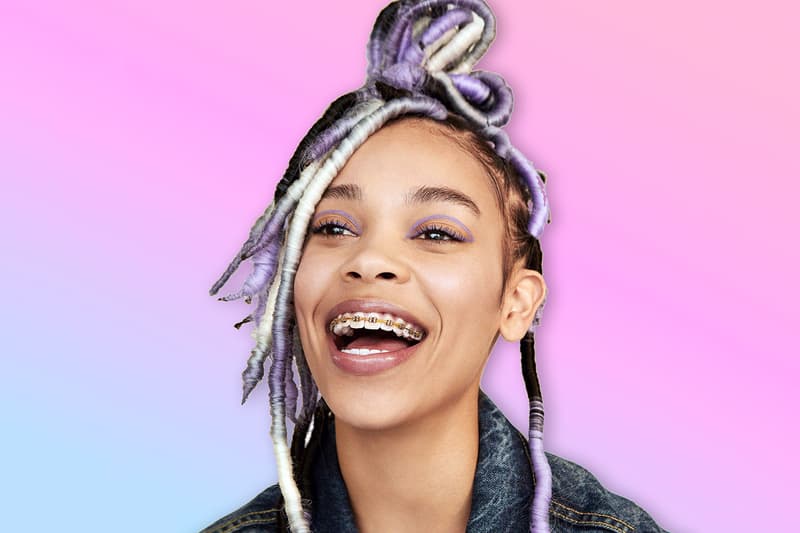 Sharmadean Reid has been epitomizing the now overused term "Girlboss" way before it was even a thing. Launching her legendary salon WAH Nails in Dalston, East London a decade ago, Reid reintroduced nail art as a legit art form as well as creating a space for women to come together, hang out and of course, get their nails did. Providing a base to inspire and empower women (the original salon even acted as the launchpad for Bleach London) has always been at the forefront of Reid's initiatives.
Following the success of WAH, which included the release of nail products, two books and the opening of a high-tech salon in Soho, Reid founded FutureGirlCorp. FGC is an initiative to enable young female entrepreneurs by facilitating everything from workshops and seminars to book clubs to help women grow their business, and now Reid is applying many of those elements via her new platform, Beautystack.
Constructed as a way to revolutionize the beauty industry – and importantly, how those who work within it can build their own brand and make money – Beautystack is an app that essentially allows you to book a beauty treatment you've seen online with the very artist who created it. It's also a space for beauty pros and enthusiasts alike to share tips, learn about trends and more.
We caught up with the serial entrepreneur to find out everything you need to know about Beautystack and what's in store for its future – read on for more.
Your entrepreneurial sprit never stops – Firstly with WAH, then FutureGirlCorp and now Beautystack. How do you manage the hustle of life and bringing ideas into action at the same time?
I really like thinking of solutions for my personal problems and galvanising a team to make it happen. I've always tried to work really hard – I've always gone above and beyond and I don't do anything by halves. I have so many ideas for businesses and projects, but I choose to execute the ones I can fully commit to and realise to their full potential, using my network, my strengths and my team. There's no secret, it just comes down to whether or not you're willing to pay the cost to achieve your goals. It can be hard to find a work/life balance and to manage everything at once, but I have an amazing team around me and we all love what we do. We believe in the mission and that's what drives us forward.
Could you tell us more about the concept behind Beautystack and why you feel this is the right time for a platform like this?
Beautystack allows users to see a picture and book it with the professional who actually did it. If you like my nails you can go to my profile, see the amazing nail tech who did it and book the picture and the image will be attached to the booking so she knows what you want before you even walk through the door. I felt it was the right time because we had experienced this problem every day in the WAH salon. Girls would come in with screenshots of what they want and we were like – it would be so much cooler and more seamless to book the pic!
As one of the fastest growing sectors globally, beauty professionals are playing a new role in forging offline interactions and facilitating feel-good vibes. Every day, these budding entrepreneurs start a career that is one of complete service to others. Self-care isn't just a hashtag, it's an important part of maintaining your physical and mental wellbeing – it's a service that should always be available. We want to give back some of the power in the industry to these beauty pros and empower them to run their businesses more efficiently and creatively, whilst also giving space to a community that's passionate about beauty – in all it's forms. Clients also don't have access to the perfect booking system yet, and we want to create that.
"Self-care isn't just a hashtag, it's an important part of maintaining your physical and mental wellbeing – it's a service that should always be available."
A sense of community has always been at the core of all of your endeavours; with Beautystack being an app, how will you bring this aspect to life within the app?
The app is more than a transaction, it's a community and we are here to share the stories. The app might be a digital service, but it facilitates IRL interactions. The beauty industry has changed so much in the last 10 years, but one thing's for sure, it will continue to be human to human. We launched a pop up salon in Coal Drops Yard, Kings Cross [last year] that acts as our community space – offering workshops, seminars and hosting our favourite beauty pros from across London.
We also created a zine, which acts as a physical manifestation of everything Beautystack stands for. It was our way of providing recognition to our beauty pro community, telling their stories, providing resources and creating something tangible that felt like a richer content experience. Within the app, we also have editorial articles that look at the underground beauty stories; business tips for beauty pros and trend reports on key styles that emerge from our community.
You've also produced a Beautystack zine, which is exactly what WAH started as; what made you want to return to that format?
WAH began as a zine, then a blog and then a salon! Initially, it was all about strong women in hip hop, my obsession at the time, and it was a way of connecting with other music fans as lonely girl in London. Unknowingly, I was building the community that would later kickstart my business. When I wanted to open a nail salon, aged 24, I was naturally going to call it WAH and I made it the meeting place for all the women I had connected with through the magazine and blog. It was a salon in both sense of the words. Self-care and ideas, online and offline.
The original WAH salon in Dalston became a gathering place for the creative women in the area. Even today in our Soho branch, you might stumble on a workshop to help women of colour break into PR; an event for teen girls to appreciate their natural curls or a party for a new female-published magazine. Salons, spas and barbershops provide infinite support for their clients that go beyond just a pretty do. The zine was the initial stages of that. It quickly helped to establish the story and vibe of exactly what WAH was and the same can be said now for Beautystack. Our zine is an amazing introduction to the work we want to do.
"The beauty industry has changed so much in the last 10 years, but one thing's for sure, it will continue to be human to human."
What are your personal, Sharmadean-approved beauty products or services?
I am obsessed with Amazing Afi who is has been at our pop up a lot – she does my braids! But all of the pros are amazing and I see many of them regularly.
You don't stay still for long; what's next in the pipeline for you and your projects?
At the moment, I'm really focussed on building Beautystack, raising our next round of investment, growing our team and continuing to empower the beauty pros we represent. We're still in the early stages, and I can't wait to see where we go!