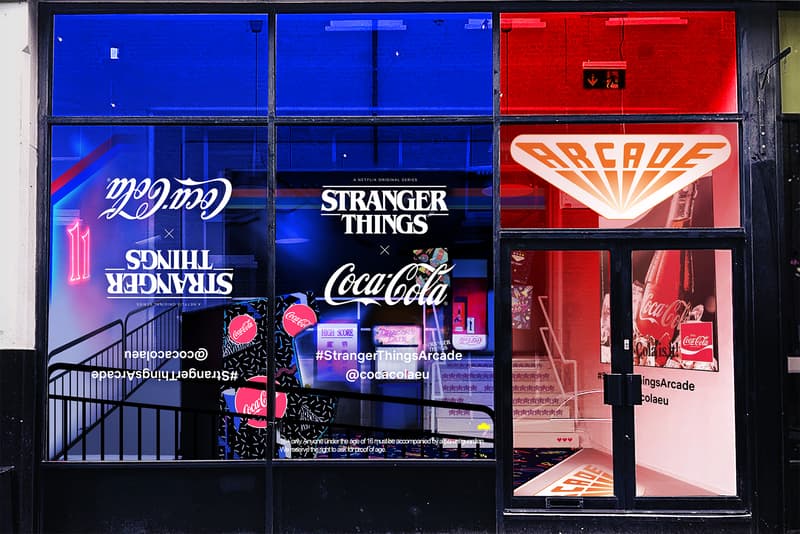 Film & TV
UPDATE: A 'Stranger Things' x Coca-Cola '80s Arcade Is Now Open In London
Enter The Upside Down – for one day only.
UPDATE: A 'Stranger Things' x Coca-Cola '80s Arcade Is Now Open In London
Enter The Upside Down – for one day only.
UPDATE (July 11, 2019): Coca-Cola's '80s-themed arcade has just opened its doors in London – for one day only. In honour of season 3 of Netflix's cult-hit show Stranger Things, the space already has queues of fans waiting for their chance to peek inside. The pop-up features playable retro games as well as a version of Dragon's Lair, the game featured in the show, that you can try out for yourself.  Additionally, lucky fans have the chance to nab an "Upside Down" can of Coca-Cola if they can crack the code that leads to secret, eerie world behind a New Coke vending machine.
---
Stranger Things is returning to screens next week for its third season and a slew of collaborative releases from the likes of Nike, Levi's and more already has viewers gearing up for the release. London-based fans however can have the opportunity to get even closer to the show and even access the mythical world of The Upside Down.
Coca-Cola is opening an exclusive arcade, styled after the town of Hakwins in the year 1985 which is the year Stranger Things 3 is set in and coincidentally, the same year New Coke launched in the U.S. Located in Shoreditch, East London, the space is home to authentic, playable '80s video games. Additionally, there's a secret Upside Down room within the location and if you're one of the first 800 people lucky enough to find it, you can get your hands on a limited-edition Coca-Cola x Stranger Things can. The free pop-up is open for one day only – July 11 – from 11 a.m. to 9 p.m.
Get a sneak peek at the exterior above and stay tuned for updates. In the meantime, why not check out the final full trailer for Stranger Things 3?
Hawkins Palace Arcade
Shop 4, Brick Lane,
Spitalfields, E1 6QR