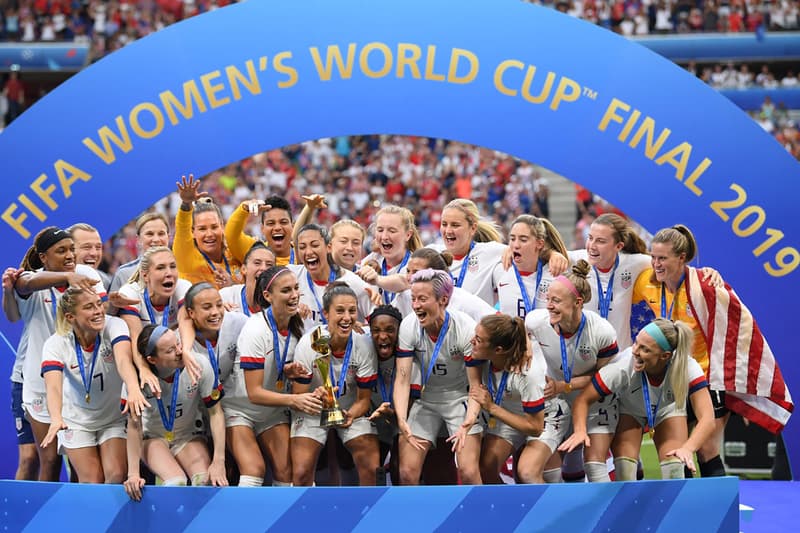 USA Women's National Team Wins Fourth FIFA World Cup
Their second consecutive win.
On July 7, the United States' National Team celebrates victory by taking home the trophy against the Netherlands in the 2019 FIFA Women's World Cup with the score of 2-0. Despite the team missing a few moments in front of the goal for the first half of the game, Rapinoe scored the first point of the match on a penalty kick at the 61-minute mark finishing the tournament with six goals and three assists. CBS News reports that Megan Rapinoe was awarded the Golden Boot Award for leading goalscorer and the Golden Ball as the top player in the tournament. "We're crazy and that's what makes us so special. We just have no quit in us. We're so tight, and we'll do anything to win," Rapinoe said after the victory.
The second goal was then scored by up-and-coming star player Rose Lavelle eight minutes after Rapinoe's point. "She's superstar, not even in the making, she's straight up superstar at this point," Rapinoe said.
With the first Women's World Cup dating back to 1991, manager Jill Ellis has continuously defended her undefeated streak gaining USWNT's fourth overall World Cup championship. Ellis has also become one of the first to win the competition twice in a row.
Check out some of the highlights and reactions below.
NERVES OF STEEL ???

Megan Rapinoe scores her 50th international goal from the penalty spot and gives USA the lead in the #FIFAWWC final! pic.twitter.com/gjPpYOrcyl

— FOX Soccer (@FOXSoccer) July 7, 2019
ROSE. LAVELLE. ???

A beautiful solo effort doubles the @USWNT's lead in the #FIFAWWC final! pic.twitter.com/ToznvQiuxb

— FOX Soccer (@FOXSoccer) July 7, 2019
Here's the exact moment the @USWNT won their 4th #FIFAWWC ?? pic.twitter.com/enQrFd8WPQ

— FOX Soccer (@FOXSoccer) July 7, 2019
"It's unbelievable. It's surreal. I don't know how to feel right now."@mPinoe, BELIEVE IT. ???? pic.twitter.com/CCJ1QR20S3

— FOX Soccer (@FOXSoccer) July 7, 2019
Yes! Fourth star. Back to back. Congrats to the record breakers on the @USWNT, an incredible team that's always pushing themselves—and the rest of us—to be even better. Love this team. #OneNationOneTeam

— Barack Obama (@BarackObama) July 7, 2019
Congrats team USA! Billie says it best here! So happy for each one of you and so proud. ❤️ @USWNT https://t.co/WK2Yi2z8F4

— Serena Williams (@serenawilliams) July 7, 2019
Can't remember a bigger day in US soccer history than today ?? Looking forward to a day full of red, white and blue celebrations all across the globe…let's go America!!!!!!!!!!! ⚽️??⚽️??⚽️??⚽️??⚽️??⚽️??⚽️ #USWNT #USMNT #USA @USWNT @USMNT

— Landon Donovan (@landondonovan) July 7, 2019
In related news, Nike just released its latest film titled "Never Stop Winning" featuring USWNT's fourth Women's World Cup victory, and highlighting its commitment to inspiring the next generation of female athletes:
In case you missed it, check out our interview with Mia Hamm on her pride for the U.S. Women's Football Team and the legacy of the '99ers.
---
Share this article