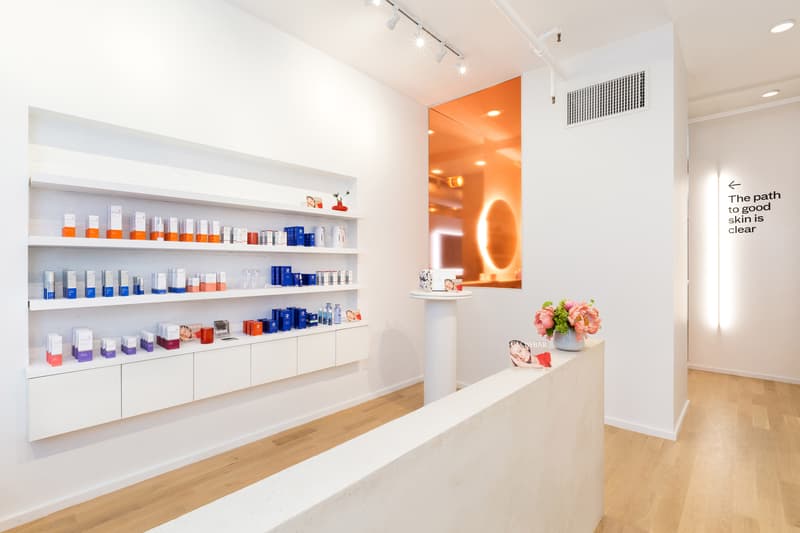 Beauty
The Best Places in NYC to Get a Quick Facial for a Brighter, Rejuvenated Face
Featuring the newly launched GLOWBAR and Heyday NoMad.
The Best Places in NYC to Get a Quick Facial for a Brighter, Rejuvenated Face
Featuring the newly launched GLOWBAR and Heyday NoMad.
Facials are a common occurrence for many skincare lovers. Whether you're on the hunt for solving hyper-pigmentation, acne or would like your skin rejuvenated, there are options out there for every skin problem. Those who live or commute to and from New York City know that the city's air is filled with toxins.
For non-natives, the airborne elements become quite obvious if your skin begins acting abnormally. We hit the ground running, to find the best options in NYC for facials, non-facial treatments and even tried one out for ourselves. We even combed through Yelp reviews to make sure these options were proven top tier by past customers.
If you're cautious when it comes to shelling out over $100 USD on a beauty service, our roundup includes Heyday, a NYC-gem which actually starts pricing at $65 USD. Additionally, if you're thinking that facials will leave you with two or three hours of your day wasted, think again. One of our picks, Skin Laundry has a 15-minute Laser & Light Facial which is a hot commodity for its client base who are constantly on the move.
Keep reading below for our top NYC-based facial recommendations alongside pricing details.
Created by co-founders Rachel Liverman (CEO) and Neha Govindraj (COO, president),  GLOWBAR is your answer to jam-packed months where you feel like you have no time for self-care. Created as a response to costly, time-consuming facials, their newly launched 30-minute treatments are customized to assist customers go at their own pace "to build up optimal skin health." Located in Tribeca, GLOWBAR offers an esthetically designed algorithm which determines the best combination of treatments for each customer before their facial. This means that each appointment is unique to your skin, using a combination of LED, microcurrent, chemical peels, high frequency, dermaplaning and more. Glossy reports that if you sign up for the monthly membership, you'll get 10 percent off retail products, a guest pass to bring a friend with you once a year and additional perks.
Pricing: 30-minute Facial ($65 USD), Monthly Membership ($55 USD)
GLOWBAR
147 Duane Street
New York, New York
Heyday which features a trendy, semi-private layout offers 30-minute, 50-minute and 75-minute facials. If you're not a fan of extractions, the 30-minute option doesn't include them. With five different NYC locations, each salon also features a plethora of skin care products worth trying out. What is great about this salon is that upon your first visit, your aesthetician takes a close look at your skin prior to the start of your facial. My facial was packed with different deep cleansers for brightening and rejuvenating. After my 60-minute experience, I felt refreshed, and honestly, my skin hasn't felt this fresh in years. Additional add-ons priced at $35 USD each include microdermabrasion, professional peels, and light therapy.
Pricing: 30-minute Facial ($65 USD), 50-minute Facial ($95 USD) and 75-minute Facial ($140 USD)
Heyday Tribeca
1130 Broadway
New York, NY 10010
Rescue Spa's 19th Street location is a full-service day spa known for its relaxing ambiance. After combing through reviews, it became evident that many guests came to Rescue Spa because of problem skin. Whether you're battling oily skin or simply just need a pick-me-up due to the city's pollution, the lineup of Signature Facials start at just $150 USD. Prior to your service, the aestheticians will diagnose your skin which includes an analysis of your lifestyle. Optional add-ons include a Power Peel, IPL Spot Treatment and more.
Pricing: Classic 60-minute Facial ($150 USD), Bio-Lift™ 60-minute Facial ($200 USD), Microderm 60-minute Facial ($200 USD), Fix-It-All 90-minute Facial ($300 USD)
Rescue Spa
29 East 19th St.
New York, NY 10003
One of our editors previously wrote about her visit to this salon. Skin Laundry is ideal for you if you've been reading up on the benefits of laser facials. Founder Yen Reis, created Skin Laundry after developing skin issues. While living abroad in Asia, she found laser facial services which readily improved the look of her skin. When Reis she moved to Los Angeles, she found a gap in the usage of laser therapy in the skincare market. Skin Therapy came into fruition due to the lack of options she experienced. One of their options – the Single Facial prices out at $65 USD.
Pricing: Single Facial ($65 USD), 3 Bundle ($180 USD), 5 Bundle ($275 USD), 10 Bundle ($500 USD)
Skin Laundry Tribeca
112 W Broadway
New York, NY 10013
For a non-facial option which is proven to amp up the appearance of your face, FaceGym should be at the top of your list. This alternative to facials offers special "muscle manipulation" techniques to tone, tighten, and sculpt your face. The studio also includes a special range of custom moves which can be utilized over the entire face and neck. In an official press release, FaceGym notes that its service titled Signature, runs for 30 minutes and prices out at $70 USD. Additionally, if you are into vitamin shots or electrical treatments, this location offers a wide variety of both.
Pricing: Signature ($70 USD), Signature Electrical ($95 USD)
Saks
611 5th Ave
New York, NY
Share this article