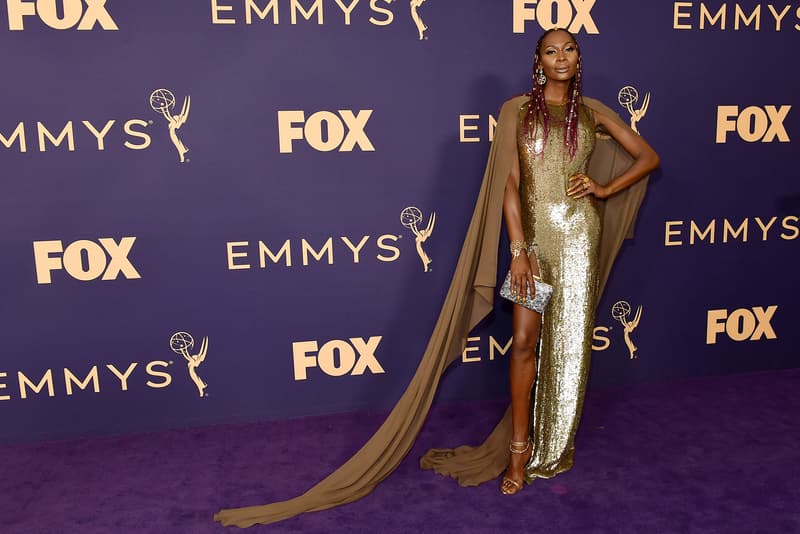 Fashion
Inside Dominique Jackson's Sparkling Number at the 2019 Emmy Awards
Her stylist Andrew Gelwicks talks us through her look of the night.
Inside Dominique Jackson's Sparkling Number at the 2019 Emmy Awards
Her stylist Andrew Gelwicks talks us through her look of the night.
Among the number of stunning looks seen at this year's Emmy Awards, transgender model and actress Dominique Jackson walked down the red carpet in a stunning ethereal gold number custom-made by Jeffrey Dodd. Jackson envisioned "a powerful and dramatic look that would honor the ballroom community and make an elegant statement," according to the Los Angeles Times.
Read our interview with stylist Andrew Gelwicks below as we find out more behind Jackson's look for the evening and what inspired him to collaborate with Dodd on this dramatic piece.
While you're here, find out more about Halsey's chic 2019 Emmys updo.
Was there a specific theme you pulled inspiration from in the beginning stages of your preparation for Dominique's 2019 Emmy Awards look?
From the very beginning when Dominique and I began discussing her Emmys look, we knew we wanted her to sparkle, and for it to feel positive and light. From there, we felt we would be able to find the right dress.
As you were in the brainstorming process, did you initially know what type of look you were leaning towards?
The great thing about working with Dominique is that she is so open to ideas and collaboration. She really takes the time to consider each option, but also has a very strong instinctive nature on knowing when something is right for her.
How did you decide which designers to work with for Dominique's look, mainly Jeffrey Dodd?
It was important for both Dominique and myself that whichever designer we decided on, to really understand her, where she is in her life right now, and the message she wants to give off. From Jeffrey's early sketches and mood board, it was clear that he not only truly cared deeply about Dominique and everything she is doing but also strongly grasped the creative direction she wanted to go for.
Do you have any particular fashion house or brands that are your favorites for Dominique?
There have so many designers that have been supportive of Dominique. It's not so much about the label or designer, but more about the clothes themselves and whether they speak to Dominique.
Do you have any specific fashion essentials that you always have with you as you work with your clients for large-scale events?
My kit is overflowing with emergency essentials. I would be lost without my portable steamer, double-sided tape, lint roller and scissors.
What was your favorite part about working with Dominique to bring her 2019 Emmys look to life?
It's rare to work with someone who is as passionate and creative as Dominique. She embodies everything she wears and it was an incredible experience to help create that moment. It's the best feeling after months of preparation coming together and for your client to feel their very best.
Share this article