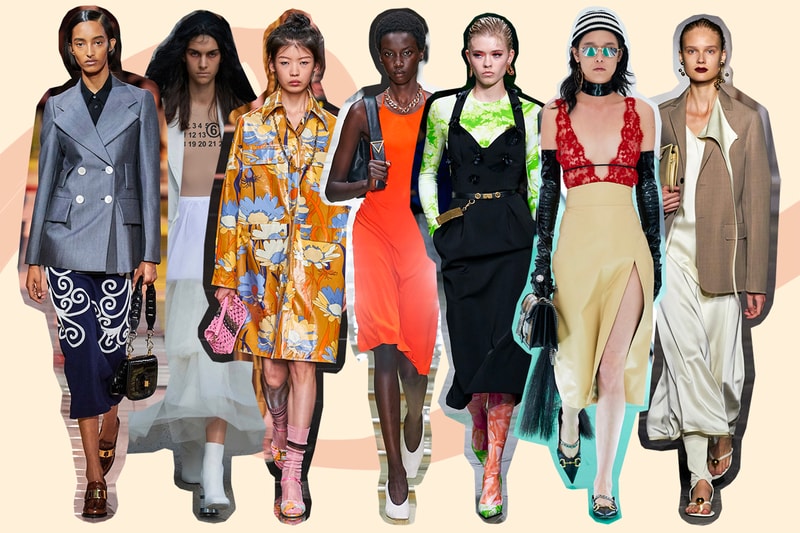 Fashion
The Top 8 Shows at Milan Fashion Week SS20
Our favorites including Versace, Bottega Veneta, Jil Sander, Fendi and more.
The Top 8 Shows at Milan Fashion Week SS20
Our favorites including Versace, Bottega Veneta, Jil Sander, Fendi and more.
Following a somber show season for Fall/Winter 2019, which carried on amid the tragic news of the passing of Karl Lagerfeld, Milan Fashion Week returned for the Spring/Summer 2020 circuit in livelier spirits. While the late designers' absence is felt acutely by showgoers, with the industry watching intently as Silvia Venturini Fendi debuted her first solo womenswear collection, this season's shows were injected with bright and warm colors, rebelliously stylish cuts and a rich mix of textures that take Milan to a new level of chic.
Miuccia Prada looked to different fashion epochs for inspiration, fusing style cues of the '20s, '70s and '90s to create timeless silhouettes for today's women. At Jil Sander, the Meiers elevated their sharp tailoring and minimalist silhouettes with natural raffia detailing that evoke the feeling of a summer vacation. Venturini Fendi, too, served up holiday vibes with a range of swimwear-as-daywear covered in floral prints. At Versace, Donatella brought back the jungle prints, with Jennifer Lopez closing the show in a new version of her iconic Grammy green dress.
Then there's the designer of the moment, Daniel Lee, whose new legion of fans were seen outside the Bottega Veneta show with the highly sought-after clutch The Pouch under their arms. You can rest assured that the fashion crowd will be wearing the brand's new accessories when spring comes around, as Lee's sophomore runway show was filled with even more desirable bags, footwear and jewelry pieces than what we've previously seen.
Continue reading to see more of our favorite shows from Milan Fashion Week SS20. And while you're here, check out the top shows at New York and London Fashion Weeks.
If you think you've seen it all from Alessandro Michele's Gucci, look again and you'll probably be surprised by the kinky twist at the brand's SS20 show. The catwalk staged at Gucci Hub opened with a series of not-for-sale, blank uniform looks that Michele describes as "something that blocks and constrains you." As an antidote to those all-white ensembles, the Creative Director introduced us to a new Gucci aesthetic by sending down the runway his seductive "Orgasmique" collection. Perhaps the sexiest range we've seen from the designer, the collection celebrates diversity and individuality with a lineup of looks filled with nods to Tom Ford-era Gucci as well as references to BDSM.
"Ugly-chic" patterns and layering were replaced by pared down, polished outfits. Lace dresses and sheer skirts with thigh-high slits were styled with Gucci monogram panties and thongs underneath, while color-blocked suiting was accessorized with retro sunglasses attached with clunky chains. The fashion house's Horsebit motif was seen across a range of footwear, including leather boots and pointed-toe flats designed with metal chain straps.
It remains to be seen whether Gucci's new look will boost sales, but the collection itself is certainly something refreshingly different and a bold step forward for the millennial-favorite luxury brand.
While a lot of the talk surrounding the Versace show has been about epic finale featuring J.Lo, the collection itself is beyond stunning. For SS20, the Versace woman is sexy, modern and sophisticated all at once, with the runway at Piazza VI Febbraio kicking off with a succession of strong, feminine looks. From padded shoulder blazer dresses and bustiers designed with cheeky details that accentuate the chest, to power suits and perfectly draped dresses with sleek cut-outs at the waist, every little detail demands attention.
The collection is also sprinkled with a number of tie-dye looks, with pastel- and fluorescent-colored long-sleeved tees and tights styled with equally bright, neon-hued rain jackets and black dresses adorned with enormous sequins. Leading up to Lopez's instantly-viral finale moment was a series of silk and shimmery ensembles that transported show attendees to an imaginary exotic island. Expect to see celebrities heading to the resorts next summer in a chic combination of gladiator flats, large jewel-encrusted earrings and statement handbags from this collection.
If his inaugural show was about putting his own spin on the Tomas Maier-era Bottega Veneta, then Daniel Lee's SS20 collection for the Italian fashion house is very much a twist on that #NewBottega aesthetic. Now a beloved name among minimalist-inclined dressers, the British designer staged a phenomenal catwalk at the Via Senato show space, with models strutting down the runway in clothes and accessories much smarter and more wearable than his FW19 range.
One-shoulder dresses, sleek leather jumpsuits and sportswear-inspired outerwear were styled with oversized gold necklaces juxtaposing with dainty hoop earrings. The Arco bag now comes with longer straps that you can wear crossbody-style, while The Pouch gets a makeover with leather and biker chain-like straps. And if you've been eyeing on the brand's quilted leather sandals, you might just want to get yourself the new mules outfitted with twisty, hand-woven leather in every color possible.
This season, the Jil Sander woman is taking a refreshing leap out of her comfort zone. While the brand's signature tailoring and understated color palette remain as key themes throughout the SS20 collection, Creative Directors Lucie and Luke Meier experimented with natural raffia detailing that adds much character to the clean, minimal ensembles.
Voluminous shirts were cinched at the waist with slim belts, while asymmetrical slits and hemlines on skirts instantly elevated office-appropriate separates made up of silk blouses and cropped trousers. On the accessories side of things, we saw dangly, sculptural earrings, handbags coming in the form of business-ready clutches, roomy totes with cut-out details, as well as accordion-shaped purses adorned with spherical metal details. The gladiator-style boot-and-sandal hybrid is likely going to be an It-item among fashionistas as well.
Under the creative direction of Silvia Venturini Fendi, the storied fashion house is stepping into a new era, filled with playful styling and vibrant-hued pieces that bring to mind an idyllic Italian summer. The collection is drenched in shades of golden honey, baby pink and eye-catching pops of green, with feminine patterns like gingham and graphics of retro floral prints weaving throughout the range.
At the runway show, bikinis with high-waisted bottoms were paired with sheer dresses and fur coats. A lineup of safari-inspired and utility-focused outfits, characterized by sun-blocking chapeaus, '70s sunglasses, earth tone trench coats and fisherman-chic knit sweaters and pencil skirts, also had a huge presence on the catwalk. Modeled by the likes of Kaia Gerber and Fran Summers, the final portion of the SS20 presentation brought us a handful of block-cut blanket looks made up of cozy quilted skirts and outerwear. Other styling details we spotted during the show, like wearing slinky socks with loafers and peep-toe sandals, and itty-bitty bags as necklaces, are something that we'll for sure be borrowing for the warmer months.
MM6 Maison Margiela's latest collection is what we'd dream of wearing at our wedding. With John Lennon and Yoko Ono's peaceful "bed-in" protests serving as the starting point of the SS20 range, the presentation saw models walking at the former railway station Fabbrica Orobia, each carrying a speaker playing clashing yet at times harmonious sounds and music.
From reimagined tuxedo jackets to hoodies meshing with layers of tulle, the collection deconstructs familiar silhouettes, giving them new form and meaning. Exploring the concepts of "casual" and "dressed-up," veiled models wore silk gloves-attached tops with denim, and blazers with track pants. Footwear like the new tin can cylinder-heeled boots and those ruffled pool slides decorated with pearls are also to die for.
To invent new classics, Miuccia Prada drew inspiration from elements of various fashion eras to construct her SS20 collection. The result was a lineup of beautiful garments and accessories that cannot be easily defined by any single trend. As the show notes read, it's about "style over fashion." The clothes are designed for tasteful women who'd appreciate a sophisticated leather jacket-skirt ensemble as much as they'd love whimsical color combos and patterns.
Speaking of having fun with style, the accessories, bags and shoes were a highlight of the show. Bucket bags came in different materials, some crafted with leather and bamboo handles, while others were made with croc or a wicker-woven makeup. Block heeled loafers, vintage-inspired hats, as well as shiny necklaces and earrings made with large, pearlescent shells completed the otherwise office-friendly outfits.
As people around the globe took to the streets to protest about the climate crisis, Marni's Francesco Risso presented a perfectly timely collection with sustainability at its core. Utilizing deadstock leathers, upcycled textiles and organic cottons, the collection inspires conversations about how fashion can continue to innovate without compromising the environment. In collaboration with artist Judith Hopf, the brand even recycled the set from its recent menswear show to build a jungle-like space furnished with repurposed cardboard benches.
The clothes are delightful to look at, with numerous looks splattered in vibrant, hand-painted patterns, while others are dipped in fuchsia, tangerine and bright green. From apron-dresses tied casually around the waist, to tops with asymmetrical shoulders, the pieces are effortlessly chic and fun. While they wore meticulously constructed floral headpieces that look like works of art, models were styled with gemstones-adorned flip-flops on their feet. There's an overall sense of optimism and hope at the show — something we desperately need in today's world — and we have Risso to thank for that.
Composite Imagery

Teresa Lam/Hypebae
---
Share this article