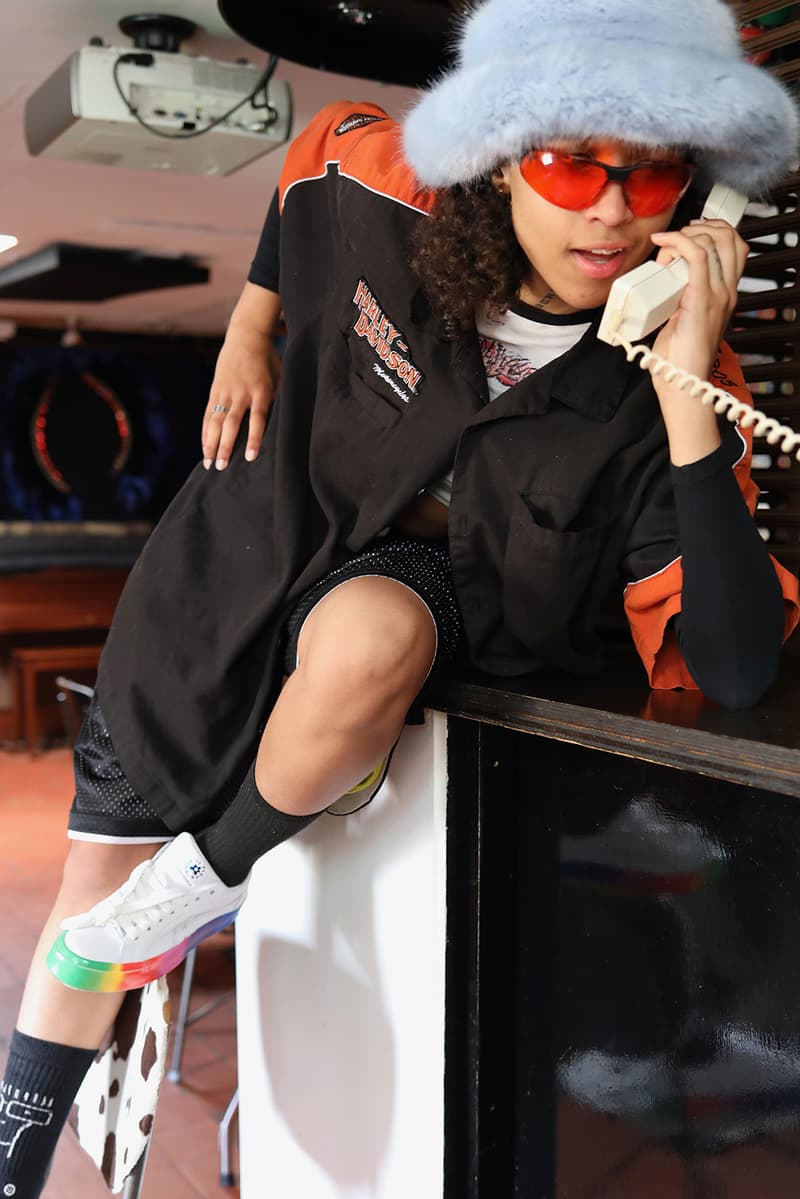 1 of 2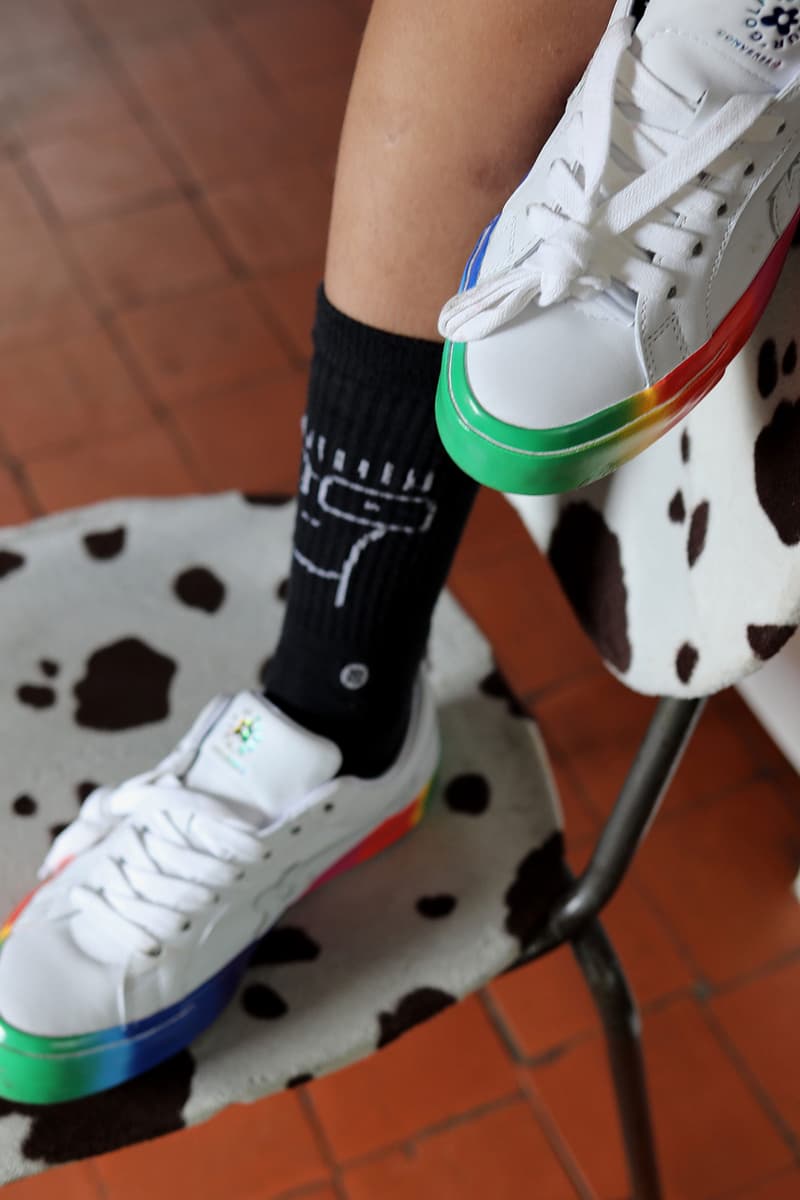 2 of 2
BAEwatch: Lava La Rue
Get to know the West London artist changing the face of UK rap.
When you first meet Lava La Rue, you're immediately aware you're in the presence of someone who can't be defined by just one thing. She's a rapper, producer, skater, designer and so much more – a true, 360 creative powerhouse. She's also acutely aware of the current political climate and how it's affecting her and her peers, which is something that's inevitably woven into every aspect of her work and persona.
Born and raised in London, the genre-blurring artist started making music when she was around 16 with some of her college classmates and they eventually evolved into a full creative collective, NiNE8. Years later, she still works closely with the same collective, a testament to both their bonds and the diverse perspectives and skills they bring to the table to strengthen each other's work. Having released an EP, Letra, last year, Lava La Rue has followed up with the impressive, newly-released mixtape Stitches. The 9-track project seems to mark what's set to be La Rue's biggest year yet as she carves out her own unique space in the British music scene.
Keep reading to find out more about this boundary-breaking artist and peep her recent work as part of Converse's female-led London-centric "Spark Progress" campaign. In related news, check out our BAEwatch with fellow British artist, Mahalia.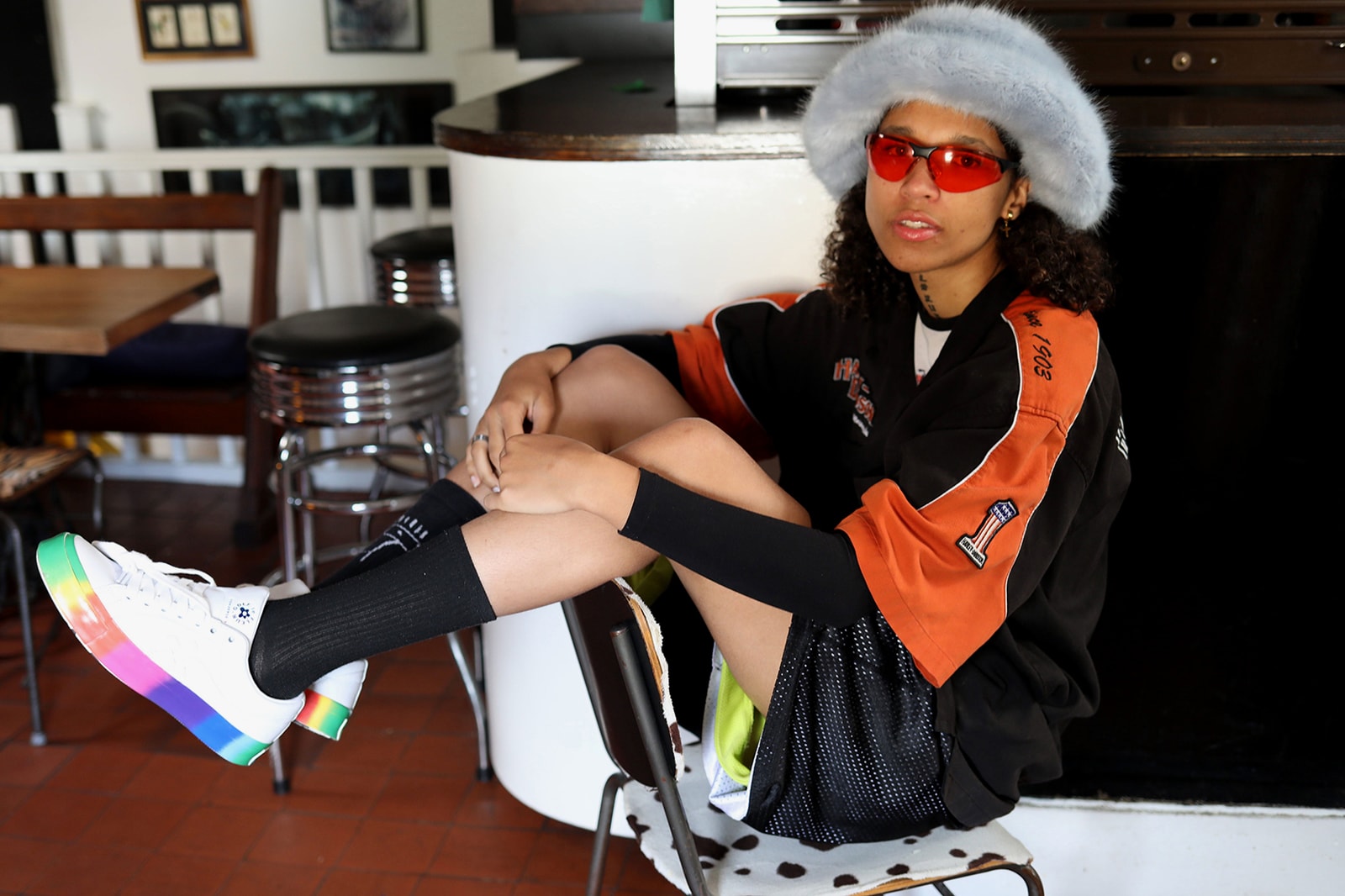 You're born and raised in West London: how do you think that's contributed to your sound and your art?
I think West London has not just impacted my sound specifically but just like the London sound as a whole. A lot of sounds that were pioneers and came together in West London just because we have the Notting Hill Carnival. It's where one of the original Windrush waves of Caribbean migrants came, and the culture and the sound system culture that they brought there with them. We have modern-day raves and warehouse parties, because of Jamaican sound system culture that came over to the UK and pioneered that. That whole culture we have now of UK rave and grime, so much of that originated from there.
With such a diverse range of influences, how would you define your sound?
I always just like to say vague things like, it's alternative R&B because R&B actually has rhythm and blues in it. It can spectrum from so many things, from soul to Y2K Aaliyah type beats. I take little bits of it, like a sketchbook or a scrapbook and I kind of paste it all together and then doodle my own shit on top of it.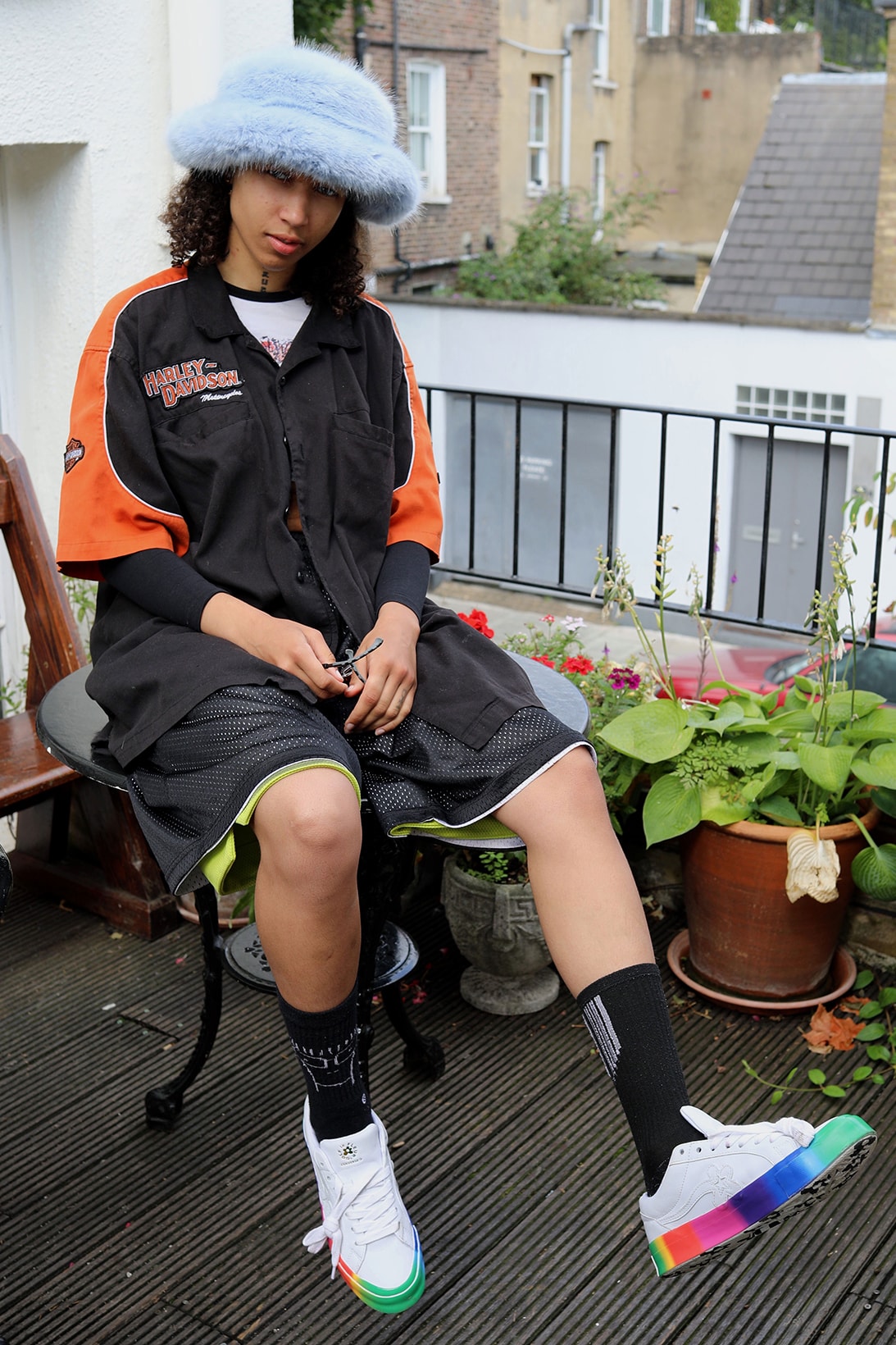 You're also really involved in the filming and editing of your videos, why is that important to you?
I think at the start it was a necessity – I genuinely had to because no one else was going to it for me. When you're somewhere creatively you do have a really strong vision of how you want it to come out. A lot of my music and my videos is like trying to get something from the back of my mind, a dream, a vision and actualize it into something tangible for other people to experience too.
When you have a creative idea, it's actually something where it's a very loose concept. It's kind of little flowing ideas and you want to string it together. Sometimes it's really good if you have the resources to bring people on and get them to create that vision. Sometimes people have the idea, they give it to someone else in their life to take it away and turn it into their own thing. And sometimes it's just so much f*cking easier to do it yourself.  That's not to say that like collaborating isn't great. I love collaborating my collective.
As you mentioned, you also have a creative collective called NiNE8. How did you meet the people that form part of that collective?
It's really funny to talk about the collective as a whole and how we found each other because it's like asking someone "You see your friendship group? How did you select that group?"  You never select a friendship group – people just kind of come in and out you naturally connect in it. How we all came together was a very instinctive and innate human thing, an animal thing, you know, like when animals roll in packs together.
The original members of the collective, we went to college together, We were in a BTEC music class and two of us got kicked out, including me. We were just like "We really want to do music, but we don't necessarily have access to all the resources right now. We don't really know anyone in the industry, so let's all just pitch in for a microphone. We all put some money in and we set up and our friend's bedroom and we just started making clothes for each other, making cover art for each other. We were friends, and that was what we got excited about and that's what we connected over and we still work together today.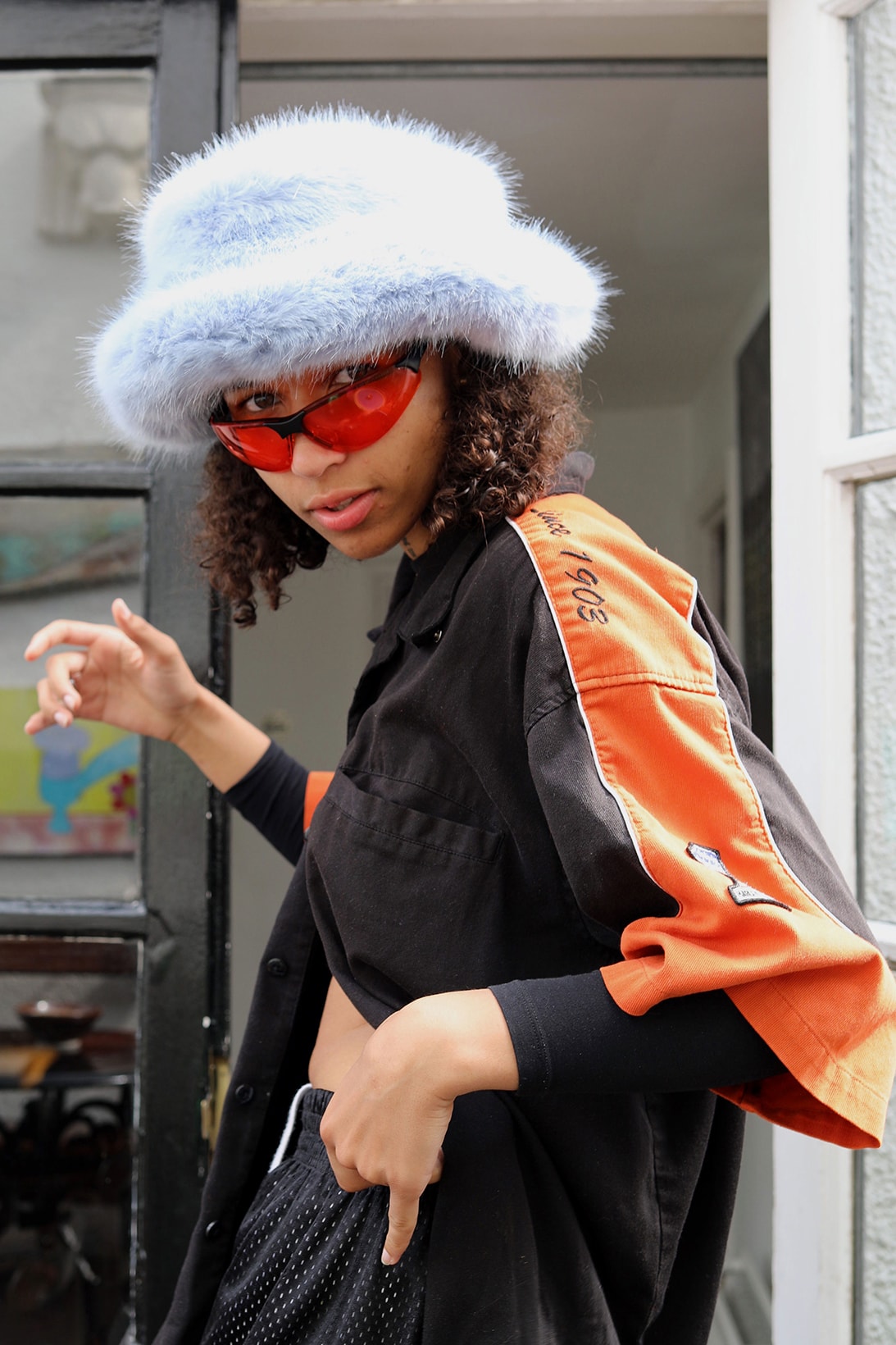 You grew up around people who were really into hip hop but also those who were really into skating. Do you think that the fusion of those kind of two cultures is like sort of shown for your sense of personal style?
I think growing up in London, you get crossovers of different subcultural styles that you don't really get anywhere else. I grew up around the skatepark a lot, two members of the collective, I know them  because we would skate [together]. You just find different sorts of paths and different types of people. With skate culture, for example, you're chilling with like a 40 year old or like, 15 year old kids. I think what you get here, which you don't get anywhere else, is these crossovers. All of these little intersections are where you develop your style and you meet your people. Yeah, I've been. I've always known. I've been a drifter, but in a way everything I'm really into, I commit to and I like, no doubt about it.
You have a really unique sense of style too. How important is it to you to use fashion as a vehicle for self-expression?
It totally is. For some people, they want to feel represented and representation is when you're walking down the street, you're representing who you are. For me, I just represent all my inspirations. A lot of them are like fictional characters from old '90s cartoons and stuff. I think it's important when you walk out in the street to feel like you are who you are.
You've just dropped your new mixtape, Stitches. Can you tell us more about it?
I don't think I've yet even begun to show half of my capabilities, vocally, lyrically, even production-wise. Stitches is literally called that because I'm stitching together some songs I made like four years ago with songs I made two months ago. It's like stitching these different times and sounds; it's like a scrapbook of all these different sorts of perspectives and I literally tie it together onto one mixtape. I feel like it's a lot more representative across the spectrum of what I'm able to do and who I am.
Share this article