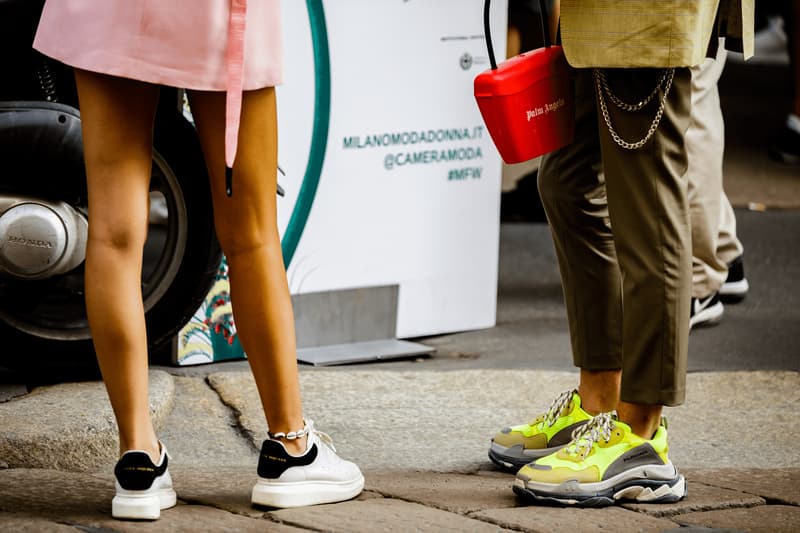 Footwear
Balenciaga Is the Most-Searched Sneaker Brand Right Now
Nike, PUMA and adidas are ranked below the fashion house.
Balenciaga Is the Most-Searched Sneaker Brand Right Now
Nike, PUMA and adidas are ranked below the fashion house.
Balenciaga is currently ranked as the most-searched sneaker brand. If you've been keeping up with fashion trends, you're well aware that streetwear lovers are obsessed with the fashion house's Triple-S sneaker. According to data pulled by SEMrush, Balenciaga was searched over 170,250 times this year alone. Behind the company was Nike, PUMA, and adidas.
Balenciaga also could have come in with the top ranking due to the release of its sporty Track trainer. This design initially dropped in three distinct colorways with sleek accents throughout. The shoe was one of the most popular sneaker silhouettes spotted at the recent New York Fashion Week.
Alongside the most-searched sneakers, SEMrush also unveiled the most popular sneaker collaborations of 2019. Coming in at the first ranking on this list was Virgil Abloh's iconic Off-White™ x Nike footwear. This partnership was searched at least 110,000 times throughout the year. The second slot went to the adidas x Game of Thrones collaboration, while Fear of God x Nike sneakers were ranked third. The fourth most-searched was Alexander Wang x adidas' trendy models.
While you're here, take a look at the most popular sneakers worn at London Fashion Week.
Share this article