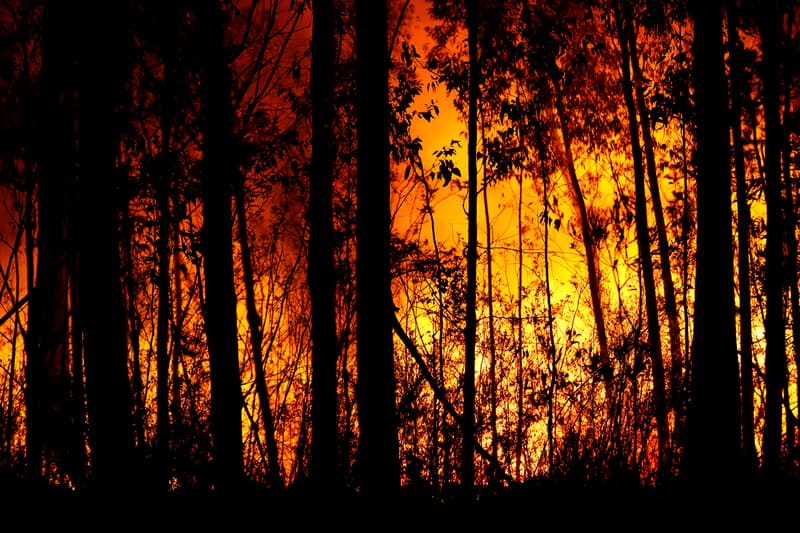 Here's How You Can Support Victims of Australia's Bushfire Crisis
Every gesture matters.
Australia has been suffering from a massive bushfire burning over 32,000 square miles of land, with at least 27 people and 1 billion animals killed and almost 2,000 homes destroyed. With a worldwide crisis like this, it's important that anyone from all over the world tries to offer even the smallest amount of help possible.
Along with celebrities like Nicole Kidman, Chris Hemsworth and Kylie Jenner who have pledged millions of dollars to aid those in need, you can also make a difference by donating, volunteering or even adopting a koala. Remember that every gesture counts no matter how small it may seem.
While there are numerous websites and organizations out there stating their profits will support those affected, according to ABC there have been scammers impersonating charities and relatives of victims. Before donating, make sure to double-check if the organization you want to donate to is registered on the Australian Charities and Not-for-profits Commission website.
Scroll down below for organizations that can help you support the bushfire crisis. You can also shop at brands like NOAH and Rowing Blazers, where proceeds will go towards the cause.
---
Australian Red Cross
HOW TO SUPPORT: The Red Cross is currently accepting donations for its Disaster Relief and Recovery Fund, aiding staff members and volunteers working at affected communities and providing shelters at around 70 evacuation centers. If you're looking to help in another way, you can also volunteer or donate clothing and household goods to affiliated stores.
WHERE: At Australian Red Cross' website.
---
Bendigo Bank Bushfires Disaster Appeal
HOW TO SUPPORT: Bendigo Bank has partnered with The Salvation Army for an appeal conducted by Community Enterprise Foundation, with all raised funds going directly to those affected by the bushfire. International donations are also accepted for those outside of Australia.
WHERE: At any Bendigo Bank branch or online at Community Enterprise Foundation.
---
GIVIT
HOW TO SUPPORT: A national not-for-profit organization, GIVIT connects "those who have with those who need" by matching donated goods with those requested by victims. Items currently in need include car batteries, drinking water, irrigation equipment and more.
WHERE: At GIVIT's website.
---
NSW Rural Fire Service
HOW TO SUPPORT: The NSW Rural Fire Service has a regularly updated map that shows areas of fire along Australia's southeast coast. It has also set up funds for families of firefighters (Samuel McPaul, Geoffrey Keaton and Andrew O'Dwyer) who have lost their lives fighting the wildfire. You can offer to help as a volunteer or make donations to support.
WHERE: At the NSW Rural Fire Service website.
---
RSPCA New South Wales
HOW TO SUPPORT: With the bushfire putting animals' lives at risk, RSPCA New South Wales and come forth to protect pets and livestock from the fire. Its staff is currently working with professionals on entering affecting areas to assess any injured animals. The nonprofit organization, which takes care of neglected and surrendered animals, is accepting donations for its bushfire appeal.
WHERE: At the RSPCA NSW website.
---
The Salvation Army
HOW TO SUPPORT: Teams at the Salvation Army have been working at multiple locations to help victims evacuate and provide meals as well as frontline assistance. It has also launched a disaster appeal supporting those affected, which you can donate to.
WHERE: Call 13 SALVOS (137258) or visit the Salvation Army website.
---
The St Vincent de Paul Society 
HOW TO SUPPORT: Through its bushfire appeal, the St Vincent de Paul Society is raising funds to help victims by providing food, clothing and essential items, paying unexpected bills through the recovery process and assisting with emotional support for those who have lost their homes.
WHERE: The St Vincent de Paul Society website.
---
Australia Zoo Wildlife Warriors
HOW TO SUPPORT: Focusing on protecting injured, threatened or endangered wildlife, the Australia Zoo Wildlife Warriors is accepting donations through its bushfire appeal to rescue animals like bats, koalas, kangaroos and more.
WHERE: Australia Zoo Wildlife Warriors' home page.
---
World Wildlife Fund
HOW TO SUPPORT: With koalas facing possible extinction in New South Wales and southeast Queensland by 2050, you can help save them by simply adopting one online. Through regular monthly donations, the World Wildlife Fund works with wildlife response organizations and scientists to restore damaged habitats and rescuing injured animals. By adopting, you'll receive a pack with an adoption certificate, Living Planet magazine, a WWF fact book as well as a koala toy.
WHERE: World Wildlife Fund's official website.
---
WIRES
HOW TO SUPPORT: Another wildlife organization looking to aid injured or sick animals, WIRES is accepting emergency donations online via Visa or Mastercard, Facebook and more. In case you missed it, NOAH is also supporting WIRES with a special koala tee.
WHERE: WIRES' home page.
---
Share this article