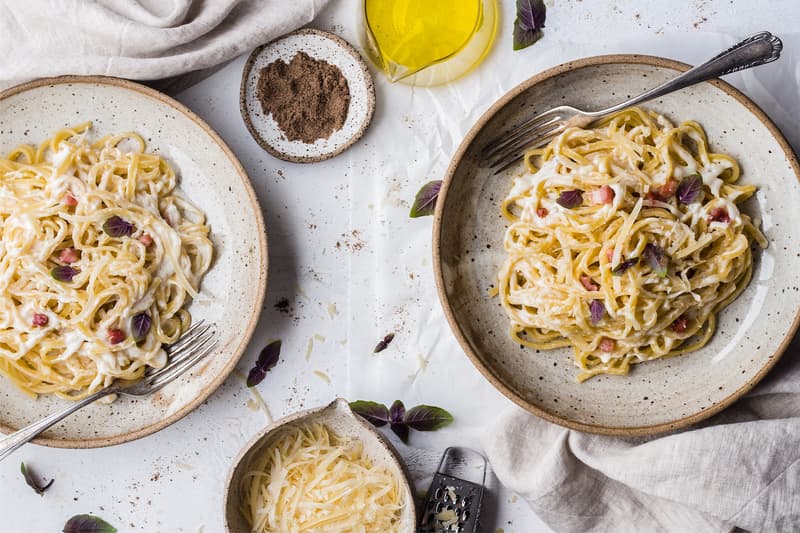 HYPEBAE's Guide to London's Best Pasta Places
Exploring all the pasta-bilities.
Tagliatelle, farfalle, spaghetti – you name it. Pasta is arguably one of the most versatile foods out there, arriving in a list of shapes, colors as well as texture, combined with a never-ending selection of sauces and flavors. Whether you're someone who loves something as simple as a vibrant pesto sauce or a spicy arrabiatta, or someone who prefers an intricate, ingredient-filled dish like puttanesca – the options are never-ending.
To celebrate the endless pasta-bilities, we've taken a look at some of London's best pasta places, ranging from cult-favorites like Padella to local gems like Lina Stores. Keep reading below to get your pasta fix, and let us know in the comments below which restaurant is your go-to when it comes to Italian food.
Lina Stores
Where:
51 Greek St, Soho, London W1D 4EH
Lina Stores is a small gem hidden on Soho's bustling Greek Street. It is recognized by its pastel-hued entrance, and once you enter the restaurant, you immediately feel the importance of good food and family. The small restaurant seats only a handful of people, and if you're looking to get a table you better be quick.
Ideal for those looking to try a handful of dishes, Lina Stores is ideal for sharing. The small plates mean that you can order more, and try out all the mouth-watering flavors.
Padella
Where:
6 Southwark St, London SE1 1TQ
Padella is a cult-favorite for London foodies. Located in London Bridge, the restaurant doesn't take reservations – but expect a two hour wait. The best way is to arrive early and secure a spot in the queue, because despite the wait, the food is exceptional. Handmade pasta and an open kitchen showcases the art of food, and you're guaranteed to leave feeling satisfied. The restaurant also frequently tries out a handful of dishes, so make sure to keep an eye on the Padella Instagram.
Bancone
Where:
39 William IV St, Charing Cross, London WC2N 4DD
Having just opened a new location in Soho, Bancone has defined itself as one of the best spots for Italian food in London as well as world-wide. The Instagram feed alone is drool-worthy, and the abundance of fresh pasta and truffle is a dream-come-true for food lovers. Bancone's dishes take inspiration from over 20 regions across Italy, and the restaurant has an ethos born out of "passion for Italian pasta and wine." Without a doubt a place you can't miss.
Cecconi's
Where:
58-60, Redchurch St, Shoreditch, London E2 7DP
Soho House's famous Cecconi's has become a favorite world-wide, with locations all over the world. Serving Italian cicchetti, pizza and pasta, the restaurant is a casual yet cozy place to come to get your food fix, especially if you've got a taste for truffle. Experimenting with flavors and iconic classics, Cecconi's is an instant go-to.
Trullo
Where:
300-302 St Paul's Rd, Highbury East, London N1 2LH
Trullo is Padella's sister restaurant, and also serves pasta that has become a holy grail for Londoners. Described as "confidently unfussy Italian cooking," Trullo is all about serving delicious meals and providing you with a taste of real flavor, rather than solely focusing on dining experience and other aspects of a meal. The food is simply fantastic, and deserves a visit for anyone looking for a restaurant that would work just as well in an Italian neighbourhood as it does in London's bustling big city.
Pastaio
Where:
19 Ganton St, Soho, London W1F 9BN
If you're looking for "inventive Italian pastas and playful cocktails," look no further than Kingly Court's Pastaio. Serving fresh pasta at an affordable price, Pastaio is the ultimate place for a hearty, carb-filled meal. The restaurant takes no bookings, and frequently amasses a long line – but it is worth the wait. You don't want to miss Pastaio's fun twists on classic dishes.
Manteca
Where:
58-59 Great Marlborough St, Soho, London W1F 7JY
Manteca's menu is ever-changing, and frequently experiments with seasonal ingredients such as sweetcorn, throughout summer and fragrant mushrooms throughout fall. If you're roaming around Soho, Manteca is definitely a restaurant worth a visit if you're wanting to munch on some hand-rolled pasta.
Popolo
Where:
26 Rivington St, Hackney, London EC2A 3DU
With a handful of locations, Polpo has become an instant favorite for those looking for exceptional bottles of wine, great food and cozy ambiance. In addition to pasta, the restaurant also serves up an excellent selection of seafood, cocktails and pizza-inspired dishes.
Forza Win
Where:
4.1, Copeland Park, 133 Copeland Rd, Peckham, London SE15 3SN
Located in Peckham's trendy Copeland Park, Forza Win is a South-East London gem you can't miss. Not only does the restaurant offer great food, but it also has a bar dubbed Forza Wine, which is also worth a visit. As a bonus, head over to Forza Win's Instagram for drool-worthy food pics as well as fantastic captions.
Burro e Salvia
Where:
52 Redchurch St, Shoreditch, London E2 7DP
Burro e Salvia describes itself as "pasta for connoisseurs," and frequently experiments with new flavors and palettes on its menu. Straying away from traditional dishes, the restaurant is the place to go if you're looking to try seasonal dishes such as "sorpresine in fennel broth with prawns," and other fun takes on both pasta and antipasti.
Bocca di Lupo
Where:
12 Archer St, Soho, London W1D 7BB
Bocca di Lupo's Instagram is a glimpse into the world of truffle pasta and pizza, and creates the ultimate hunger. "Stripped-down, honest, regional Italian cuisine in the heart of Soho," is how the restaurant describes itself, and is the perfect place to go for a weekly dinner or for a great glass of wine.
Pophams Hackney
Where: 197, 205 Richmond Rd, London E8 3NJ
Another must-see for those looking for exceptional hand-made pasta, Pophams is the place to go. The restaurant also doubles as a café and bakery, serving up excellent pastries in addition to the pasta lunches and dinners. The restaurant is only open from Tuesday nights through Saturdays, so you'll have to be quick to get your reservation in.
---
Share this article