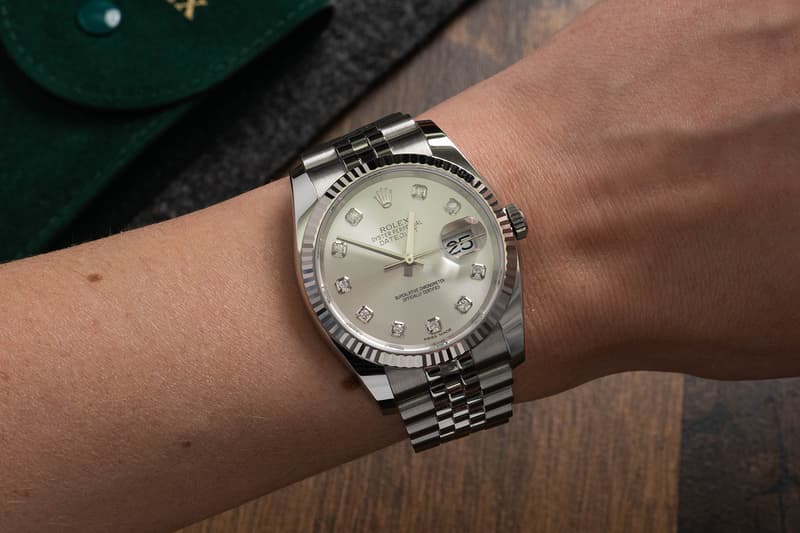 Fashion
An Expert's Guide to Taking Care of Luxury and Vintage Watches
WATCHVICE co-founder Jenni Elle shares her best tips.
An Expert's Guide to Taking Care of Luxury and Vintage Watches
WATCHVICE co-founder Jenni Elle shares her best tips.
Buying your first luxury watch can be daunting, not only because of the hefty price tag, but also due to the fact that it takes a lot of research to fully understand how to take care of one. For those looking to purchase a new timepiece, we've put together a beginner's guide to maintaining your watch.
According to Jenni Elle, co-founder of German platform WATCHVICE who also runs her own YouTube channel dedicated to watch reviews, it all comes down to whether you understand the movement and other parts that make up your watch. If you know whether your piece is mechanical or quartz, has a leather strap or a steel bracelet, figuring out how to take care of a watch is not as difficult as it may seem.
From the basics of watch parts to helpful tools and materials, Jenni teaches us how to look after a timepiece. Read the full guide below, and while you're at it, check out some expert tips for purchasing vintage watches.
7 Top Tips for Maintaining a Watch
Identify the Movement
First, you should know what type of movement powers your watch. Is it mechanical or quartz? Is it an automatic movement? Is it a hand-wound or a quartz movement that needs a battery change as soon as it stops? Understanding your movement means knowing how to properly set your watch and keep it running without losing time and running late.
Know What Your Watch Is Capable To Withstand
For instance, is it waterproof? If so, how much water pressure can it take? Is the crystal made from sapphire or is it an acrylic crystal? What's the case and strap or bracelet made of and how easy or hard is it to scratch?
Being able to answer all these questions about your watch should provide you with a general understanding of what you can and cannot do with your watch, which is going to help you immensely with maintaining it.
Learn How To Properly Clean Your Watch
There are a lot of tools out there that help you take care of your watch, but in my opinion, it only takes a couple of items that pretty much anyone has at home to ensure it stays clean and functioning.
For waterproof, stainless-steel timepieces, I recommend cleaning with a soft and clean toothbrush using a tiny drop of dish soap and rinsing it with lukewarm water afterward. You can dry it off by taking a paper towel and carefully dabbing off the excess water — there are tons of tutorials on YouTube that you can search for.
If your watch comes with a leather strap or is not waterproof, I would suggest using a clean and dry microfiber cloth and gently wiping the surfaces every once in a while. One thing to note is that precious metal watches are very delicate and easy to scratch. You should take extra care when cleaning pieces that contain or are entirely made from precious metals.
Avoid Intense Shocks or Vibration
I make sure to select my watch for the day depending on what I am going to do. Though modern watches can withstand quite a lot, I wouldn't recommend wearing, for example, a mechanical watch to an activity that involves intense shocks or vibration on your wrist like golfing or riding a rollercoaster. You can compare it to shoes – there are different shoes for different activities or occasions. Although you technically could, you wouldn't wear heels to the gym, right?
Use the Right Tools When Changing a Watch Strap
Changing a watch strap can be very difficult if you do it on your own for the first time. Luckily, there are many tutorials online that help you with changing straps for your specific watch.
Make sure you are always using proper watch tools, so you do not damage your watch during the process. It is also good to prep your work station with a soft underlay like a felt mat to prevent scratches.
When you're done changing out the strap, give both ends a good tug and check the clasp to make sure that nothing is loose, and everything sits in place.
Find Out How Often Your Watch Needs Servicing
Service intervals differ based on the manufacturer, so there is no general answer to that.
If it's a brand new watch that you bought from a store, you can ask the salesperson – they'll know when exactly it is time for your watch to be serviced.
If you're buying a pre-owned or vintage watch, it's best to ask the seller for when the watch has been serviced last time and what exactly has been done to it, including the proper certificates or papers that come with a service.
In general, Rolex recommends a full service approximately every 10 years, Omega recommends one roughly every five to eight years and Cartier recommends a full service every five years.
Be Extra Gentle if Your Watch Is Vintage
Vintage watches can be very delicate. As mentioned, you should be aware that vintage watches do need a little bit of extra attention and care. Given the fact that each watch is unique in its condition and state, you have to be mindful when wearing your vintage piece. Materials in and outside of a watch tend to wear down or perhaps even break over time (which is absolutely normal), as well as naturally age like everything else.
I wouldn't recommend putting vintage watches underwater, even if it is a diver's watch. I would also be very gentle when setting it or winding it to not put any unnecessary stress on the movement.
Like I've mentioned before, it also helps to regularly service your vintage watch to prolong its lifespan. It really is something that comes down to your specific watch, but it is best in general, to be a bit more careful.
Jenni Elle's Favorite Timepieces
Thinking of my favorite watches from my collection makes me realize that each of them has become my favorite for very different reasons, which is very exciting to me.
Rolex Datejust 36
The first one would be my Rolex Datejust 36. Not only is it one of the most classic Rolex watches, but it's also the one my husband gave me for our wedding. I've picked the configuration with the jubilee bracelet, a fluted bezel and beautiful silver sunburst dial with diamond hour markers to commemorate the special occasion.
Tudor Black Bay 58
Next is my Tudor Black Bay 58 that I really love for its understated vintage character and functionality. It's a 39mm diver with a beautiful matte black aluminum bezel insert and a matte black dial that is contrasted with rose-gold hands and hour markers. Given its stainless-steel case and bracelet along with the 200m water resistance, my 58 is the perfect companion for daily looks.
Seiko "Tank" SFP608P1
Last, but definitely not least, is my Seiko "Tank" SFP608P1. It's a rectangular Seiko that pays homage to the classic Cartier Louis Tank, an absolute icon when it comes to watches. I've always liked rectangular cases and the Seiko wears very comfortably due to its light weight and leather strap. I really like the fact that this is a quartz watch, so I don't have to worry about setting or winding the watch like I have to do with my two other top choices.
Share this article