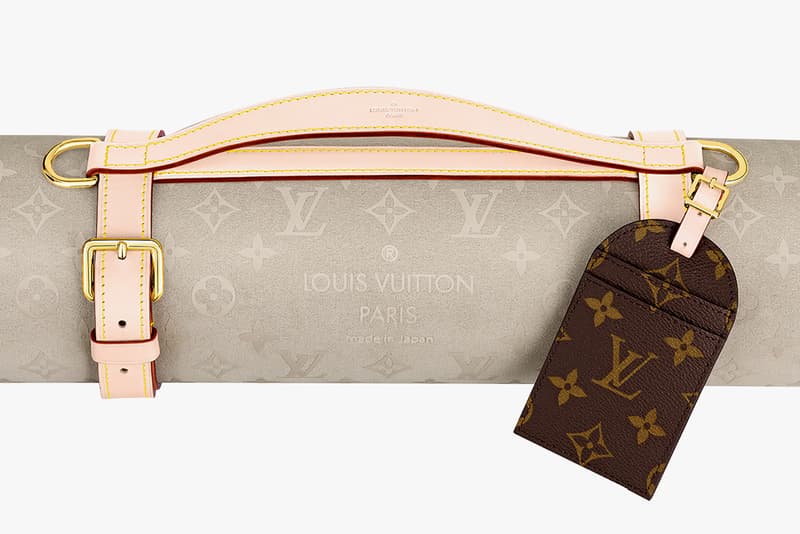 7 Designer Yoga Mats Made for the Fashion-Obsessed
Taking extra to the next level.
Although seemingly unrelated, the worlds of high fashion and sports have a connection that runs deeper than most onlookers think. Whether we're talking about the sports-centric collections by Prada and Karl Lagerfeld's Chanel in the 1990s and early 2000s, or the growing ubiquity of designer sneakers in recent years, fashion has long looked to sports for inspiration. With our love for comfortable athleisure garb reaching an all-time high in the middle of a pandemic, French luxury house Louis Vuitton has even launched a yoga mat as part of its 2020 Holiday collection — covered in the brand's signature monogram print, no less.
While there is an extensive selection of yoga mats on the market, designer branded ones are certainly hard to come by. In addition to the Louis Vuitton option, below, we've rounded up a few other luxury brand yoga mats for the truly fashion-obsessed. From Saint Laurent's collaboration with activewear brand No Ka'Oi, to rare archival items of Gucci and Chanel found on resale platform Vestiaire Collective, scroll down for a luxe edit of the fitness equipment.
Made of natural rubber and polyurethane, Karl Lagerfeld's reversible, anti-slip yoga mat is perfect for your yoga moves and stretches. The piece sports a minimal black hue and is embellished with the designer's signature logo.
Valentino's logo mat is for all the pink lovers out there. The fitness accessory features a black foam rubber bottom with a pink microfiber surface. Additionally, it conveniently comes with a strap, allowing you to carry it with ease to your next socially distanced fitness class.
In collaboration with luxury activewear brand No Ka'Oi, Saint Laurent has delivered a Rive Droite-exclusive style specially crafted in Italy. Printed with the fashion house's logo, the piece is made of quilted polyurethane material and arrives in a sleek black colorway.
Made in Spain from natural tree rubber, Loewe Paula's Ibiza's yoga mat boasts a seasonal navy blue shade. The piece sports the mermaid pattern and white logo of the label's seaside collection, and comes with a sturdy tan-brown leather strap.
Packaged in an original GG canvas bag, Gucci's yoga mat is crafted from a perforated rubber material and boasts a classic black hue. Featuring tonal leather trims, the bag is finished off with the house's signature green and red striped shoulder strap.
Louis Vuitton's yoga mat is ultimate luxury fitness item. Arriving in a subtle beige colorway, the mat is supple to the touch and arrives in a non-slip finish. Standout design elements include the French label's monogram pattern printed throughout the entire piece, as well as the natural cowhide leather details. Additionally, the mat comes with a dark brown leather card holder for you to store your essentials in while you're on-the-go.
Chanel's logo-emblazoned yoga mat is for fans of the French maison. Coming in a minimal black hue, the accessory features a crisscross pattern and is constructed of high-quality rubber material to guarantee a comfortable and safe workout.
---
Share this article