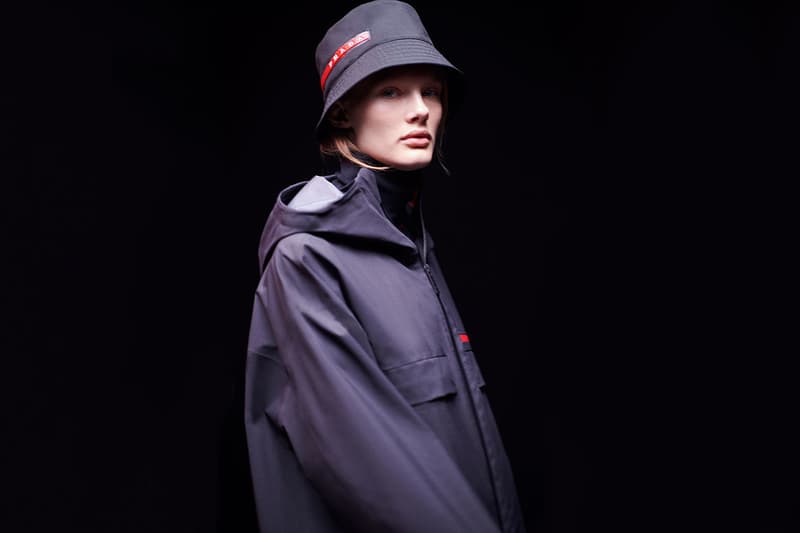 Fashion
From Chanel to Prada, A Brief History of Designer Sportswear
While trends go in and out of style, the designer sportswear market is one that seems to only be remaining relevant.
From Chanel to Prada, A Brief History of Designer Sportswear
While trends go in and out of style, the designer sportswear market is one that seems to only be remaining relevant.
In 2016, Merriam-Webster introduced the term "athleisure" to its pages, crystallizing a trend that would soon come to define the decade's fashion landscape. Balenciaga sent the very first pair of Triple-S sneakers stomping down its Paris runway in 2017. For Off-White™'s Spring/Summer 2018 show, Virgil Abloh dressed Naomi Campbell in a tailored blazer and bike shorts. For the Fall/Winter 2018 season, Prada revived its formerly defunct Linea Rossa line — perhaps better known as Prada Sport. With luxury houses dropping some of the most covetable sneakers in recent memory and athletic leaning clothing — think Gucci tracksuits and Balenciaga sweats — permeating designer collections, it's hard to believe there was a time when the worlds of high fashion and sports weren't intrinsically linked.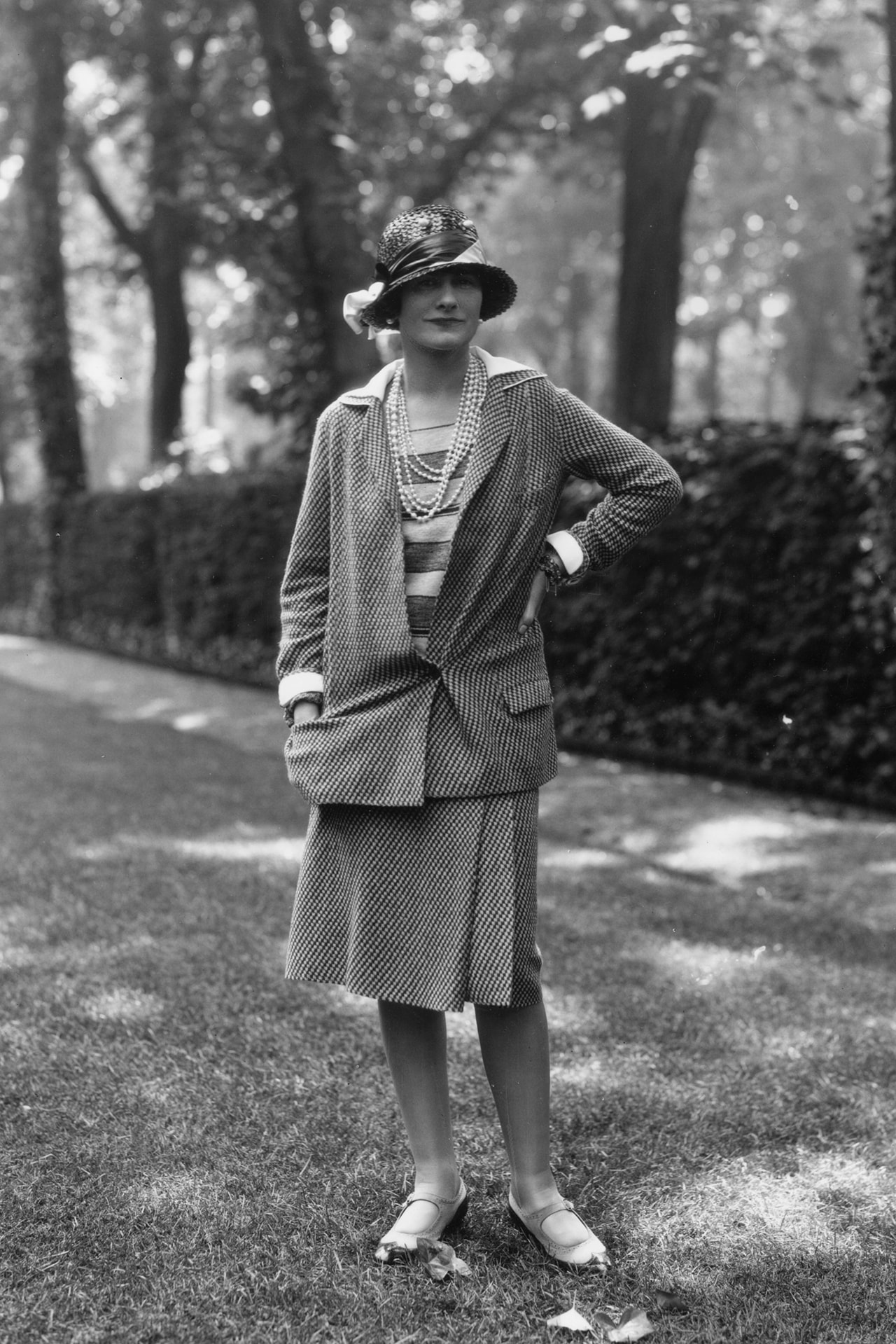 The historic link-up between luxury womenswear and sportswear happened nearly a century ago. Through the 1920s, women began entering the workforce and public sphere at an unprecedented rate. Naturally, this newly-liberated woman would need a new, liberating wardrobe: one that allowed for a freedom of movement and comfort not provided by the era's restrictive corsetry and stiff, stuffy fabrics.
It was none other than Coco Chanel who answered the call. Inspired by the fabrics of men's sportswear — polo jersey and tweed, used to craft shooting jackets and cycling-wear — Chanel created a revolutionary new wardrobe for the 1920's "New Woman." Among her athletics-inspired innovations were the bell-bottom trousers (inspired by those worn by sailors), jersey separates and, most iconically, the two-piece tweed suit.
Chanel's storied sportswear legacy endured and flourished under the creative directorship of Karl Lagerfeld during the latter half of the 20th century. The '90s saw the creation of the Chanel Sports line which featured an assortment of nylon anoraks and vests, jersey athleisure separates, fanny packs, mesh messenger bags and even logo-emblazoned tennis balls.
Every year since, the French house has upped its athletics game, dropping logo-emblazoned equipment for every activity under the sun. For Chanel's winter sports-focused Fall/Winter 2001 collection, models touted goggles, balaclavas and snowshoes, and toted snowboards, skis and ice axes down the runway. And that's not even the tip of the iceberg: the final look on Chanel's Spring/Summer 2003 catwalk counted a surfboard as a statement accessory and, for Spring/Summer 2008, the label released an assortment of tennis rackets.
While Chanel cornered the market on luxe sports gear, perhaps most emblematic of 1990s luxury athletics — and prescient of today's athleisure boom — was Prada's short-lived Linea Rossa line.
The line was birthed from the label's involvement in the 1995 America's Cup — the world's largest, and most historic, yacht race. With Prada sponsoring the event's Italian team, Luna Rossa, designer Miuccia Prada was charged with creating the racers' uniforms. Inspired by the technical fabrication of Luna Rossa's outfits, Miuccia quietly launched Prada Sport in 1997 with a lineup of men's nylon separates, all marked with the line's iconic red logo.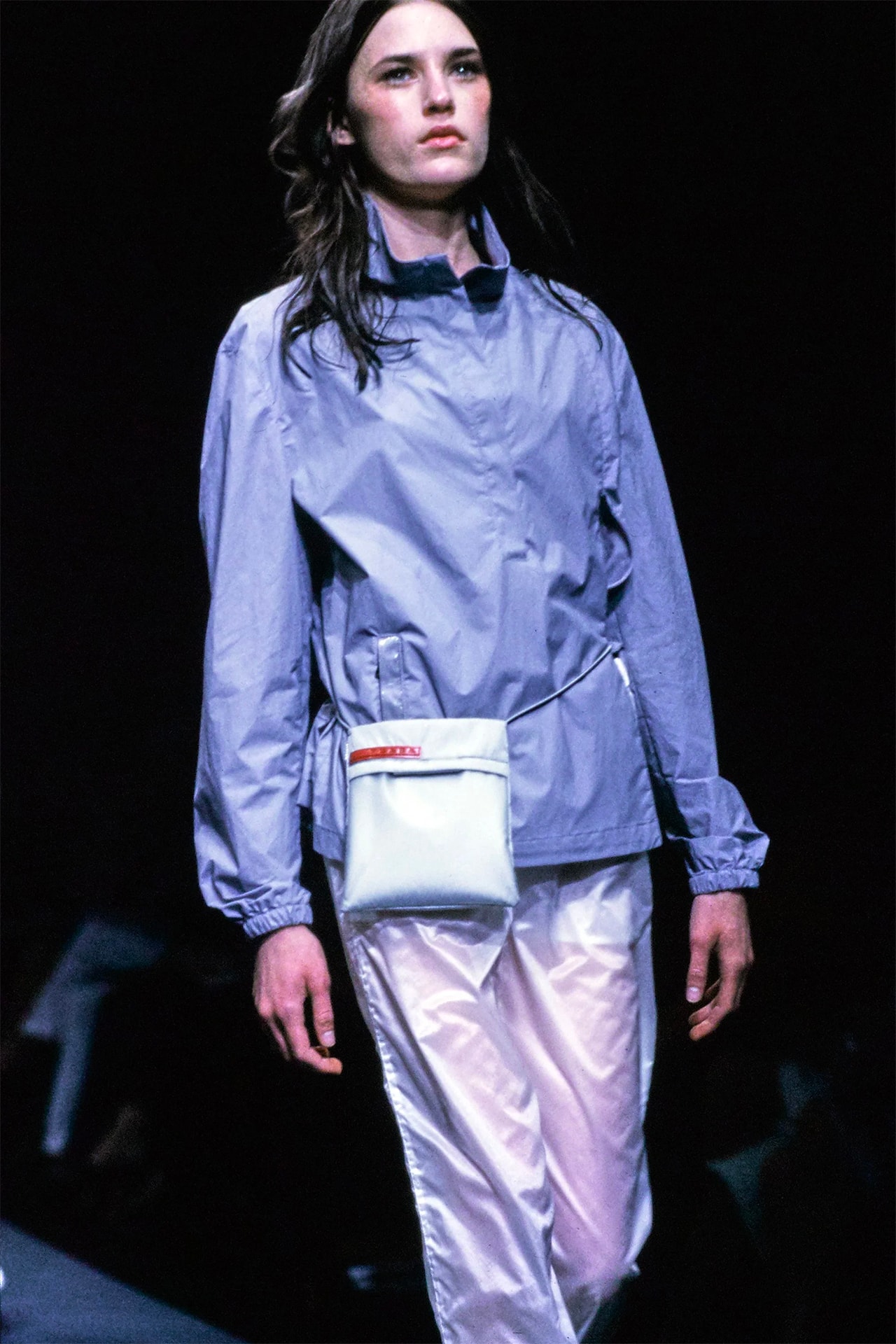 Of the newly-minted line, Miuccia commented to The New York Times, "Our idea is to mix technology with normal dressing. You don't need to disguise yourself as a champion to practice a sport. In the long term, I see formal dressing for special occasions and an increasing number of people wearing sportswear almost all day long." She was right. Two years later, Linea Rossa took over Prada's Spring/Summer 1999 womenswear runway with a selection of the line's most covetable pieces: waxy nylon anoraks, vests and track pants, Bermuda shorts, crisp poplin jackets and fanny packs all in futuristic grays and whites.
Although the line was shuttered in 2001, its instantly-recognizable utilitarian-minimalist aesthetic (think bungee-cord drawstrings, toggles, cyber-blue nylon satin) lives on in the athleisure designs of a new generation of women's brands from Miaou Sport to Orseund Iris.
In 2002, Japanese designer Yohji Yamamoto and German footwear giant adidas joined forces in forming Y-3, a collaboration that would change the fashion landscape of the early aughts and beyond.
Yamamoto originally reached out to adidas to borrow some of its Three Stripes sneakers for his Fall/Winter 2000 runway show.
By this time, Yamamoto had already earned his own stripes in the industry: over twenty years of visionary work for his namesake label had garnered the designer international acclaim, and solidified his status as an avant-garde legend and master tailor.
But over three decades into his career, Yamamoto was growing disillusioned: "Fashion had become so boring," he told i-D in 2016. "I felt I had come too far from the street. I couldn't find people wearing my clothes anymore and I felt so lonely. At the time, New York businessmen were starting to walk to work in their suits and sneakers. I found this strange mix incredibly charming, a fascinating hybrid."
What began as a simple request for sneakers would become just that: a fascinating hybrid of avant-gardism and performance athletics. Initially, adidas tapped Yamamoto to design a pair of sneakers. To the industry's huge surprise — Style.com's review of Y-3 debut noted that Yamamoto himself had never been commercially successful — the limited run of 50,000 sold out immediately. The success solidified the Yamamoto-adidas partnership, and for Spring/Summer 2003, Y-3 sent its first collection down the runway at Paris Fashion Week.
The collaboration was and continues to be a runway success, bolstered by a harmonious balance of Yohji's design sensibilities — a keen eye for proportion, silhouette, tailoring — and adidas' technical expertise. One of the partnership's most popular and covetable sneaker model, the Qasa, was released in 2013.
A shock and revelation at its inception, Y-3 would not only revolutionize the industry but also usher in a wave of designer and sportswear brand link-ups that would come to define modern fashion and mainstream sneaker culture. Think Raf Simons' RS Ozweego and Rick Owens' Geobaskets under the adidas banner, Nike and Jun Takahashi's GYAKUSOU, any sneaker Virgil Abloh has customized, tweaked or created for Nike, or the instantly sold-out YEEZY 500, BOOST 350, BOOST 700 — the list goes on.
While the fashion cycle continues to spin at its frenetic pace, and trends go in and out of style at the speed of light, the designer sportswear market is one that seems to only be remaining relevant, offering up a plethora of groundbreaking designs and coppable sneakers year after year.
---
Zoë Kendall is a writer and editor specializing in fashion and culture.
---
Share this article