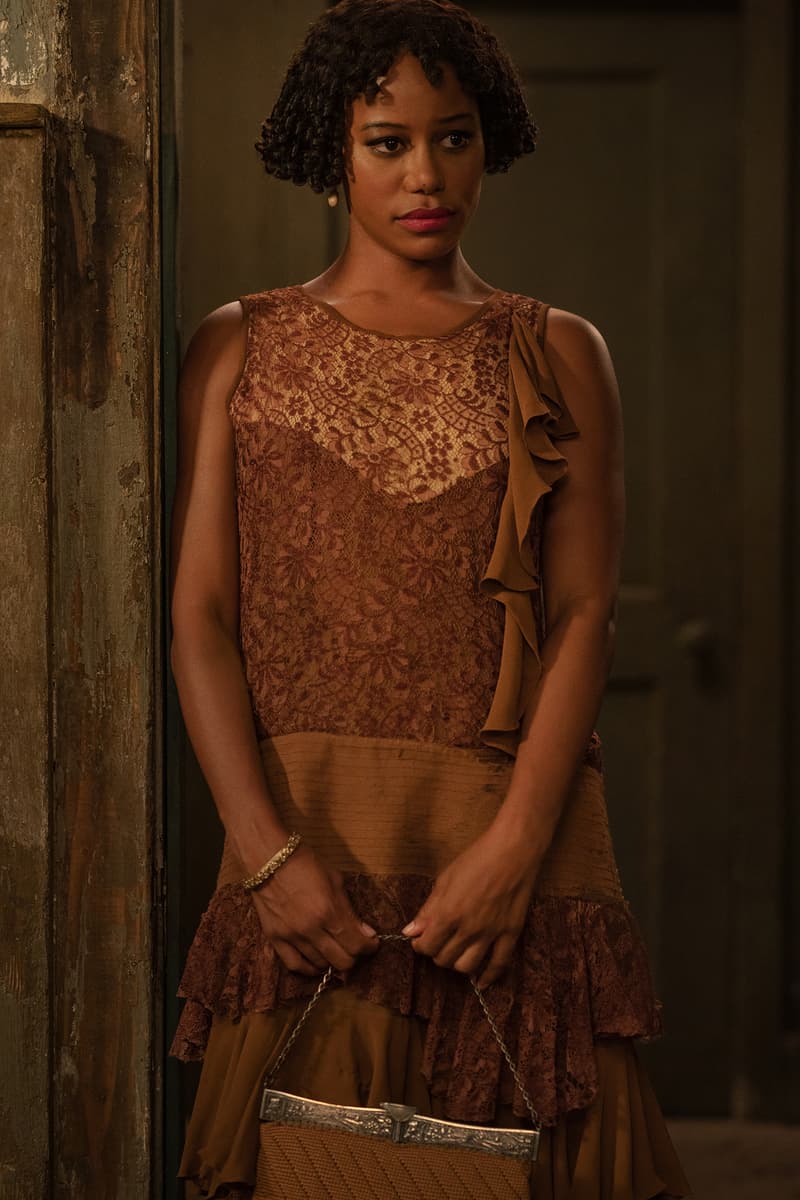 'Ma Rainey's Black Bottom' Taylour Paige Calls for an End to Gaslighting Black Women
The actress and dancer discusses the issue in and outside of the music industry.
Film & TV
'Ma Rainey's Black Bottom' Taylour Paige Calls for an End to Gaslighting Black Women
The actress and dancer discusses the issue in and outside of the music industry.
August Wilson's Ma Rainey's Black Bottom, though staged in the late 1920s in Chicago, is holding a mirror to society about the intersectionality of entertainment and Black culture, racism and police brutality, and the mistreatment of the LGBTQ+ community within Black America. Taylour Paige, who has also starred in 2018 feature film White Boy Rick, will be starring as Dussie Mae opposite Academy Award-winning actress Viola Davis in Netflix's film adaptation.
In case you're wondering why Paige's face looks so familiar, you might recognize her from VH1's Hit The Floor with Logan Browning and Kimberly Elise, or as the starlet from stripper comedy-drama  Zola, premiered in January at the Sundance Film Festival. Trust us, you've seen her around.
As Ma Rainey's lover, Dussie Mae's character explores the nuances of the complex relationship between the Black queer community and the music industry, specifically through her relationship with the "Mother of Blues" in a single recording session. Between Davis' lead and Chadwick Boseman's Levee, who is ambitious for stardom and solo fame, Dussie Mae is more than a lustful young lover caught between two opposing characters. She represents whimsical innocence and the unapologetic nature of Ma Rainey's sexuality in a homophobic and racist world — which Paige depicts effortlessly.
On and offscreen of the Denzel Washington-produced film, Paige uses her platform to be a moving part in the evolution of Black narratives in film and television. Less than a week before the premiere of Ma Rainey's Black Bottom, HYPEBAE spoke with the Los Angeles-based actress about the final performance and legacy of the late Chadwick Boseman, the significance of her character Dussie Mae and the struggles of being your authentic self as a Black woman in America.
Ma Rainey's Black Bottom hits Netflix on December 18.
What is the cultural relevance of August Wilson's story with a Black and queer woman protagonist?
Ma Rainey is under the veil of her confidence. She's actually quite dejected and very wounded. She projects power, brashness, certainty and agency but she's desperately auditioning for it, and that's why it projects as pain, bitterness, anger, hot-tempered and difficult. To be a Black woman today, then, to me is to be gaslit all the time because of the constant lack of acknowledgement, lack of apology, lack of care — just assuming you've got it.
"You've been carrying the world on your shoulders anyways. You've been raising my kids. You've been doing it by yourself, now go be great." "Why are you complaining? Why are you angry? Well, now you're singing so what do you have to complain about?" "Well, now women can vote…" And I think it's all of that.
What does your character Dussie Mae symbolize and how does she play a significant role in Ma Rainey's Black Bottom?
Dussie represents the voiceless. She doesn't really have much to say, but there's so much being said without being said. She's looking for a window of possibilities and looking for a way to not have to go back to that — the direct descendants of slaves. [She represents] people who are looked at as not human and still trying to find a way. [Dussie's thoughts are,] "Maybe if I move my hips this way, maybe [Ma Rainey] will let me do the intro on this song next time. Maybe I'll finally be heard. Maybe I'll be loved. Maybe if I do this, I won't feel so disposable."
I think being Black in America is obviously so glaringly complicated, because I don't know what this country would do without us yet we're always made to feel like we're trash, we're disposable, we don't matter, we're not valued — no one gives a f*ck about what you have to say, you're only useful if you're entertaining me. From basketball to football to singing to acting, do what you got to do and then shut up. Dussie is this childlike energy who's on the quest for some kind of stability in her life and I don't think she knows where she's going, but she knows she's not trying to go backwards.
How would you explain the LGBTQ+ community's complicated relationship with the music industry — both in the film adaptation and in real life?
I mean, we're in 2020 and we're still having a conversation in many ways about people's values and what it means to be gay, and that's ridiculous. I think the fact that one has to explain their sexuality or it be something that's looked at as less human or less important — like anybody has any right to govern another person's body — is beyond me and still to me, unfathomable.
Dussie was living her life and Ma was living hers. They're lovers in a time where it was illegal to be gay and it was illegal to be Black, symbolically. Just to exist, just to raise your head off the pillow and put one foot in front of the other to declare "I'm with her" was like, "What?" I think that's important to be represented and have a real story in the day in the life. Dussie wasn't a historical figure that lived, but Dussie was definitely an ancestor. There was an energy that was just like Dussie, just like you and I, that was living and breathing, hoping for tomorrow that it would be better than today, and loving who she wanted to love.
How did artists like Ma Rainey and Bessie Smith's rebellion spark a movement in the liberation for the LGBTQ+ community?
Because to live as anything but yourself, especially in a world that's trying to convince you otherwise, is the greatest act of love. For your people, for yourself and for those you love. They were living and loving out loud in the way that they could without ending up dead or in jail. I hope we forever speak their names because without Bessie and without Ma, and without so many who have come before us, I don't know where we'd be. They were living in a time where they weren't nurtured for who they were. They had to hide or they had to try to conform, but also not.
What do you believe to be Ma Rainey's everlasting impact on general women's rights, and how did she pave the way for female artists and entrepreneurs succeeding her?
Anybody who has the courage to die [for their rights and their community], especially as a Black woman, should be commended, because it's like everything is set up and stacked against you. To be alive as a Black woman, as an entertainer, is to constantly be gaslit. It's to constantly be made to feel unworthy. It's to constantly have to undo your PTSD. It's to constantly have to grow up fast.
What were some of the key lessons you learned from the late Chadwick Boseman on set as a co-star and working so closely with him?
His willingness to leave it all there and to be present. He was so present and only God knows what he was feeling and going through, but what a gift he left us. What a bow out. When I find myself in my work as I move forward complaining because I'm tired, complaining because I didn't like whatever, I'll remember this exchange of spirit that we had. Someone who's dealing with an intense battle, but was still willing, there, present, asking questions and interested, a gentleman and beyond outstanding. He's now an ancestor and I hope to be even a morsel to be able to leave behind what he had — which was hope, intentionality and reverence. I think that he embodied not asking for recognition for what he already is. [Chadwick] already is and was that.
---
D'Shonda Brown is a freelance culture journalist, public speaker and mental health advocate based in Brooklyn, New York with a passion for mental health, social justice and uplifting the Black community through her writing. As a mental health advocate and suicide attempt survivor, in 2019, D'Shonda became Mental Health First Aid Certified for adults and children, and graduated from the Advocacy Ambassador Program by National Alliance on Mental Illness. D'Shonda is a proud Spelman College graduate and has interviewed notable names from Angela Rye and Soledad O'Brien to Chloe x Halle and Justine Skye.
---
Share this article