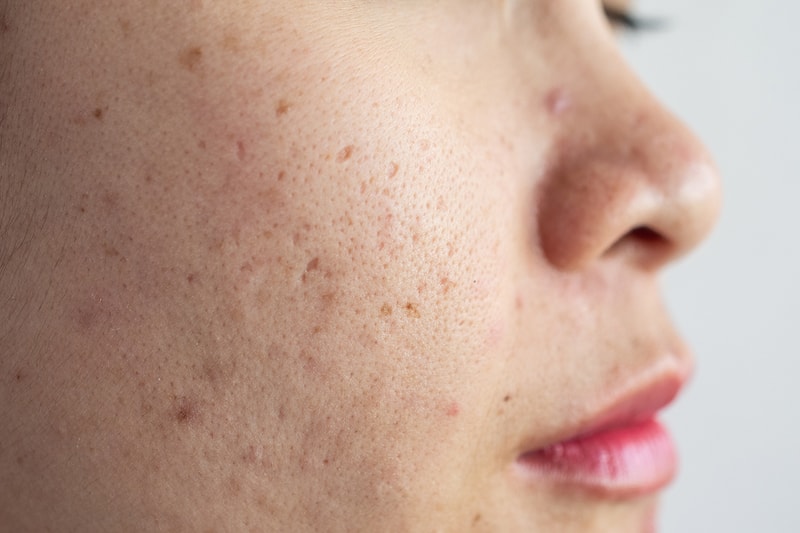 Beauty
The Top Cystic Acne Treatments and Tips by Dermatologists
Avoid popping — these serums, masks and spot treatment products might just help.
The Top Cystic Acne Treatments and Tips by Dermatologists
Avoid popping — these serums, masks and spot treatment products might just help.
If you've ever suffered from cystic acne, you will know how painful and frustrating it can be. Not only that, but a cystic acne spot seems to stick around for a very long time, usually leaving a dark mark behind (post-inflammatory hyperpigmentation) and on certain occasions, a scar that can only be treated in-clinic by a professional.
We spoke to some experts on how to tackle these under-the-skin bumps, and they all agree that a consistent, acne-fighting routine is the key to avoid the painful cysts. However, you can't always avoid them, and 56% of women get at least one, close to their periods. Read on for some cystic acne treatments and tips by dermatologists.
What Is Cystic Acne?
"Cystic acne is marked by pimples that are both deeper and longer lasting than regular acne, typically caused by hormones," dermatologist Dr. Howard Murad, founder and innovator behind Murad Skincare tells us.
Start with a Good Routine
"Salicylic acid helps clear blemishes and prevent future breakouts. Try products that protect and restore skin health with antioxidant Vitamins C and Vitamin E. I would recommend a clarifying cleanser, one that will help reduce surface bacteria and penetrate deep to keep skin clean and clear. Products with salicylic and glycolic acids will also help exfoliate skin and clear out pores. For more heavily blemished skin, hydrogen peroxide has a patented delivery system that spirals down into the pore, eliminating bacteria with oxygen whilst maintaining hydration," Dr. Murad says.
Aesthetic doctor and founder of Victor & Garth clinic in London, Dr. Lauren Hamilton stresses the importance of a good, gentle routine, which will help your skin condition, but you need to be patient to see results, about two months with most products. "As well as using over-the-counter products, you will need to incorporate prescription medication from a specialist, to treat your cystic acne. Start your routine with a gentle cleanser such as Avène Extremely Gentle Cleanser Lotion or Cetaphil Gentle Skin Cleanser. Your doctor will be able to prescribe a higher concentration medical grade formulation of benzyl peroxide, my go-to for my patients is ZO® Skin Health Acne Control — it contains 10% benzoyl peroxide and helps combat bacteria, clears clogged pores and calms the redness."
Dermatologist Dr. Sandra Lee, aka Dr. Pimple Popper and founder of SLMD Skincare says: "I recommend applying a spot treatment, which can prevent the area from getting inflamed and keep you from picking the spot and making it worse, or a treatment lotion to target a larger problem area. Cystic or hormonal acne can be more severe and should be treated by a board-certified dermatologist, if it's not responding to topicals."
Dr. Ewoma Ukeleghe, medical and cosmetic dermatologist and founder of SKNDOCTOR in London, recommends overnight treatments to tackle spots. "I like to use Mario Badescu Drying Lotion or Epionce Purifying Spot Gel, or a product containing BHA, Medik8 Blemish SOS." A gentle non-stripping cleanser is also essential, as well as a hydrating SPF.Dr. Ukeleghe recommends the CeraVe Foaming Cleanser and the Medik8 Advanced Day Total Protect.
The Hero Ingredients
There are some ingredients that work wonders on any spot, including cystic ones. Dr. Murad recommends "salicylic acid, sulfur or micronized benzoyl peroxide." Dr. Lee seconds the point about benzoyl peroxide, "a great antibacterial targeted treatment that kills the bacteria making that deep, under-the-skin pimple inflamed and painful. SLMD Skincare BP Lotion is almost a broader form of that spot treatment, which can also be applied all over the face to control and prevent acne." Benzoyl peroxide is a strong ingredient, so introduce that to your skincare routine slowly and carefully to avoid peeling or dryness.
In general, most of the acne ingredients must be avoided when pregnant or breastfeeding, so make sure to always consult with your doctor. Dr. Hamilton recommends azelaic acid, that can tackle acne and pigmentation safely for pregnant and breastfeeding women.
What Not to Do
We all know we shouldn't pop a pimple, but sometimes it feels satisfying to do so. However, experts said that popping a cyst is the worst thing you can do (more so than a whitehead). Dr. Murad says, "When you see a pimple, keep calm and don't do anything that can make a bad situation worse. Try to avoid popping, picking or manipulating the pimple as this can lead to a secondary infection which will take a much longer time to resolve and may lead to scarring."
Dr. Ukeleghe agrees and adds "No picking whatsoever. It will only make textural scarring and/or post-inflammatory pigmentation worse." And so does Dr. Lee: "Whatever you do, keep your hands off. These painful, cystic pimples have a higher chance of scarring, and usually cannot be extracted."
If the Situation Is Serious
If a serious breakout occurs before a special event, there is another option, Dr. Ukeleghe says "Cortisone or steroid shots, aka intralesional steroid injections are a great quick solution for pesky angry spots. However, they aren't a long-term solution to treating acne." These are now offered in Dr. Ukeleghe's clinic, aptly named Zit Shot.
There are always more options that can be offered in clinic, by a dermatologist or specialist doctor for persistent acne cases that go beyond a cystic spot making an appearance. Isotretinoin (or roaccutane) is a common solution for serious cases of acne, that will regulate the sebum production. "As a result of side effects and monitoring, commencing Isotretinoin is not something to be taken lightly. However, it is an effective retinoid, with a high success rate as it targets the causative factors that lead to acne," Dr. Hamilton says.
Now that you're ready to treat the cystic spots, here are some products to help you on your acne-fighting journey.
Share this article