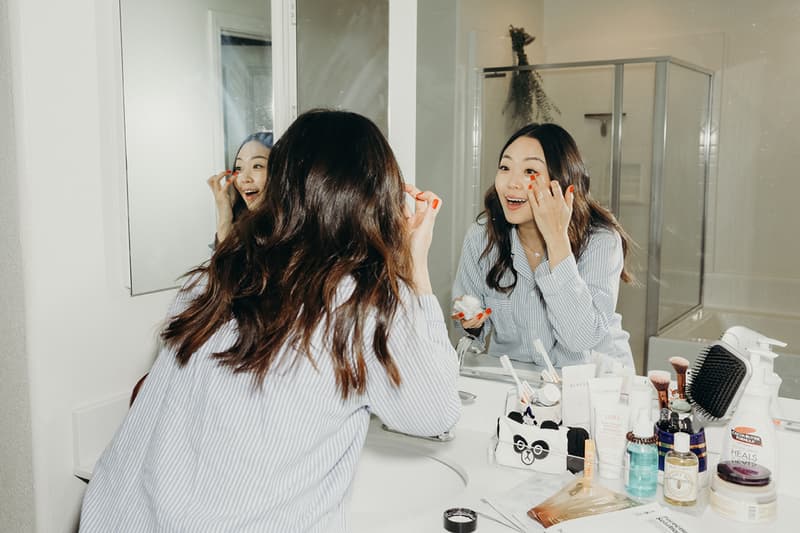 Beauty
A New Mother Shares Her Skincare Faves and Clean Beauty Products to Use During Pregnancy
"Becoming a mom has changed the way I look at holistic health."
A New Mother Shares Her Skincare Faves and Clean Beauty Products to Use During Pregnancy
"Becoming a mom has changed the way I look at holistic health."
It's no secret that becoming a parent comes with a lot of responsibilities as well as changes in your everyday habits, and in Grace Chang's case, it begins with upgrading her beauty regimen with cleaner, nontoxic skincare products. The soon-to-be mother, who does Communications at sports giant Nike, is a self-professed skincare enthusiast as much as she is an avid sneakerhead. While she has long been inspired by the meticulous K-beauty skincare routine, Chang finds herself gravitating towards products that are formulated with all natural ingredients lately. "I'm way more aware of what I'm putting into and on my body," Chang attributes the shift in her approach to beauty and wellness to her pregnancy.
In honor of Mother's Day, we've talked to Chang about her newfound love for green beauty brands like Tata Harper, as well as how motherhood has reshaped her perspective on beauty. Take a look inside her skincare cabinet and read our conversation below.
Grace Chang's Beauty Essentials
Su:m37 Miracle Rose Cleansing Stick: This cleanser has been a staple in my routine for years, and it's especially easy to travel with being in stick-form rather than liquid. Even though I'm very aware of the ounce restriction, I still get a bit nervous traveling with my favorite full-size beauty products, especially if they're my holy grails that are hard to come by. This cleanser has rose petals and is hypoallergenic, leaving your skin feeling light and clean. I never feel the dry sensation that you typically feel with some face cleaners.
Tata Harper Regenerating Cleanser: A new go-to that I've been using during pregnancy. It's an all natural, clean cleanser, which is super important to me now. I use it daily and love that there are exfoliating beads that leaves my skin feeling healthy, clean and polished. It smells amazing, too.
Son & Park Beauty Water: A staple in my skincare routine since it debuted on Soko Glam years ago. I use it daily as a toner or mid-day refresher, especially for post-workouts. It gently removes any extra makeup, oil or residue and leaves my skin feeling fresh and clean without any dryness. The mix of lavender and rose smells refreshing.
Sulwhasoo First Care Activating Serum: I visited Korea a couple of years ago, and my friend recommended that I get a facial at Sulwhasoo's flagship in Gangnam, Seoul. From the impeccable service, to the calming atmosphere, to (obviously) their amazing products, it was hands down the best facial experience I've ever had. The brand takes a holistic approach to beauty and uses herbal, medicinal ingredients like ginseng. Coming out of that hour-and-a-half facial, my skin was absolutely glowing. I was sold on their products since then.
Missha Time Revolution Night Repair Ampoule: I was first introduced to this serum by Soko Glam founder, Charlotte Cho, more than five years ago. And I've used it religiously since then. Of all the products I've tried, this anti-aging serum has made the most noticeable difference on my skin. My complexion is clearer, brighter and more supple — it's super gentle and easy to apply. Sadly, I had to take a break from it due to the retinol which isn't safe to use during pregnancy.
SK-II Facial Treatment Essence: Before applying serum, I'll spray my entire face with essence using a travel-sized spray bottle. You get the most usage and even distribution by spraying it onto your face than dabbing it on a cotton pad or even using your hand. SK-II is definitely a splurge, so whenever possible I'll try to stock up at duty-free. I heard it's now available at Costco.
Missha Time Revolution The First Treatment Essence: A wallet-friendly alternative to SK-II for when I can't seem to get my hands on it anywhere. It's known to help repair any skin damage and evens out the skin tone while providing the moisture my skin needs. Not going to lie, sometimes I forget that it isn't SK-II.
Tata Harper Resurfacing Serum: Again, it's all natural and clean. Very light and easy to apply, smells great and the Vitamin C brightens my skin.
Sulwashoo Essential Firming Cream: Another discovery from Korea. It's light enough for the day, and packs enough moisture for the night. I love the mix of natural ingredients like goji berries and arrowroot. It smells a little bit like a Chinese medicine cabinet but I don't mind it.
La Mer Crème de la Mer Moisturizing Cream: This one is perfect for when my skin is feeling extra dry.
Tata Harper Repairative Moisturizer: My new daily moisturizer. It has a light formula, and doesn't feel heavy or sticky on the skin. Again, all natural is a huge bonus.
Tata Harper Retinoic Nutrient Face Oil: For my night routine, I will use Tata Harper's face oil as my last step to seal everything in.
Cell Fusion C Laser Sunscreen 100 SPF50+/PA+++: I'm obsessed with SPF. I found this one in Seoul at Olive Young — it's like the Korean version of Sephora-meets-drugstore. Sunscreens tend to feel heavy, oily or shiny. This one is very lightweight and offers 50+ coverage.
Fresh Umbrian Clay Purifying Mask: Whenever my skin feels dull and needs a quick refresh, I'll put this on for 10-15 minutes. My skin feels more supple and brighter afterwards.
Tata Harper Resurfacing Mask: This mask contains Pomegranate Enzymes and it almost looks like a light strawberry jelly. I use it a couple times a week as another quick refresher for brighter looking skin.
TONYMOLY Intense Care Snail Hydrogel Mask: I probably went overboard, but I bought a 300-piece bundle pack in Korea because there was a promo. My husband thought it was excessive, but I figured I just had to use one every day… and I mean, you can never have too many face masks, right?
DHC Lip Cream: You can find DHC lip balms at pharmacies and drugstores all over Asia. I love their tinted version and regular one. They're super affordable, and the oil base gives you a nice glossy shine.
Burt's Bee Lip Balm: The OG. I probably have 10 of these at any given time scattered throughout the house, in various purses and in my car. I love the minty-ness that quickly soothes chapped lips.
Clarins Hand and Nail Treatment Cream: I go through hand lotion like water, I can't live without it. I use it every time after I wash my hands. This is another favorite that I stock up at duty-free.
Mr. Smith Hair Serum: For someone who only goes to the hair salon once (maybe twice) a year, I'm always looking for the easiest (laziest) way to maintain the cut and color. My colorist, Cherin Choi from Nova Arts Salon in LA, recommended Mr. Smith's hair oil. I put a dime size of product on my hand and run it through damp hair after wash. It protects my hair from the heat — I curl it almost every day — and also keeps the color in as much as possible.
Are you more of a sneaker enthusiast or a skincare fanatic?
It's like having to pick your favorite child! A love for sneakers comes with the territory when working at Nike, and my closest is proof of that. But I'm just as, if not more, passionate about skincare. My philosophy is: this is the only face you're going to get, so you better take care of it.
Growing up as an Asian-American, what did beauty mean to you when you're a child and how do you define it now?
Culturally, I was surrounded by traditional Asian beauty standards where there was an emphasis on pale, porcelain-like skin and preserving a youthful appearance. My female relatives would shield themselves from the sun with umbrellas and visors (which are popular again). Being born and raised in California it was the complete opposite — a sun-kissed glow was considered healthy and beautiful. There will always be outside influences – be it cultural or even geographical — ultimately, beauty should be defined by the individual.
You're about to welcome a baby into your family. How has pregnancy or motherhood changed your perspective on beauty?
It's not just beauty, but [becoming a mom] has changed the way I look at holistic health and wellness. In the past eight months and ongoing, I'm way more aware of what I'm putting into and on my body. I don't think I've ever been so diligent and conscious of my choices, especially if my decisions now impact another human. As I mentioned, I've tried to switch almost completely to a clean skincare routine. There are still some K-beauty favorites that are a little bit hard to let go of, so I try to strike a balance.
I'm also trying to create better habits that our baby will hopefully notice and learn from as he grows up. Don't get me wrong, this is not to say that I have fully transitioned to all things natural, organic, 100-percent clean, etc. That's a lot of pressure, and I'm not perfect (which is okay!). It's more about making the effort to choose better, and be better. And I just have to say, part of being pregnant is that you're so in awe of what we're capable of — women are freaking strong!
As someone who has a hectic work schedule, how do you minimize your daily makeup routine in order to get that extra bit of rest?
I'm a big advocate of anything semi-permanent to make your daily routine really easy. I had my eyebrows tattooed more than seven years ago, and for someone with barely visible natural brows, tattooing was a godsend.
And then there's eyelash extension. I live for lashes! For someone who doesn't wear makeup every day, it gives me an "I woke up like this," fresh, bright-eyed look.
Getting my face ready only takes 10 minutes every morning. I'll do my skincare routine, throw on color-correcting moisturizer, light blush and tinted lip balm, and I'm good. All the heavy lifting is already covered with my brows and lashes.
Besides these treatments, what are some of your other biggest beauty splurges?
The NOW Massage in Los Angeles is the absolute best. The zen-like space is perfect for the minimalist looking for an affordable massage (especially for LA). A lot of us at the office are obsessed, we go so often that they practically know us by name. Luckily, they offer prenatal massages so I can continue to treat myself throughout the pregnancy.
Another one would be Korean facial. I'd hate to call it a splurge because it's actually pretty economical. The average starting rate for a classic facial is about $100 USD, but you get more bank for your buck. A two-hour session includes deep face and shoulders massage, steam, extractions, exfoliating treatments and masks galore.
What are some of your gym bag beauty essentials?
I'll bring a pared down version of my daily routine to give my face a little TLC post-workout. After yoga or cross training, I'll give my face a quick wash to rinse off the sweat and apply Son & Park Beauty water, essence spray and a light lotion to hold me over before I get home.
What are some of the most unique and effective beauty products you've discovered online?
I've started with a jade roller which has become very popular now. In the past year, I upgraded to the rose quartz gua sha, which has a more flat shape [than the roller]. You can get deeper and a bit more aggressive with the gua sha. You're essentially "scrapping" your face to break down the scar tissues and to encourage blood flow.
Products that you always pack for a work trip?
I always have some sort of lip balm/chapstick, hand lotion and sanitizer wipes in my makeup bag. A travel-sized spray bottle of essence is a must to refresh and hydrate the skin. I used to do a full, 12-step routine on long flights — I'd wipe my face and do everything — but I read somewhere that exposure to germs and UV rays is heightened when you're on a plane. When you remove all that stuff that's protecting your face and then doing your routine, you're actually trapping a lot of bacteria back to your face. So I've completely stopped doing that. If anything, I'll bring a face mask and put it on top of whatever I already have on.
---
Share this article