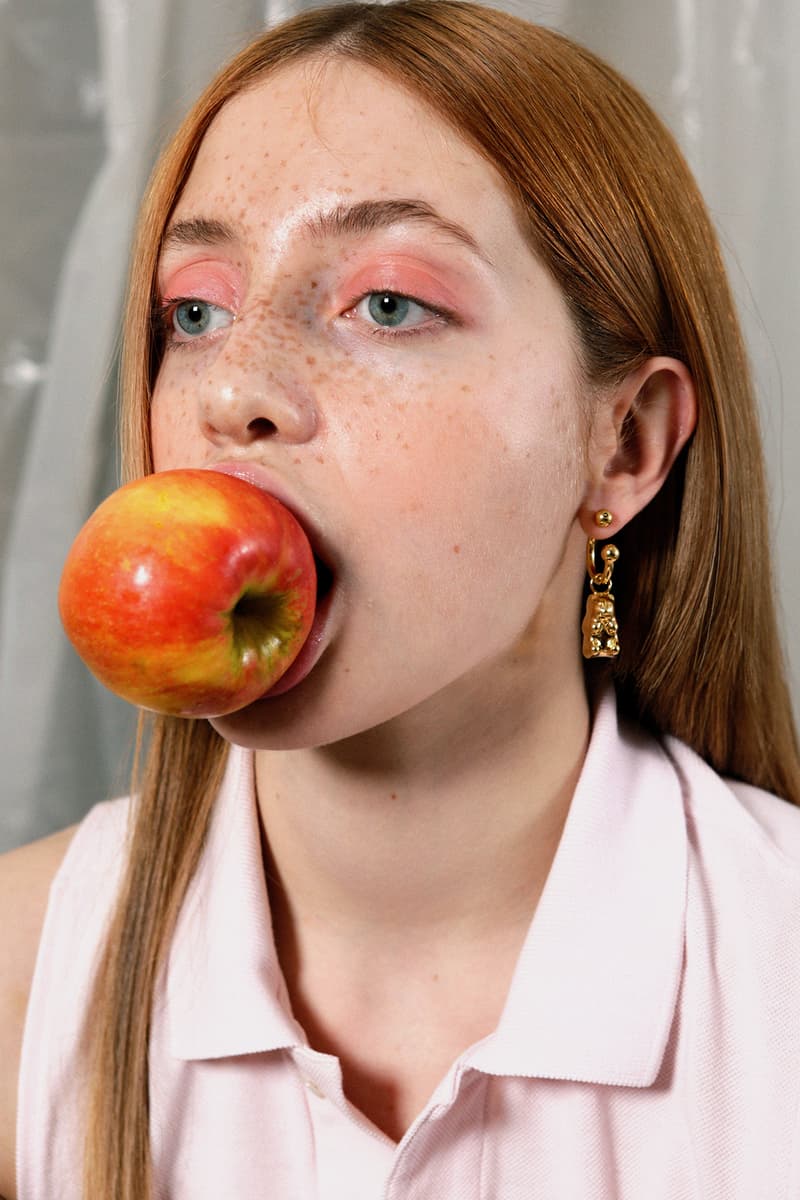 Meet the Jewelry Brands That Are Giving Us Some Much-Needed Joy
From Safu Seghatoleslami to Susan Alexandra, these designers are injecting the world with a dose of optimism.
Fashion
Meet the Jewelry Brands That Are Giving Us Some Much-Needed Joy
From Safu Seghatoleslami to Susan Alexandra, these designers are injecting the world with a dose of optimism.
2020 has been a trip, to say the least. Just when we showed 2019's chaotic energy the door, the first year of the new decade storms in like a lion (and does not seem to be leaving like a lamb any time soon). While the world navigates its new normal — perhaps from the couch or from its new WFH set-up — a new breed of jewelry designer is giving us some much needed joy (and embodying the persistence of the human spirit) through colorful, playful, and, at times, fantastical jewels. Sit back, kick up your slippered feet and, instead of smashing the "Next Episode" button on Tiger King, follow along as we speak with 2020's up-and-coming jewelers on their radically ecstatic vision of the new decade's look.
For Spring/Summer 2020 jewelry, optimism is on the uptick. This year, rainbow-brights, smiley-faces, hearts, and giddy Dada-inspired jewelry have permeated our collective Instagram feeds. It's a move, perhaps, in solidarity against the reigning pessimism that the last year — or few months — has engendered. And it's embodied, more emphatically, now more than ever, with our new global slogan: "Be kind to one another." The season's newest jewelry trend speaks to, and hopes to inspire, happiness — pure and simple. Either by finding joy in the mundane, exploring the cavernous possibilities of one's own imagination, or appreciating (and not taking for granted) the beauty of nature and the connections we share with others.
Isabella Lalonde, creator and designer of jewelry label Beepy Bella, draws her designs from deep inside her own mind. "I refer to my jewelry as hard copy proofs that my intangible fantasy exists," she says, "My jewelry doesn't come from this Earth. It derives from my artist spirit, which lives in a world beyond inanimate objects." The imaginary world Beepy Bella inhabits includes storybook-perfect amanita mushrooms (plucked from memories of her childhood in Switzerland, hiking the country's mystical hillsides), hand-painted pearl-butterflies, and hearts that bloom with the whorl of a rose.
Beepy Bella offers a realm of escapism for its fans. Lalonde describes her label as "orbiting a world of daydreams and mysticism. The brand's primary focus is bridging the gaps between adulthood and childhood, between fantasy and reality."
Lalonde's creative process in equally unique — and equally inspiring to creatives who are cooped up at the moment: "Comparable to cooking or baking, I like to use my five senses to create. I get wrapped up in the process of making, and I pour little secrets from my subconscious into the mixture and end up with a finished product to be savored."
Through Beepy Bella jewelry, Lalonde hopes to offer her wearers a much-needed reprise from the realities of the day-to-day, "Every Beepy Bella piece is a portal into its wearer's utopia, one in which their playful dreams of childhood come true. Whether it be prancing with fluttering fairies, nibbling delicious spring strawberries on a picnic or soaring through snowy mountain tops on a fluffy cloud, wearing Beepy Bella will magically link imagination with reality."
"I always knew I would at one point do my own brand," says Safu Seghatoleslami, founder and creative director of Safsafu. After the designer moved to Paris, she became inspired by the new, young brands sprouting up in the French capital. "When I started, most of the jewelry was minimal and with no color," she explains, "I wanted to do exactly the opposite: joyul, colorful and unconventional statement jewelry." Her reaction to the lack of joviality she found in the jewelry industry takes shape in lucky dice earrings, sugary gummy bear charms and jujube-sweet hearts.
Susan Korn, founder of jewelry label Susan Alexandra, asks us to look to the little things in life for joy and inspiration. She describes her jewelry confections as "cheeky little treats." Of her latest collection, she says, "We just introduced a delicate pearl necklace bedecked with tiny charms that represent all the sweet, tiny joys in life. Avocado, rainbows, cherries, watermelon, shrimp, pizza…"
In a similar vein, accessories by label myreality, who debuted their collaboration with cutting-edge New York brand AREA at NYFW for Fall/Winter 2020, dabbles in the art of Dadaism: creating art from found objects. The creative team behind myreality, Harry Nuriev and Tyler Billinger, outline their ethos as the following: "Coming from a furniture designer background, part of what we hope to achieve is to elevate modest materials and ordinary objects into luxury objets d'art." For AREA's FW20 collection, the duo created a Swarovski-embellished, chair-shaped handbag that instantly went viral, and has (so far) been toted by alt-pop queen Grimes.
Further elaborating on the origins of their surrealist purse, the myreality duo say, "When we began [working] with [AREA founders] Beckett and Piotrek, we were immediately drawn to the humble chairs laying around their studio. Chairs are so often associated with leisure and inaction, but their can also be places for reflection, and give roots to new ideas." The duo's ethos — to give everyday, household objects a double-take, or a secondary function — is an inspirational bit of everyday magic, perhaps relevant today more than ever. Their goal? "We obviously want the handbag to become the next It-tiny bag. Who wouldn't want to carry a chair bag?" With their unorthodox aesthetic, they are well on their way.
Although each of these designers wind up with an entirely different end-product, each of their design processes stem from a similar source: an appreciation for the multiculturalism that permeates their native countries and an appreciation for the deep human connections we share across the globe, regardless of culture or race.
Of how her cross-continental childhood influenced her creative process, Beepy Bella's Lalonde states, "My upbringing involved several international moves, which culled my spirit of adventure and observation. To make sense of the diversity, I started hand-making hardcover books that doubled as art objects." These creations would become the foundation on which Lalonde created her jewelry label.
Similarly, Tehran-born and Paris-based designer Safu, of Safsafu, explains, "Having lived in different cities in different cultures, multiculturalism is at the heart of my inspirations." The jeweler's standout piece, a Japanese Maneki-neko cat earring is symbolic of this diversity.
In the end, all of these jewelry designers hope to inject the world with a small but much-needed dose of optimism with their creations. Lalonde hopes that Beepy Bella wearer "feel tender and protected," and in a turn of phrase most prescient to the current global state, she states, "I hope [wearers of Beepy Bella] smell fresh air and grow butterfly wings." Of her sunny designers, Susan Korn, says, "I hope [wearers of Susan Alexandra] feel special and dazzling. I hope they feel love." And, yes, love in a time of uncertainty is all we can hope to feel right now.
Share this article