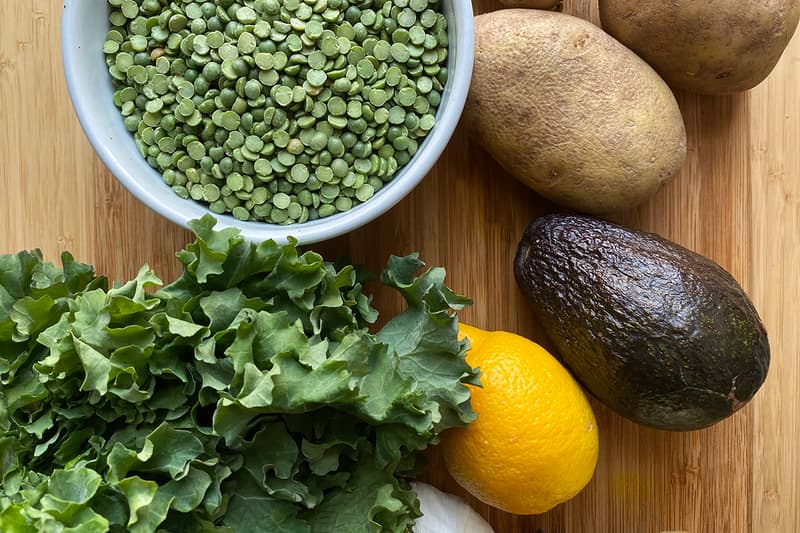 Food
3 Healthy and Easy Dinner Recipes You'll Want to Make Tonight
Here are some simple weeknight dinner ideas to try.
3 Healthy and Easy Dinner Recipes You'll Want to Make Tonight
Here are some simple weeknight dinner ideas to try.
Since we've begun spending more time at home, it's nice to see many of us experimenting more in the kitchen. Over the last few weeks, you may have taken on new hobbies like baking sourdough bread, or making endless amounts of different variations of pasta (my favorite) at home.
This month, I want to share with you some dinner recipes that are simple, delicious and don't take a crazy amount of effort to make. Although it's starting to get warmer, I'm still leaning toward nourishing and warming foods as I find most comfort in eating them. These recipes all make for great leftovers for about two days, so you won't have to be cooking every night.
Yellow Curry With Chickpeas and Potatoes
I used chicken the first time I tried this recipe, and it turned out to be quite delicious. For my second attempt at this dish, I decided to go the vegan route mainly because I wanted to experiment and see what texture I'd prefer best — the winner was the vegan ingredients. However, if you do want to try it out with chicken or beef, I recommend cooking the protein separately and then combining everything together once the protein is fully cooked through. Feel free to add any additional vegetables to the curry if you'd like.
Ingredients
3 Medium potatoes, cut into cubes
2 Large carrots, peeled and diced
1 can Chickpeas, rinsed and drained
1 Large onion, diced
3 Garlic cloves, finely chopped
1 cup Water (if needed)
1 can Coconut milk
1 tbs. Yellow curry powder (I haven't made my own paste from scratch yet. I'm working on it!)
1 Bay leaf
2 tbs. Olive Oil
Salt (to taste)
Pepper (to taste)
Directions
1. In a medium pot, sauté the onions and garlic with the olive oil on medium heat. Add salt and pepper until onions become translucent, about 10-15 minutes.
2. Add in curry powder. Mix until it all combines. Continue cooking for another one to two minutes.
3. Add in potatoes, carrots and chickpeas. Mix them in with the spices and cook for about three minutes over medium heat.
4. Add coconut milk and bay leaf. If you want more liquid, I suggest adding a cup of water or vegetable stock to the mix.
5. Cook for about 45 minutes and serve however you'd like. My choice is to serve with brown rice.
Split Pea Soup
One of my earliest food memories as a child was split pea soup. Weirdly enough, I only started making it for myself this past year. I'm a huge fan of soups and stews, and I tend to lean on them most because of how warm and comforting they are to the body. Split peas specifically have high levels of protein, iron, magnesium and zinc — vitamins and minerals that our bodies need daily.
This recipe was taken from Ina Garten's cookbook and I've made little tweaks to the instruction based on personal preference. Please monitor the soup while cooking — if you notice it's getting too thick, I encourage you to add more water.
Ingredients
1 cup Yellow onion, chopped
3-4 Garlic cloves, minced
1/8 cup Olive oil
1/2 tsp. Dried oregano
1 tsp. Kosher salt
1/2 tsp. Chili flakes
1 tsp. Ground black pepper
3-4 Carrots, diced
1 cup Potatoes, unpeeled and cut into cubes
1 lb. Dried split green peas
8 cups Chicken/vegetable stock or water
Directions
1. Soak 1/2 lb. of split green peas for about two to four hours. I do this to get them soft.
2. In a stockpot, sauté onions and garlic with olive oil for about 10-15 minutes over medium heat. Add oregano, salt, pepper and chili flakes.
3. Add potatoes, carrots, stock or water, and 1/2 lb. of the dried green peas to boil. Leave uncoverd for 40 minutes.
4. After 40 minutes, add in the pre-soaked peas and cook for an additional 40 minutes. If you notice the broth getting too thick, I suggest you add more water to it.
5. Remove from heat, pour half the soup into a blender or food processor and blend on medium high for about 60 seconds (this part is totally optional and is a personal preference of mine). Once completed, pour the soup back into the pot and it is ready to be served.
Sheet Pan Roasted Lemon Garlic Chicken
I've seen a couple sheet pan recipes floating around and I wanted to try them out myself, I've done this recipe for my chicken a couple of times, and felt like it would be interesting to incorporate vegetables into the dish. Keep in mind that the tray I was using for this was smaller than usual ones. If you have a big tray, I encourage you to add potatoes to the mix. What I like most about sheet pan recipes is that you should have leftovers for about two to three meals.
Ingredients
¼ cup Butter
2 Garlic cloves, minced
Salt (to taste)
Pepper (to taste)
3 stems Fresh or dried thyme
1 Lemon
Olive Oil
2 cups Brussel sprouts, cut in halves
Directions
1. Remove chicken from fridge and let it sit at room temperature for 30 minutes.
2. Preheat oven to 450°. In a small bowl, mix together butter, garlic, squeezed lemon juice, salt and pepper.
3. After chicken has sat for 30 minutes, rinse and pat dry chicken with paper towel.
4. Grab a sheet pan and line it with parchment paper or aluminum foil.
5. Rub the entire chicken all over with the buttered mixture, under the skin and inside the cavity as well. Season the chicken with additional salt, pepper and thyme on top.
6. Place Brussel sprouts around the pan and season with salt, pepper and olive oil.
7. Cook for 45 minutes. Check on chicken to make sure it's cooked to 165° internally. If you see that the Brussel sprouts are fully cooked, remove them from the pan and cook the chicken for an additional 10 minutes.
8. Remove pan from the oven. Let it sit for about 5-10 minutes and enjoy.
---
Michelle Siman is a Toronto-based creative consultant and host of Lemon Water, a podcast making the wellness world accessible and approachable through interviews with the people shaping it. Her exploration of wellness has led to a deeper passion for food and nutrition that she continues to share with her community.
Share this article