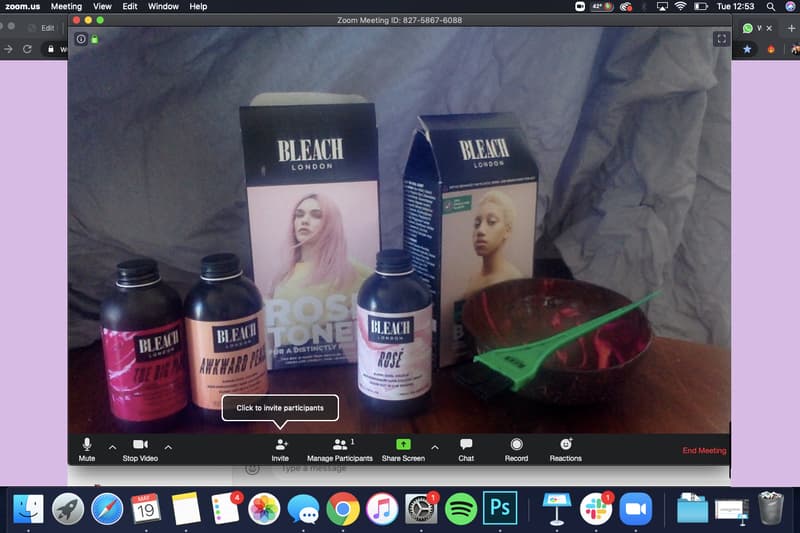 Beauty
I Dyed My Hair Pink on a Zoom Call
Here's how you can switch up your look – even in lockdown.
I Dyed My Hair Pink on a Zoom Call
Here's how you can switch up your look – even in lockdown.
It has been 84 days since I was last in an office, and equally as many days since I've stopped doing my hair and makeup every morning. Ever since the UK went into lockdown in March I've let my hair do its own thing, and even before lockdown, I was seriously overdue both a haircut and a touch-up. I guess it goes without saying that I haven't felt quite like myself, and I have really been missing trying out new hairstyles, colors and more. That's when I decided to dye my hair at home.
Thankfully, I didn't ruin my hair by rushing into a makeover (which would be reminiscent of my teenage years of chaotic pink and purple hair on rotation), I decided to do some research to really learn how to dye your own hair at home. That's when I came across BLEACH London's virtual consultations, and decided to leave my hair to an expert. BLEACH has become one of London's most well-known salons, specializing in bright and bold colored hair and creating their own products to achieve the ultimate tones, so it was without question that I'd be in good hands.
Starting off with a video call, BLEACH stylist Freddie talked me through some options, and we decided to go with a pink and peachy look. Before beginning, my hair was a dark blonde tone with remnants of old highlights throughout, and definitely needed a resurrection. The process would be the following: bleach, tone, dye.
Gearing up for the call with all the products ready, Freddie talked me through the initial step which included brushing and sectioning the hair. Having never bleached my hair by myself, I had no idea how it would work – but after following step-by-step instructions I managed to get the bleach on, wrapping it up in foil and letting it sit. The bleaching took about an hour, and was the longest step. The next step was washing it out, and mixing up a toner that would work to eliminate the yellow tone in my hair, which was then washed out and the last step was color.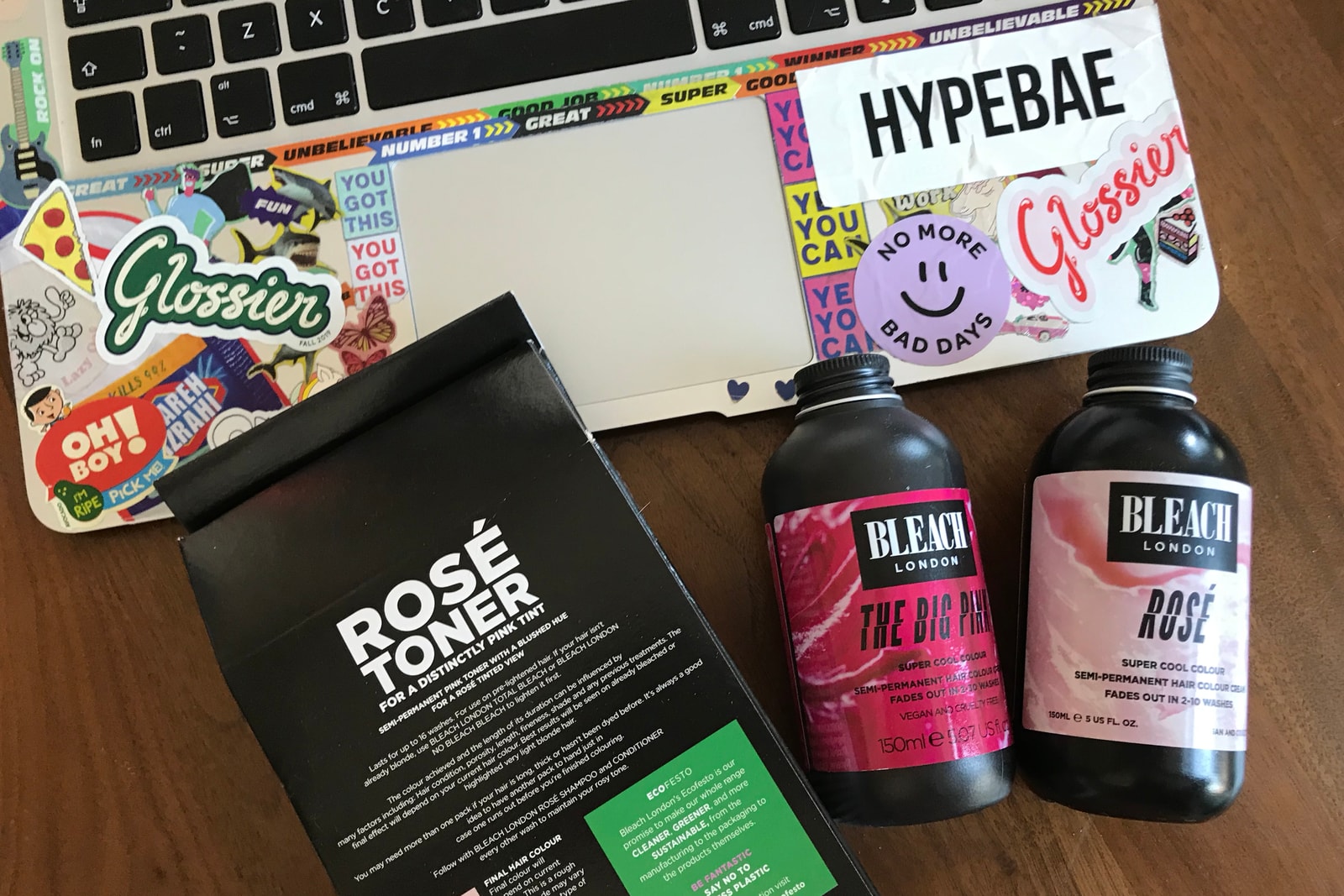 Because I had bleached my fringe, we decided it would be cute to do a pastel pink tone using BLEACH's "Rosé" as well as a dab of "The Big Pink" to achieve the ultimate hue. On the ends of my hair we mixed "Awkward Peach" with "Burnt Peach" to achieve the perfect peachy pink. After letting it sit for 20 minutes, I washed it out and voila – my hair was pink, and looked just like I had done it in a salon.
The whole process took about four hours, which is a long time to spend on Zoom, but it is definitely worth it to make sure your hair comes out just the way you want. BLEACH is currently hosting Live DIY tutorials hosted by its stylists to help customers with their at-home color, as well as root touch ups to complete transformations. When you purchase BLEACH products, you'll be able to join the sessions live.
If you're looking to achieve my simple peachy dip-dye and pink fringe, you'll need the below products: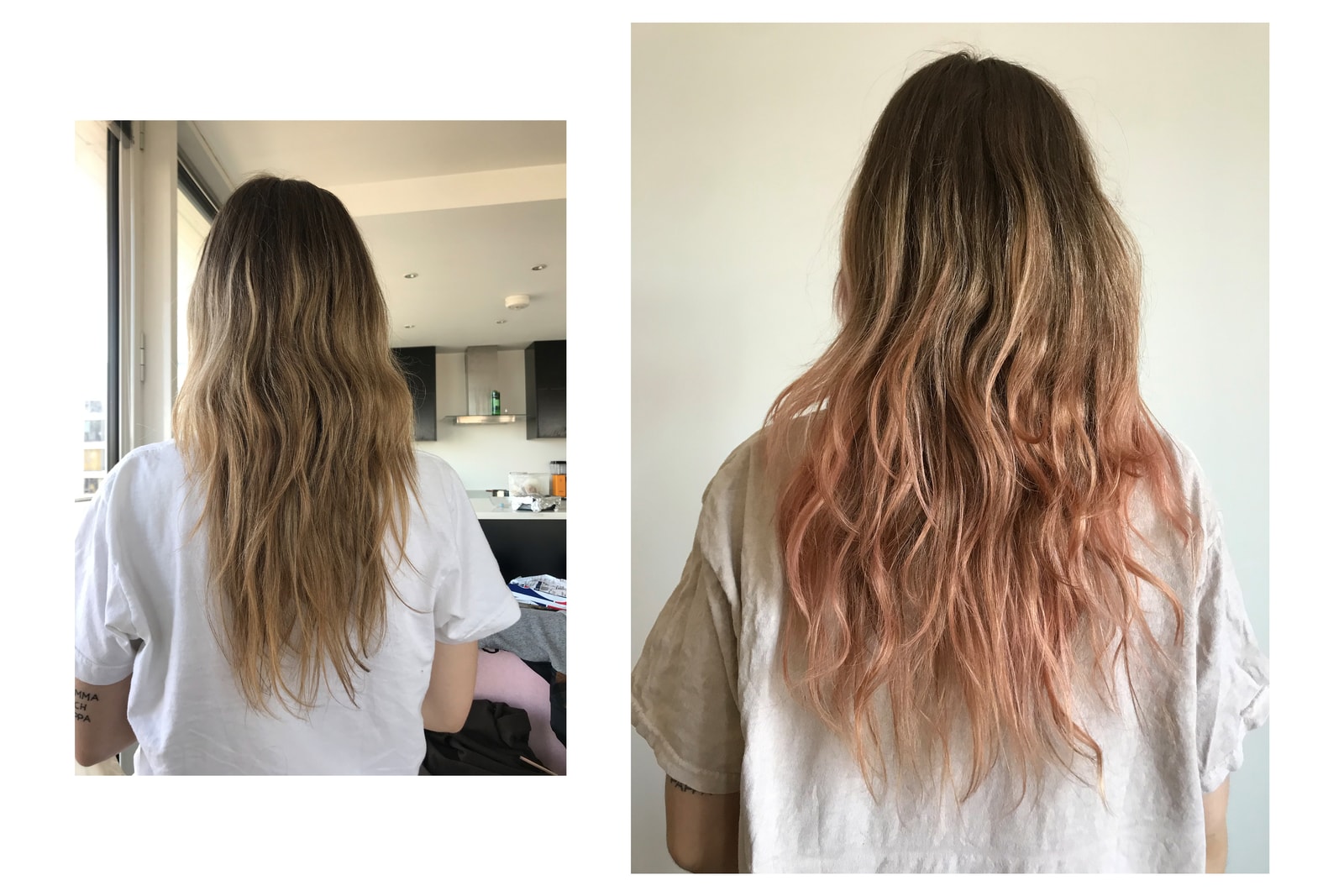 Before you do anything drastic, make sure to tune into the tutorials on BLEACH's website and Instagram. Bleaching your hair isn't just about slathering it on and leaving it to set, but it involves intricate placement and technique that is key to making the final product look good. There's no better time to experiment with your look than now, so get your dye ready and transform.
Share this article