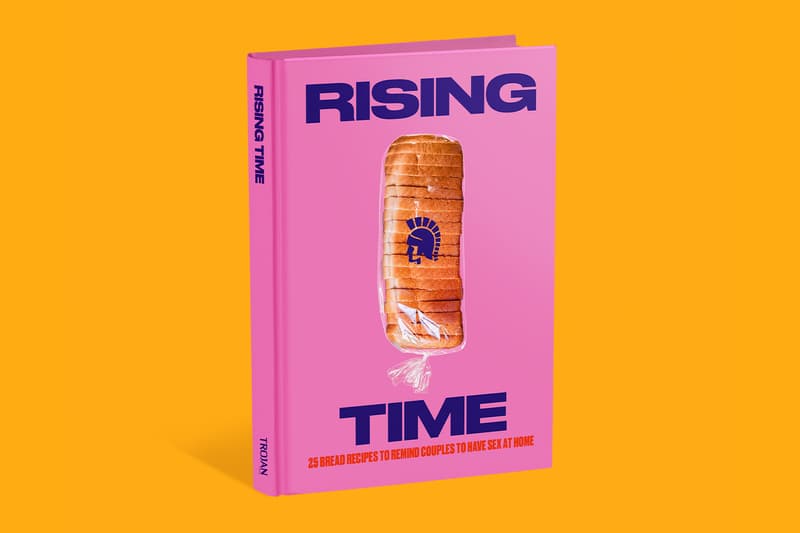 1 of 4
2 of 4
3 of 4
4 of 4
Food
Trojan Brand Condoms Introduces 'Rising Time,' The Most Sensual Baking Cookbook Ever
Learn how to make "Pump Her Nickle" and "Rye'd That D."
Trojan Brand Condoms Introduces 'Rising Time,' The Most Sensual Baking Cookbook Ever
Learn how to make "Pump Her Nickle" and "Rye'd That D."
Just in time for World Baking Day, sexual health company Trojan Brand Condoms has created a free-for-all e-cookbook filled with sensual bread recipes and food photography. With cooking being one of the most popular quarantine activities, this new release is the next book to look to for delectable homemade pastries.
Titled Rising Time, the 69-page book features humorous puns and images that accompany a total of 25 recipes ranging from "Rye'd That D" and "Pump Her Nickle," to "Get A Pizza That Booty" and "Knot Without A Condom." The e-book version is available for all to download via the book's official website, with a digital copy rolling out on Amazon for a limited time. In addition to the release, Trojan Brand Condoms is donating 50,000 meals to those in need during this time with help from Feeding America.
Scroll through the gallery above for a sneak peek at Rising Time. For more cooking inspiration, check out how to recreate food from London's best restaurants.
Share this article