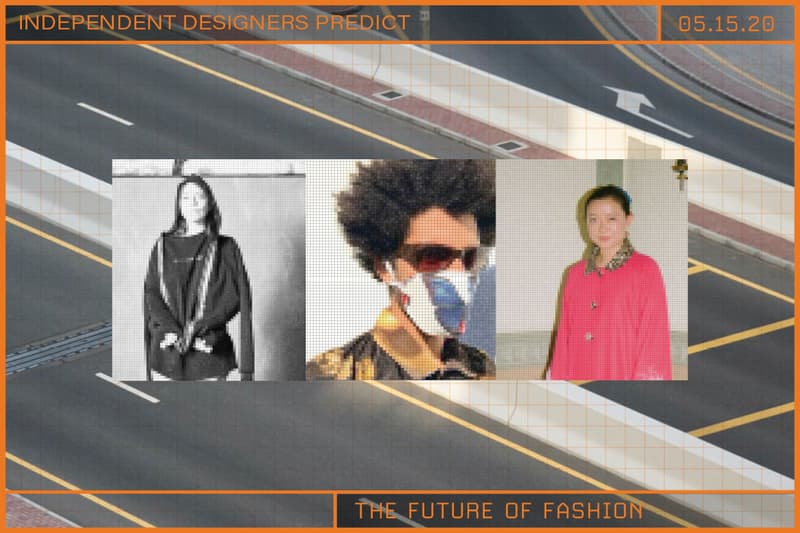 Fashion
As COVID-19 Shifts Cultural Values, Independent Designers Predict the Future of Fashion
Could the pandemic mark the end of retail and the rise of socially conscious spending?
As COVID-19 Shifts Cultural Values, Independent Designers Predict the Future of Fashion
Could the pandemic mark the end of retail and the rise of socially conscious spending?
Over the past two months of quarantine, the coronavirus pandemic has not-so-quietly precipitated massive shifts in just about every facet of American culture: our attitudes towards human interaction, cleanliness and work-life balance are just a few components of everyday life that the health crisis is pushing us to reconsider.
More striking, however, is how the pandemic is placing a premium, literally and figuratively, on morals. Set against a backdrop of devastating death rates, greed, for instance — exemplified by Amazon's firing of employees who protested warehouse health conditions, as well as President Donald Trump's hefty corporate bailouts — is thrown into sharp relief. On the flip side, the selfless work of healthcare workers has elevated their status from seriously undervalued to veritable superheroes.
The fashion industry, seemingly removed from the realms of health, science and philosophizing, is not immune to the far-reaching effects of the pandemic. Besides mandating the temporary closure of garment factories and retail locations, COVID-19 is also shaping what fashion, a constant mirror to society's changing values, will deem to be in good and poor taste — a product of changed buying habits and aesthetic preferences as we continue to weather this new normal.
HYPEBAE spoke to several independent designers, fashion retailers and industry creatives about how they've responded to the coronavirus pandemic, what changes in consumer behavior they've noticed and the lasting impact COVID-19 will have on fashion.
Acts of kindness inspire designer-led grassroots initiatives.
"I feel like we're all getting into the spirit of neighborly love," accessories designer Susan Korn of Susan Alexandra says. Korn, known for her colorful beaded bags and whimsical enamel jewelry, was inspired to put her skills to charitable use after a neighbor delivered her a chocolate cream pie. Touched by this gesture, Korn immortalized the pie as a mini sculpture. After posting it to her Instagram Story and receiving overwhelmingly positive responses, the New York-based designer decided to open commissions for "Mini Meals," small clay renditions of customers' favorite meals. Korn has since been donating all proceeds from these meals to No Kid Hungry, a non-profit working to make sure children are receiving regular meals even as schools, an important source of subsidized food for many students, are closed.
Korn is not alone in her desire to do good as the pandemic worsens the country's pre-existing social and financial inequalities. Olivia Cheng of Dauphinette, a sustainability minded emerging brand, has been donating $2 USD from all sales to Feeding America and City Harvest, two organizations supplying vulnerable communities with free food. 100 percent of proceeds from Cheng's watercolor sales also go to the cause.
Similarly, Suzanne Rae, whose eponymously named line of shoes and ready-to-wear is a favorite among New York's downtown crowd, donated 15 percent of all sales from the first three weeks of March to Women In Need, a shelter that provides services, supplies and food to women and children in need. Rae also launched a "buy a pair give a pair" initiative, donating her own ergonomic shoe styles to healthcare workers at Brooklyn Methodist Hospital.
Despite these designers' substantial losses (Korn, for example, estimates $200,000 USD in lost revenue over the past two months), they've remained motivated to give back, a desire that touches on the way in which crisis often brings communities closer. For some, charitable initiatives have resulted in unexpectedly high revenue, an indicator of parallel consumer consciousness. "We've actually had record-breaking sales," says James Flemons of PHLEMUNS. The Los Angeles native, who this year helped outfit Julia Fox in A24 film Uncut Gems, has been sewing colorful face masks and donating one for every sale. He attributes soaring profit during quarantine to these masks, which he constructs out of vibrant cloud, lemon and butterfly print fabric.
A change in routine fuels re-evaluation of online business strategy.
A logical response to the pandemic's mandated closure of non-essential businesses, boutiques and shopping malls included, designers have pivoted focus to e-commerce. For Café Forgot, a small yet buzzy shop that has gained a loyal following for championing independent designers, closure posed a unique challenge. Formerly operating on a pop-up basis and setting up shop in various pre-existing stores, Café Forgot established a permanent space just months ago in December 2019, when owners Lucy Weisner and Vita Haas signed a year-long lease on the Lower East Side of Manhattan.
The highly curated boutique, whose mission runs counter to the impersonal world of online shopping, responded to the pandemic by launching its very first web store in April. "We love the experiential aspects of our shop: the dressing up, connecting with designers and customers, impromptu photo and video shoots," Weisner and Haas share. "Up until this point, we had eschewed e-commerce as antithetical to building a truly connected fashion community," they say.
Despite initial reticence, the duo plans to continue web store operations, "regardless of what comes next." E-commerce has proved valuable to their business in two key ways: firstly by providing a way to digitally catalogue and view the store's full inventory — "we usually don't have the space in the physical store to show all these pieces at once," Haas explains — and secondly by connecting the owners with customers from around the world.
For stylist and fashion archivist Gabriel Held, the majority of his business is the result of in-person interaction. "It definitely occurs to me now how many of my days go to client meetings and shoots," the Brooklyn-based vintage collector remarks. Without the ability to schedule appointments for his archive, which operates as a rental business, and attend photo shoots, Held is supplementing his income by selling on Depop, an online fashion marketplace. Though he's lost an estimated $13,000 USD total over the past two months ($8,000 USD from his archive and the rest from styling), Held predicts that steady Depop sales — and any other e-commerce strategies he comes up with going forward — will keep his business sustainable. "You have to be adaptable in these times," he says.
That being said, a shift to online operations coupled with temporary restrictions on meaningful in-person interaction result in profound emotional loss — the ability to physically collaborate, bond over work and feel the undeniable energy that any art form radiates is simply gone. "I'm getting creatively antsy," Held admits. "I joked about this at the beginning of quarantine, and now I think it's actually a good idea, but I'm about to start styling looks on pieces of furniture," he laughs.
A direct-to-consumer model will trump the prestige of big-name stockists.
It is no secret that retail has been in trouble for a while. The so-called "retail apocalypse" has loomed over the sector since 2017, in part due to growing consumer preference for online shopping, and the pandemic has only worsened its prognosis. Take J.Crew Group, True Religion and Neiman Marcus, for example: all three retailers recently resorted to bankruptcy filing as mandated COVID-19 store closures exacerbated pre-existing financial troubles. Even before the pandemic, the 2019 bankruptcy and shuttering of Barneys, a store that formerly served as an aspirational beacon of luxury, was a bleak signifier of the state of retail.
Korn, whose wares are currently stocked at recognizable stores such as the now-bankrupt Neiman Marcus and Nordstrom (also buckling under the pressure of the pandemic), is beginning to wonder whether wholesale is really worth it. Until Korn and her team began working remotely back in March, the Susan Alexandra brand was 75 percent wholesale. As Korn expanded her online store and realized that working from home is a viable option even beyond quarantine, she realized how unhappy she was with her pre-pandemic day-to-day routine.
"So much of it was wholesale — dealing with the buyers, doing all these custom designs that are [discounted] days after they arrive at the store — and it's so much energy. And it's just not working," Korn expresses. Now, she aims to expand the customer service side of business and shift to a predominantly direct-to-consumer model. "I don't think any of us are keen to return to wholesale," she notes.
Cheng echoes Korn's sentiments. Currently working from her parents' home outside of Chicago, Cheng cites the pandemic's negligible impact on direct sales. However, some of her largest stockists canceled orders in light of the health crisis, resulting in what she estimates to be a 25 to 50 percent loss in earning potential.
Before the pandemic intensified, Cheng was considering expanding on wholesale. Now, she's not sure that strategy makes sense. "I see that it's not entirely dependable to [rely] on other people to sell your products for you, to not be able to control the narrative and things as simple as the prices they're sold for," she observes, noting that the shrinking legacy of big-name institutions isn't necessarily the way forward.
Shifting values influence consumer tastes.
Korn, Cheng, Haas and Weisner all describe newfound customer preference for items that, as Marie Kondo would say, spark joy. Korn, who intends to elicit cheer with her rainbow-hued accessories, wasn't sure anyone would rush to purchase bags and jewelry amidst a global health crisis. However, strong sales indicate that customers are in the market for a dose of positivity — or rather, "things that make them really, really, happy," as Korn puts it.
Cheng also senses a shift to emotion, and responded to the change with a new offering: Love Letter Kits, a package of seed paper (cotton paper with wildflower seeds pressed inside of it), stickers and pressed flowers. Customers can use the paper to write letters to friends and family, who can subsequently plant the paper and watch their heartfelt notes blossom. The sentimental significance of these Love Letter Kits clearly resonates with buyers — the product sold out in a little over one week.
Haas and Weisner detail an increase in sales of objects such as "protector cats, sparkly fans and ceramic vases." At first, the duo attributed this change to the nature of e-commerce. "People can't try on clothes so they're more likely to buy accessories rather than, say, a pair of jeans," Haas reasons. Though this may indeed be the case, she also notes the aesthetic purpose these non-essential objects serve. "Perhaps people wish to bring positive energy into their homes," she then muses.
The emotional significance of these purchases indicates a change in consumer intention — namely, a greater appreciation of the personal meaning items hold. This return to the sentimentality, the visceral impact of fashion, points to an overarching overhaul of what may come in fashion. Increased consumer sensitivity, perhaps compounded by a steady stream of grim headlines (the latest, it seems, is that Jeff Bezos is on track to become a trillionaire while millions of Americans struggle to receive unemployment benefits), may lead to heightened awareness of the moral, and affective, implications of spending.
"People are more aware of what they are purchasing," Flemons says, noting how the pandemic has rendered our government's weak spots painfully clear. Elizabeth Hilfiger, founder of streetwear brand Foo and Foo, concurs: "People are going to care more about where their clothes came from," she predicts. "I think the current situation is bringing light to what really is important, and what we can and cannot live without."
If Flemons' and Hilfiger's predictions prove to be true, consumers will begin to place higher value on socially conscious brands operating with issues such as sustainability and human rights in mind. (It is worth noting that Cheng, Flemons, Hilfiger, Korn and Rae already integrate eco-friendly and local production into the ethea of their businesses.) As consumption becomes more selective, sales of mass-produced brands may suffer.
Changes set the stage for the rise of independent designers.
Throughout history, fashion has reflected society's ever-changing cultural landscape and values. During the Great Depression, fabric scraps were repurposed for clothing in an effort to cut back. World War I and its shocking death toll was reflected in fashion editorials, which took a darker, more transgressive turn. After the Great Recession of 2007, the gaudy and logo-laden fashions of the early '00s were replaced by stark minimalism in the form of normcore. As we continue to weather the pandemic and eventually emerge from it, tastes will have undoubtedly evolved from whatever you're currently wearing.
A response to skyrocketing unemployment rates, money-conscious consumers may try their hand at upcycling old clothes into new styles, or perhaps turn their attention to independent designers already specializing in this practice. Typically unbeholden to middle men, the labor of factory workers and brand-name markups, independent designers can cater to those on a budget by offering high-quality pieces at a lower price. Instead of carrying conspicuous status symbols such as a monogram Louis Vuitton bag, those with spending power will start looking to emerging labels with less brand recognition for special, one-of-a-kind creations. Reduced in-person human interaction will lead us to fill an emotional void with cheerful items such as Korn and Cheng's. These changes will serve as the perfect opportunity for independent designers, able to forge closer connections with customers due to the size of their businesses, to step in and provide.
In the meantime, it's up to us to ensure these independent designers, retailers and creatives make it out of the pandemic alive. Consider purchasing gift cards from small businesses, or partaking in your favorite emerging designers' charitable initiatives. Share their work on social media. In times of crisis, solidarity goes a long way. Rae puts it simply: "Now, the name of the game is not growth, but rather survival."
Composite Imagery

Yuri Hong/Hypebae
Share this article