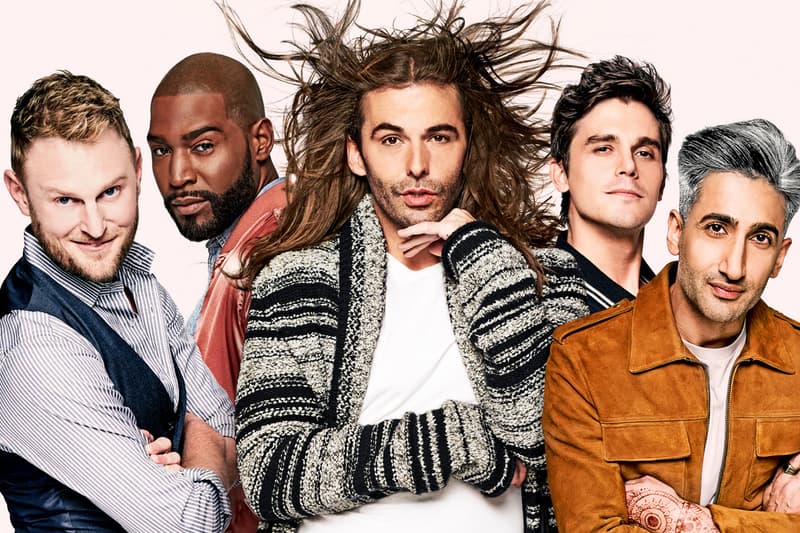 Film & TV
Celebrate Pride Month With These LGBTQ+ TV Shows on Netflix
'Queer Eye,' 'RuPaul's Drag Race,' 'Pose' and more.
Celebrate Pride Month With These LGBTQ+ TV Shows on Netflix
'Queer Eye,' 'RuPaul's Drag Race,' 'Pose' and more.
The film and TV industry has come a long way over the years in terms of representing the LGBTQ+ community on screen. More and more actors and actresses are now taking on lead roles portraying strong and complex queer characters, while others get to express their true selves and share their authentic stories with audiences on reality TV.
In honor of Pride Month, we've gathered the best LGBTQ+ TV shows you can watch on Netflix, as a way to celebrate one of the most significant events of the year at home. Read on to discover our top 12 picks including Queer Eye, RuPaul's Drag Race, Pose and more.
To support queer and trans communities in America and beyond, see 15 Black-led LGBTQ+ organizations you can donate to.
AJ and the Queen
AJ and the Queen follows the story of struggling drag queen Ruby Red who travels across the U.S. performing at clubs in order to earn back the money that was stolen from her. During her quest to salvage what she's lost, a 10-year-old orphan named AJ joins Ruby on her journey. A total of 22 drag queens and former RuPaul's Drag Race contestants, including Valentina, Jinkx Monsoon, Bianca Del Rio, Katya, Latrice Royale and Manila Luzon, make cameos in the series.
EastSiders
EastSiders is a dark comedy web series about a gay couple, Thom and Cal, who struggle with infidelity and substance abuse. The show also spotlights Cal's best friend Kathy's relationship with her boyfriend, Ian, as they hit their six-month mark.
Elite
Spanish thriller teen drama Elite takes place at a high school called Las Encinas. The show not only explores the themes of sex, love and relationships, but it also involves the element of mystery through its flash-forward plot and the use of dual timelines.
Feel Good
Feel Good is a six-part series that follows the tale of George and Mae's relationship. The two embark on a toxic romance as they navigate through the modern-day idea of love, addiction and sexuality. Mae also struggles to find a balance between her personal relationships with her parents, her acquaintances in her drug support group and her coworkers.
Hollywood
Set in Hollywood's Golden Age, Ryan Murphy and Ian Brennan's Hollywood focuses on a group of aspiring actors and filmmakers who try to break into the industry post-World War II. The limited series offers a glimpse of the entertainment industry's unfair systems and biases across race, gender and sexuality, as well as explores what might have happened behind the scenes of Hollywood.
I Am Not Okay With This
Based on the comic book of the same name by Charles Forsman, I Am Not Okay With This is about a 17-year-old girl called Sydney "Syd" Novak who discovers that she has telekinetic powers. While trying to figure out her new abilities, Syd also has to deal with her family and her budding sexuality.
Never Have I Ever
Mindy Kaling and Lang Fisher's coming-of-age comedy Never Have I Ever centers around 15-year-old sophomore Devi Vishwakumar, whose goal for the new school year is to find a boyfriend. However, as Devi focuses all her attention on trying to lose her virginity to Paxton Hall-Yoshida, she fails to notice that her best friend Fabiola is struggling with coming out as a lesbian to her family.
Pose
Season 1 of Pose spotlights New York City's '80s African-American and Latino LGBTQ+ ballroom scene, while the second season is set in the early '90s. The show explores life and society in NYC, the ball culture world as well as the downtown literary scene.
Queer Eye
Netflix's Queer Eye is a reboot of the Emmy Award-winning 2003 series, Queer Eye for the Straight Guy. The show features a brand new Fab Five – Antoni Porowski (food and wine), Bobby Berk (interior design), Karamo Brown (culture), Jonathan Van Ness (grooming) and Tan France (fashion) – who work together to transform the lives of people of diverse backgrounds and beliefs.
RuPaul's Drag Race
With its thirteenth season currently in the works, RuPaul's Drag Race is a reality competition show that searches for America's next drag superstar. Each season, a group of contestants go through a series of challenges, from a runway walk to a lip sync battle, and are evaluated by a panel of judges including RuPaul, Michelle Visage and a special guest.
Sex Education
Sex Education follows the story of socially awkward high school student Otis Milburn who lives with his sex therapist mother, Jean. To earn some extra cash, Otis and his crush Maeve Wiley set up their own clinic in school where Otis gives his schoolmates advice on sex. Season 1 explores the themes of growing pains, sexuality, abortion, coming out as well as slut-shaming.
The Politician
The first season of The Politician takes place at a high school in Santa Barbara, California. Payton Hobart is running for student body president against the popular River Barkley. Under the influence of Payton's friends – McAfee Westbrook, James Sullivan and Alice Charles – he decides to appoint Infinity Jackson, a cancer patient and victim of Munchausen by Proxy disorder, as his vice-president. As instructed by his girlfriend Astrid Sloan, River chooses Skye Leighton, a gender-nonconforming Black classmate as his VP.
Share this article