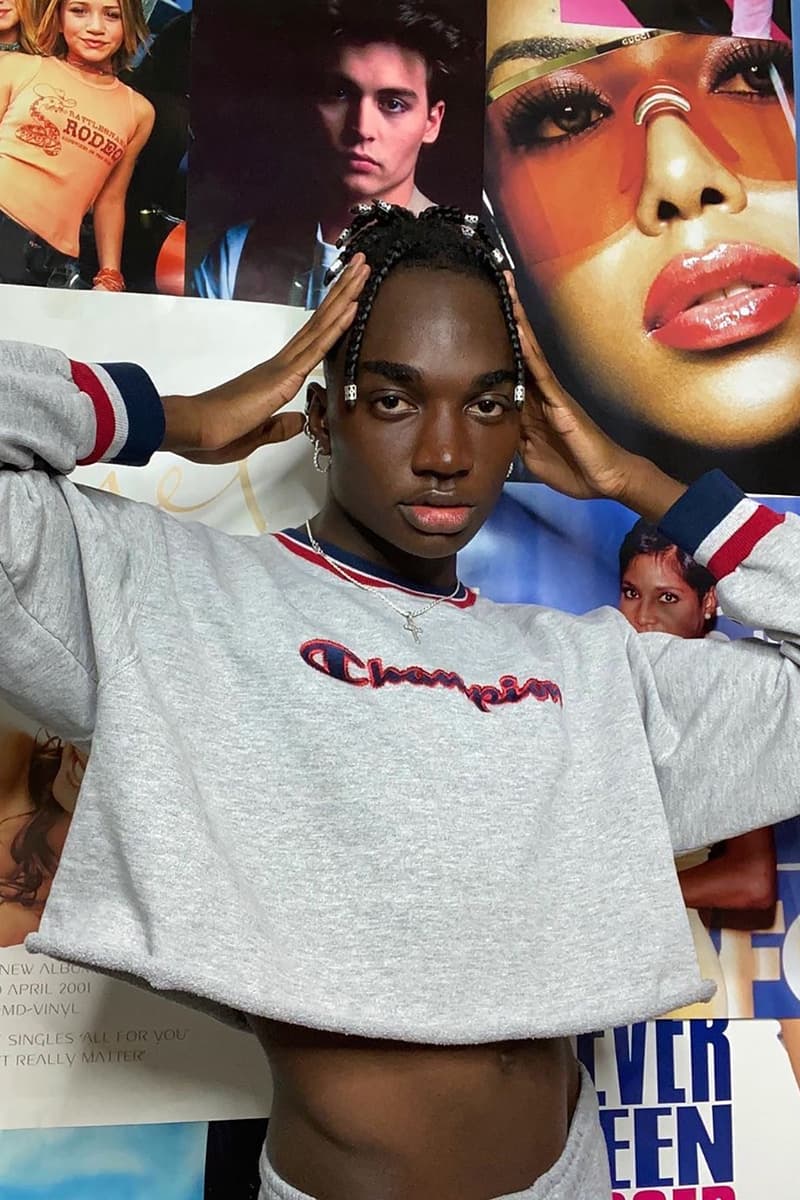 Rickey Thompson on How He Became the Influential Style Icon He Is Today
"People love authenticity, the realness and the rawness of good content."
Culture
Rickey Thompson on How He Became the Influential Style Icon He Is Today
"People love authenticity, the realness and the rawness of good content."
Los Angeles-based social media influencer Rickey Thompson rose to fame for his comedic videos on Vine when it was established in 2013 and garnered 2.5 million followers. However, the app was discontinued in 2016. Shortly after, Thompson uploaded original content to his Instagram page (now at almost six million followers) and YouTube channel to further build his online presence.
Since moving to LA at the age of 19, Thompson has made a name for himself in the industry. The actor, comedian, model and style icon booked himself a couple of noteworthy gigs including narrating for Aminé's album OnePointFive and even starred in the rapper's "Reel It In" music video. On top of that, he walked his first-ever runway show at Alexander Wang's Fall/Winter 2019 collection and became the face of the designer's 2019 infomercial campaign.
Thompson is a man of many talents and is recognized for his originality. Following his collaboration with AXE at Teen Vogue's virtual prom back in May and his appearance on Coach's "We C You" campaign for Pride Month, there is no doubt there is more in store for the 24-year-old creative.
We recently spoke with Thompson about how he's been staying connected with his fans during quarantine, his top style tips and what inspires him. Read our interview below.
Since quarantine, how has your daily grooming routine changed?
I would say the only thing that has changed is the time I get ready. Since being in quarantine, I wake up later, so I get ready later. I typically incorporate the chocolate-scented AXE Dark Temptation Body Spray into my routine.
Despite being indoors most of the time, skincare is something we shouldn't neglect. Can you walk us through your morning and nightly skin regimen?
Since quarantine, I've actually had more time for my skincare routine. I've been really into face masks and have just been looking into different things that can make my skin glow. I recently shared with my fans my routine — it may not work for some, but it works for me. It's very simple, I only have three steps. I only use water, then I wash my face with my Cetaphil Gentle Skin Cleanser, followed by the Gold Bond Ultimate Healing Skin Therapy Lotion with Aloe as my moisturizer. Less is more.
As one of the Internet's most influential style icons, can you share with us some of your best social media tips and tricks?
Stay consistent. My goal when I first started to build my page was to make sure that people always saw me on the feed. If you are not posting or doing anything, you're less seen. I would always make sure I was overexposed so that you could never get rid of seeing my face. Definitely make content that is authentic and real to you because people can tell if you're creating fake content. If you're yourself, people are going to love that. People love authenticity, the realness and the rawness of good content. And just really have fun. Don't stress about the views, you just have to give that time.
Where do you get your inspiration from when it comes to your content?
I literally get my inspiration from anything. It's actually so crazy how my mind works, I am so good at what I do. Literally anything can spark an idea. I could read a tweet and go, "Oh my gosh, video idea. Let's go." I could look at my shirt that's green and go, "Let's talk about money today." People think I'm the type of person that plans out his videos but I'm the complete opposite. When I think of an idea I'll just mess around and film it.
Who are your top fashion idols of all time?
Dennis Rodman is definitely one of my top fashion idols. I love his stuff and what he did in the '90s. I try to incorporate a lot of his looks from back in the day. David Beckham is another favorite. He is absolutely phenomenal. As for modern day, I would say Harry Styles.
If you could only have five basic essentials in your wardrobe, what would you choose?
One would be accessories for sure. If you don't have any jewelry, I feel like your outfit would be very boring. I personally love earrings, I have 12 piercings. I would say a nice bag because it will always complete a look, it says so much. A cute shoe can make or break an outfit. The fourth essential would have to be a belt. And lastly, a hat.
What are some ways that have helped you stay connected with your community during these times?
I've been doing a lot of Instagram Live lately. I used to do them but not as much as now. It's such a great way to see how my fans are doing and how they're holding up during this time, and it gives me the opportunity to be live with them and not just through a video. I usually respond to comments or give them a couple of performances to get them hyped or excited about staying indoors.
How are you celebrating and spreading awareness this Pride Month?
I am just going to mess around and dance around my apartment, and really just celebrate me being comfortable in my skin. I would say it was really hard to love my true self, and when I finally did, I'm just the happiest I've ever been. So I'm going to do that: live life, party it up indoors and just be happy for who I am.