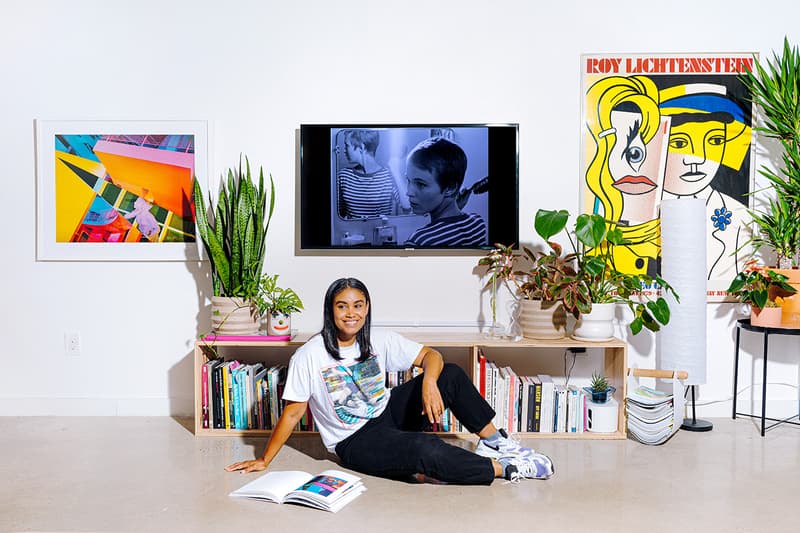 Home
Inside the Art-Filled Home of Shannon Maldonado, Founder of Philly Lifestyle Boutique YOWIE
The design consultant talks about her interior inspirations and upcoming expansion of her brand.
Inside the Art-Filled Home of Shannon Maldonado, Founder of Philly Lifestyle Boutique YOWIE
The design consultant talks about her interior inspirations and upcoming expansion of her brand.
HYPEBAE Home Tour is a series that takes readers inside the homes of tastemakers and creators from around the world. Beyond showcasing the unique character and design of each abode, through conversations and interviews, the series will also highlight the creative endeavors of the homeowners.
For the first installment of the series, YOWIE founder Shannon Maldonado gives HYPEBAE a look at her vibrant Philadelphia home filled with art books, whimsical decor pieces and vintage finds.
From a young age, Shannon Maldonado has been obsessed with creating things with her own hands, whether that's in the form drawing or learning how to sew from her mother during middle school. After spending much of her teenage years altering clothes and sneakers from her closet, she enrolled at New York City's FIT and upon graduating in 2005, put her fashion design degree to use by working for various large companies. During her near-decade-long career in fashion, with stints at American heritage brands Ralph Lauren and Tommy Hilfiger, she held different positions designing children's clothing, women's denim, outerwear and knits. And while she enjoyed doing what she did, five years ago, Maldonado was ready for a change.
Hoping to find an outlet for her other interests like photography, strategy planning and copywriting, the Philadelphia native began toying with the idea of running her own business. At the time, she noticed a gap in the home goods market for products and marketing campaigns that feel personal and playful. Numerous Pinterest boards later, YOWIE was born. In 2016, the home and lifestyle store launched online and in that same year, the brand started to cultivate a community of independent makers, neighbors, friends and art and design lovers with its first IRL pop-up events. A year later, Maldonado opened her brick-and-mortar boutique in Queen Village, where customers can find fun decor and other tasteful objects — think stoneware planters, candles and even fancy toast jams — made by homegrown and international artists and brands.
But this only marked the beginning of YOWIE's journey. As someone who's passionate about creativity, design and fostering a community, Maldonado is looking to expand the brand's vision by bringing her different interests under the same roof, literally. Having previously led design for The Deacon, a 1900s church-turned-boutique hotel in Philadelphia, as well as Ethel's Club, a Black-owned social club in Brooklyn, Maldonado is inspired to build a multi-use, retail-slash-hospitality space that her hometown hasn't seen before.
To make this ambitious next chapter of YOWIE a reality, the founder has launched a month-long fundraising campaign (ends July 31) to expand her team and business — let's not forget, as Maldonado points out, that reports share Black entrepreneurs receive less than one percent of venture capital funding. Thanks to overwhelming public support, the crowdsourcing initiative has reached over 90 percent of its goal of raising $75,000 USD. Currently, the brand is already hiring its first full-time position.
Here, we chat with Maldonado about the future of YOWIE, the meaning of home and her best tips for injecting personality into a living space.
You've recently announced plans to expand YOWIE into a multi-story creative hub. How did you come up with the concept?
Last Summer, I was telling my friend Everett [Abitbol] about wanting to grow and diversify our brand outside of retail, but I wasn't sure how. Everett is a client-turned-friendtor (friend-mentor) and the business "yin" to my art and design-focused "yang". He planted the seed of YOWIE becoming a multi-use space with a bigger imprint and very quickly, that seed became a parasite that I couldn't shake. The energy felt similar to the start of YOWIE in 2015 — spending late nights and weekends chipping away at the original concept and just being obsessed with this new idea. YOWIE is evolving into a multi-floor platform for creativity, bringing hospitality, design, retail and community engagement into one interconnected space. This platform will be unlike anything else in Philadelphia. In the future, you'll be able to stay the night in one of YOWIE's shoppable boutique hotel rooms, shop in our expanded storefront, take a workshop or expose yourself to new artists and designers.
How does the creative community, in Philadelphia and beyond, continue to inspire YOWIE? With the upcoming space, how does the brand wish to give back to its local and international friends?
We have a very unique community of people who I feel have helped us shape and grow YOWIE over the years. I maintain a very open line of communication and collaborative spirit with both the artists that we work with and our audience, so it's inspiring how it often feels like a big chat room where we are hanging out and sharing movie advice, local finds, art and everything in between. It's inspiring to see the projects that they are working on, as well as getting their opinion or encouragement on things that we have in progress.
We've gotten lots of feedback over the years about the lack of access to temporary artist studios and spaces for events and openings in Philadelphia. In our new space, there is an entire floor where we will have spaces that can be rented and shared with our community, including a test kitchen, a photo studio and an open workshop space. These spaces will also be used for partnered events with friends and brands that we can bring in from other states and hopefully the world. I dream about us hosting a chef from the West Coast or Japan, and being able to offer not only our platform but a place to stay.
What have been some of your biggest triumphs as an entrepreneur? Were there any challenges you faced along the way?
One of our most recent triumphs was how we were able to activate our audience into supporting local Black organizations during the Black Lives Matter protests. We took two approaches: placing a large message of support for the protestors in our shop windows during the protests, and donating nearly $8,000 USD to eight local organizations from proceeds of an apparel capsule. I was really inspired by the wave of support and engagement we received on both of these initiatives. I'm proud that our brand can comfortably talk about bigger issues in the world and it felt especially good to feel seen and supported as a Black founder.
One of the biggest challenges is trying to maintain momentum and stay focused during the long haul of running a small business. There's an assumption that you launch [a company] and things get easy, but you're always learning and facing new challenges, whether it be cash flow, staffing, marketing or even just staying positive during times when things feel stuck or uncertain. I try to share those challenges with our audience and remove some of the mystery of running and building a brand.
Have the events of 2020, including the COVID-19 pandemic and the BLM protests, made you rethink your business and what it can offer?
In early March, I decided to close our store for the safety of my team and our guests. It wasn't something I spent time overthinking as I just knew it was the right thing to do. We kicked into high gear of getting as much of our product onto our web shop as possible, and also moved to create virtual programming like coffee chats, natural dyeing and a still life workshop, to name a few. Before COVID, we were known for our in-shop events and workshops, so I didn't want us to lose that connection to our customers. We got incredible responses and have decided to maintain a few virtual events a month that we are calling #YOWIEatHOME.
During the BLM protests, I felt that it was important for me to stand up as a Black founder and speak on what was happening. I didn't hold back in sharing my experiences with racism and my support of the movement. We also worked to share as many resources on how people could help or get involved as we could find. We got a huge influx of traffic to our site and in emails from individuals, publications and brands looking to work with Black brands. I wanted to make sure we kept the conversation on what was important. As a light-skinned [Black] founder, I have been afforded many privileges so I started to use our platform and my voice to push back to those reaching out and asking them their longterm plans as well as passing the names of other Black creatives for them to consider working with or amplifying. It's imperative we continue to advocate for others that may not be afforded the same opportunities.
From the aesthetic of your store to the decor of your home, there's a distinct sense of humor in your spaces. What are some of the influences that have shaped your taste and keen eye for design?
I think part of the humor comes from my parents. They are two of the most sarcastic, funny people that I know and they've helped me to find humor in even the darkest moments of my life. I've also always been attracted to art and design that have some hidden meanings or characteristics.
In more recent times, I have been inspired by artists like Alex Bradley Cohen, Nathalie du Pasquier, Jordan Wolfson, Ken Price and Kerry James Marshall. I love art that is beautiful but stops you dead in your tracks or makes you question what the hell you're seeing. In turn, I want the objects that we carry [at YOWIE] and the spaces that we design to bring people joy, a sense of discovery or to challenge them.
What does "home" mean to you?
Home is a place where I can be myself, not wear pants, and where I am surrounded by things that I love from different moments in my life. I am one of the most nostalgic people you'll ever meet (Cancer-Cancer-Aquarius).
What are the inspirations behind your home interiors? 
I think growing up in an urban landscape like Philadelphia led me to always daydream in color and to fantasize about big, glossy sets like those found in movies like Tommy, The Holy Mountain and Phantom of the Paradise. Cinema has a huge influence on my work and practice. I also love creating tension in our spaces through color, time period or scale. When [my boyfriend] Dave and I decided to move in together last fall, I was on the hunt for the kind of space I could never get during my time in New York. As has been the case through my entire apartment-hunting life, I found the listing on Craigslist. From the photos, it looked really unique and like a converted garage. It is a 1.25 story standalone house. It kind of looks like it was dropped there from a plane or something. The guy that showed it to us was very intense and heavily caffeinated. I remember we had 15 minutes to decide, but I knew right away that it was the one.
Two of my favorite details in our space are our concrete floors and three big skylights that light up our living-kitchen area. It's the first time in my life that I haven't killed my plants because the light is so good. It's an open-concept up front mixing our living and dining area (and one of my boyfriend's drum sets), with our bedroom and bath tucked away in the back. I've always dreamed of creating a modern ranch home in Philly, but they don't really exist, so this is the next best thing for now.
Can you share with us any decorating tips that helped you put together your space?
Don't let the TV be the star.
When we moved in, this was the first time I had a TV in over a decade (I know!), but I didn't want the TV to be a focal point when you entered our home. I made sure to flank it with two large, colorful art prints. The one on the left is by Barbara Kasten and the one on the right is an amazing vintage gallery poster my childhood best friend found in her dad's attic. Etsy is still one of my favorite sources for vintage gallery posters and prints.
Custom and DIY pieces can really make it personal.
I had my eye on many TV consoles and coffee tables to go under our new TV, but I am glad that I waited and had my friend Tim Gleeson make us this custom book bench. It fits the space so well and adds some softness to our concrete floors. It's not always possible to go custom, so repainting something vintage is another great way to add personality to your space.
Color is your friend.
My new favorite thing is adding color through framing and matting. I chose to frame this vintage John Chamberlain print in turquoise and it really makes it pop off of the wall. If a colored frame is too much, using color through matting is a fun, inexpensive option.
What are some of your favorite items in your living room?
Group Partner Head Planter: This guy is a planter that we accidentally damaged from the shop so I had to bring him home. He has a big crack in the back that occurred because we tried to tie him to balloons during a photoshoot. The wind got out of our control and the poor thing went flying. What also makes him special is that I bought this plant during the process of opening Ethel's Club, and it's fun to see how he's bloomed and grown since then.
Fantasia Book, 1940: I bought this book about a decade ago on eBay. It is a very unique book based on one of my favorite (sometimes problematic) films. The book is very old and so beautifully put together with process sketches and a scrapbook feel. I always smile watching friends and visitors flip through it.
Jean-Luc Godard Poster by agnès b.: Jean-Luc Godard is one of my favorite directors, so this huge poster from an exhibition at agnès b. is one of my most prized possessions. I've also always had a big crush on Jean-Paul Belmondo. Funnily enough, it only costs $30 USD before framing.
Mitchell Gold + Bob Williams Sofa: This is the first piece of "adult" furniture I bought about a decade ago. I was moving into my own place after a big breakup, and I didn't want a lumpy, cheap couch from you know where. It was a lot of money at the time, but I felt so cool being able to walk into that kind of furniture store and kind of point and say, "That one." Ten years later, it is so comfy and broken in. I'm thinking about reupholstering it at the end of this year in a big stripe or a bold color to give it a new life.
Shannon Maldonado's Wish List
Noguchi Akari 20N Table Lamp: I have had my eye on one of these for years. It's simple, elegant and classic. Noguchi's paper lamp series is iconic and it's hard to not want to put one of them into every project that I do. We even rendered one into our new concept space.
A painting by Ian Micheal: I recently discovered the work of Ian Micheal and will spend much of my time obsessing over how to get one of his pieces into my life. His choice of color and the way he paints Black people is so gorgeous.
Mattiazzi Cugino Stool: My next area of focus in our apartment is to re-do our bedroom. I'd love to upgrade our bedside tables with a few of these bad boys. They are sleek and angular, but still carry some softness to them.
Maharam Checker by Alexander Girard: Like many others, I am check-obsessed and after using this fabric in a recent project, I am trying to find ways to get it into my home. I'm thinking of reupholstering our accent chairs in this or making some new cushions for our couch. I love how it is playful but still feels elevated and refined. Pink and orange are one of my all-time favorite combos.
Separate Cinema: The First 100 Years of Black Poster Art: This book is yet another case of me purchasing something for a client that I wish I had bought for myself. A copy of this is at the Ethel's Club library and every time I visit, I find myself flipping through and finding new inspiration. I love movies so much and want to absorb and learn more about the works in this book.
Share this article