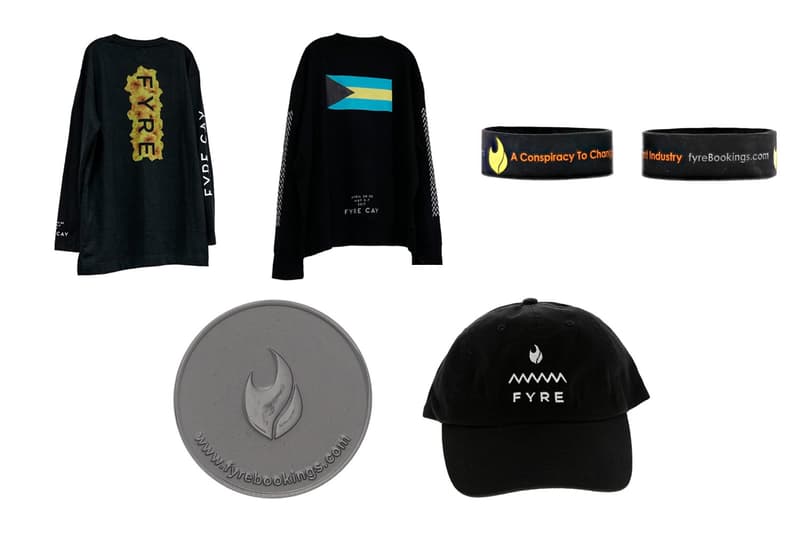 Fashion
You Can Now Get Your Hands on Official Merch From Fyre Festival
Proceeds will be going to the victims of Billy McFarland's crimes.
You Can Now Get Your Hands on Official Merch From Fyre Festival
Proceeds will be going to the victims of Billy McFarland's crimes.
Three years ago, Fyre Festival was advertised across social media as one of the most luxurious experiences that turned out to be a scam led by Billy McFarland. Following much drama ranging from a lawsuit with Kendall Jenner to the Bahamas island going on sale for $11.8 million USD, official merch that was intended to be sold at the non-existent event is now available for purchase through an online auction.
Featuring 126 items seized by the federal government from McFarland, the sale marks the second round after the initial virtual event that took place last year. From T-shirts and caps to bracelets and tokens, each piece sports Fyre branding, as well as the festival's website. "This Fyre Festival-branded clothing and other items that were seized from Billy McFarland were originally intended to be sold at the Fyre Festival itself but were kept by McFarland, with the intent to sell the items and use the funds to commit further criminal acts while he was on pre-trial release," a press release states, according to CNN.
All proceeds from the auction, which runs through August 13, will be donated to a fund for victims of Fyre Festival. As spotted on Gaston & Sheehan's auction site, bidding seems to be competitive with prices going as high as $355 USD. You can head over to the web page now to bid on the items.
Share this article