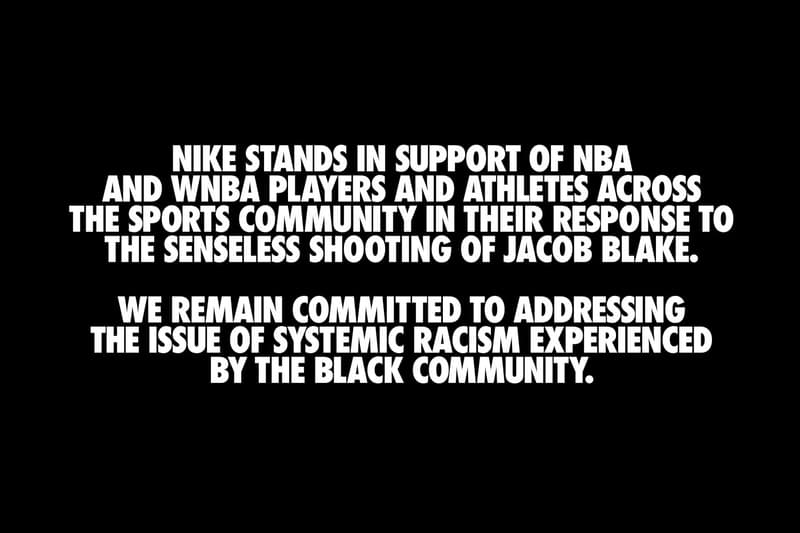 Footwear
Sneaker Giants Respond to Police Shooting of Jacob Blake
Nike, adidas and PUMA have spoken up.
Sneaker Giants Respond to Police Shooting of Jacob Blake
Nike, adidas and PUMA have spoken up.
As sports stars — including tennis champion Naomi Osaka and the NBA's Milwaukee Bucks — sit out from matches and games over the police shooting of Jacob Blake, sneaker brands including Nike, adidas and PUMA have released statements condemning systemic racism. Though corporate statements are far from all the work that must be done to address the continued slaughter of Black citizens, solidarity among coaches, athletes and their footwear sponsors is an important step towards change.
"Nike stands in support of NBA and WNBA players and athletes across the sports community in their response to the senseless shooting of Jacob Blake," the brand wrote on Nike News and Twitter. "We remain committed to addressing the issue of systemic racism experienced by the Black community." PUMA Basketball expressed similar support for striking players, along with a list of Black men, women and children shot by the police. "Jacob Blake, Breonna Taylor, George Floyd, Tamir Rice, Atatiana Jefferson, Walter Scott, Michael Brown, Ahmaud Arbery, Ariane McCree, Terrance Franklin, Michael Dean, E.J. Bradford Jr., Jamee Johnson, Antwon Rose, Stephon Clark, and too many more. #BlackLivesMatter," the brand wrote.
adidas released statement reading, "adidas stands in solidarity with athletes, coaches and cultural leaders driving positive disruption and demanding justice for the senseless shooting of Jacob Blake and the many whose lives have been impacted by systemic racism." The brand expanded on the statement with an announcement that, in collaboration with Utah Jazz player Donovan Mitchell, proceeds from the sale of the D.O.N. Issue #2 — up to $90,000 USD — will be donated to a scholarship fund for Blake's children. In addition, all adidas product releases scheduled to launch on August 29 and 30 will be postponed.
Share this article