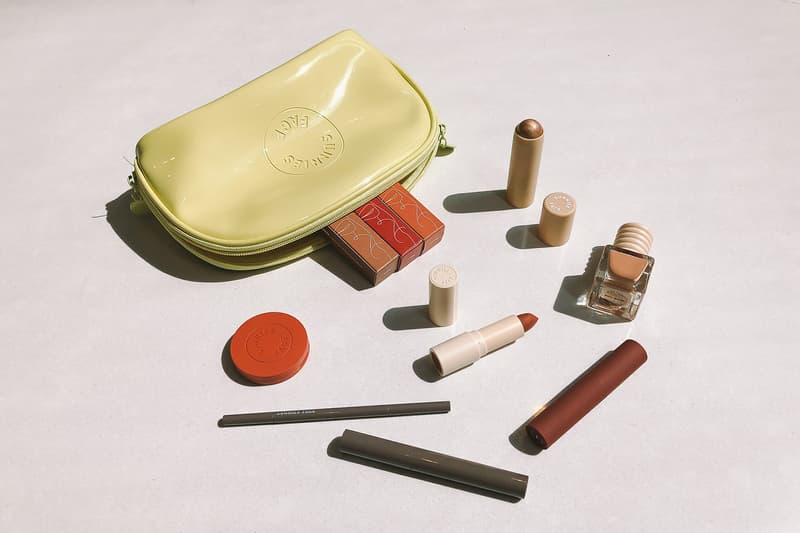 Beauty
Our Editors Review Every Single Product of Sunnies Face
Find out if the cult-favorite Filipino beauty brand is worth the hype.
Our Editors Review Every Single Product of Sunnies Face
Find out if the cult-favorite Filipino beauty brand is worth the hype.
Launched in 2018, Sunnies Face has quickly become a buzzy beauty brand not only in its native Philippines, but also within the global makeup community. The label introduced itself to the cosmetics world with its best-selling Fluffmatte lipsticks, which sold out within the first 10 minutes of the initial release.
Founded by Martine Ho, Georgina Wilson, Jess Wilson, Bea Soriano-Dee and Eric Dee, the cosmetics company is an extension of Sunnies Studios, which specializes in sunglasses and boasts over 200 in-house styles. Over time, the company has branched out to prescription eyewear with Sunnies Specs, and food with Sunnies Cafe. Sunnies Face now has 15 store locations nationwide and has its beauty offerings stocked at China's most trusted e-commerce platforms. Towards the end of 2019, the label even expanded its presence in the U.S. by collaborating with Rose Inc., supermodel Rosie Huntington-Whiteley's brand.
Having recently celebrated its two-year anniversary, Sunnies Face currently has a carefully curated lineup of makeup products available in an array of shades that complement a wide range of skin tones. Below, HYPEBAE editors review every single item from the Filipino cosmetics line — Fluffmatte, Lip Dip, Airblush, Glowboss, Lifebrow and Play Paint — to see if the products are truly worth the hype.
Due to the ongoing COVID-19 pandemic, Sunnies Face has implemented strict hygienic measures to its stores in Metro Manila, Visayas and Mindanao to ensure the health and safety of its staff and customers. For those residing in other provinces, you can purchase your favorite products on Lazada.
The company is currently working on international shipping and has plans in place for Asia, Australia and North America. Stay tuned while we wait for more details.
When it comes to lipsticks, Sunnies Face really gets its formulas right. The Fluffmatte, a fan-favorite bullet lipstick from the brand, is a no-fuss, one-swipe application that delivers high-impact pigments. It's a lip product that you can count on — especially when you're in a hurry — for achieving a nice, opaque pop of color, without the need for using a lip liner to create a base. While it goes on matte, the formula isn't drying at all and feels lightweight on the lips. My favorite shades are "vacay," the perfect peachy hue, as well as "bday," a taupe brown color that reminds me of '90s Drew Barrymore every time I wear it. – Teresa Lam, Features Editor
No, I'm definitely not done with singing the praises of Sunnies Face's lip offering. As I began rediscovering the joys of makeup after months of going barefaced at home, I have been rotating between the Lip Dip in the warm chestnut "coco" and the statement-making ginger "terracotta." I was initially curious to see if this liquid lipstick would stay on beneath my face mask, and to my delight, it lasted all day with little to no transfer. You can wear a mask, have lunch, sip on drinks and still expect to see an evenly faded layer of color on the lips at the end of the day. The formula is moisturizing and glides on smoothly. One thing I'd say, however, is that there's a subtle scent to the product. If it wasn't for that, I would've easily given this lipstick a 10/10. – Teresa Lam, Features Editor
I'm a cream blush girl and if I had to pick my favorites, it would be a tie between the Glossier Cloud Paint and Sunnies Face's Airblush. I love the latter especially for its weightless, buildable formula — something that makes this product easy to use even for makeup beginners. My go-to shade for the past year has been "biscuit," a warm, neutral shade that I like to use on my fair-medium skin tone as a blusher-slash-soft contour. For a monochrome look, you can even apply the cheek tint on your lids as an eyeshadow. The packaging, which comes in the form of a small mirror compact, makes the product perfect for carrying around for midday touch-ups. – Teresa Lam, Features Editor
I didn't start incorporating highlighters into my makeup routine until about two to three years ago, because I didn't really understand its purpose other than making my cheekbones look shiny. Thanks to a couple of YouTube tutorials, I finally grasped the concept of what a highlighter does: it reflects light and creates the illusion of depth. On days when I want to achieve the "lit-from-within" look, I apply Sunnies Face's Glowboss in "hey girl" above my cheekbones, on the inner corners of my eyes and above my cupid's bow for a seamless shine. I'm usually hesitant when it comes to stick highlighters, because I've had experiences in the past where the highlighter would completely wipe off my foundation as I swipe it onto my skin. However, the Glowboss comes in a creamy consistency and glides on effortlessly. – Pauline De Leon, Associate Editor
Once upon a time, my holy grail eyebrow product used to be Anastasia Beverly Hills' Brow Wiz — that was until Sunnies Face released its own eyebrow pencil and gel. One thing about this item that I wish would be changed is its shade range selection, as there are only two shades available. Other than that, the Lifebrow Duo in "ash brown" has been one of the few things I've been religiously using, especially on my no-makeup makeup days. I, for one, have little to no eyebrow hair. And the great thing about the Lifebrow is how natural the payoff looks, giving the illusion that I actually have brows. – Pauline De Leon, Associate Editor
Since the pandemic hit, I haven't been able to get a proper manicure or pedicure due to obvious reasons. I've had to force myself to pay more attention to my nail care routine every week, which I've found surprisingly therapeutic over the past few months. Although, one thing I hate about regular nail polish is the fact that certain brands' formula takes forever to dry. I just don't have the patience for that. When Sunnies Face announced the launch of its Play Paint collection, claiming that it arrives in a quick-dry creamy finish, I had to test it out for myself.
Out of all the available colors (15 shades to be exact), I find that I've been reaching for "sugar plum" the most. A rosy mauve hue, the polish goes well with my everyday outfits. As for the quick-dry claim, the brand wasn't kidding — each nail dries within 10 seconds upon application. I usually go for two coats and seal it with the clear topcoat "lucite." – Pauline De Leon, Associate Editor
Share this article