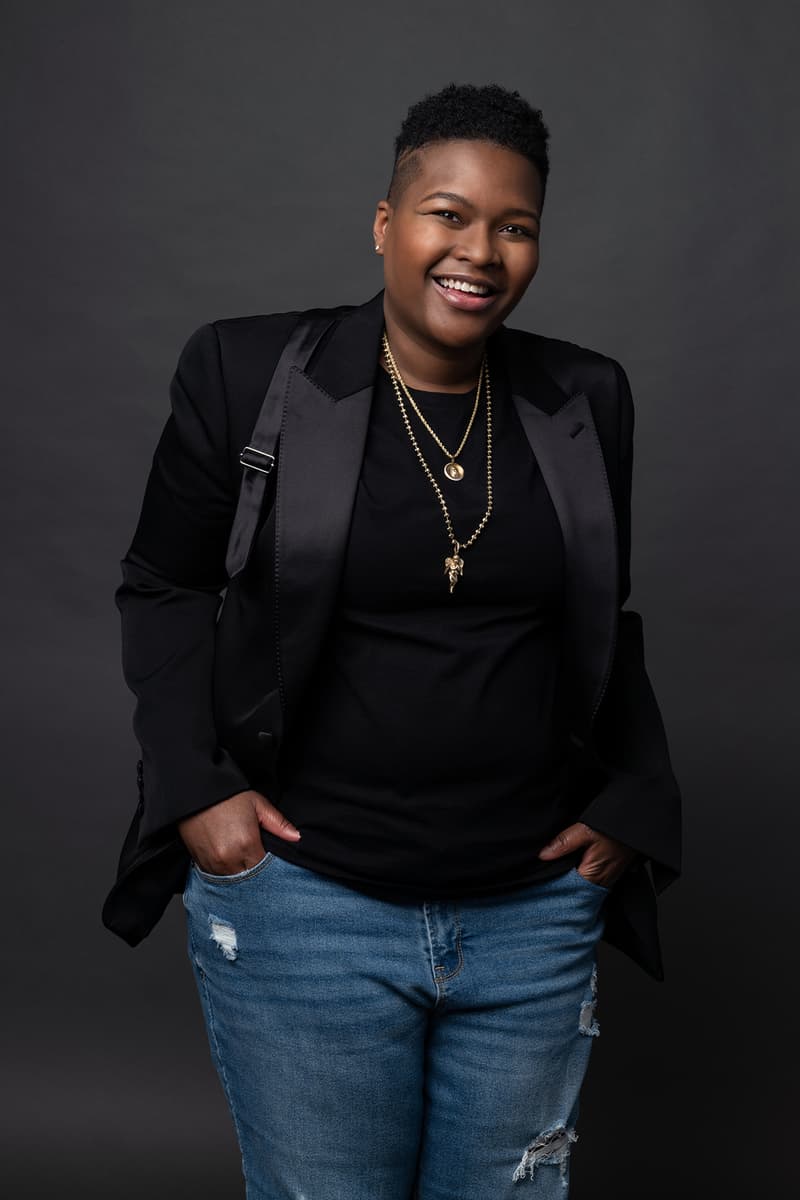 Stand-Up Comedian Sam Jay Helps Us Find the Hilarity in Our Inner Voice
Her debut Netflix special '3 In The Morning' is now streaming.
Film & TV
Stand-Up Comedian Sam Jay Helps Us Find the Hilarity in Our Inner Voice
Her debut Netflix special '3 In The Morning' is now streaming.
For many artists, creatives and writers, 3 a.m. is the golden hour of creativity: it's the moment when the woosh of cars dim, when people lay quietly in their beds and life's distractions dissipate along with the sun. For Sam Jay, 3 a.m. is just that — a break from the world, and a moment to create. Many of the riffs in 3 In The Morning, Jay's recently released stand-up special on Netflix, take on a similar layered approach found in her SNL sketches, with a new quality that has us feeling like Jay is the hilarious voiceover to the otherwise mundane moments of life.
If asked whether she thought she'd be a career comedian and writer, Jay would probably mention her dreams of getting into politics or being a lawyer. Echoed into her Netflix special, Jay's comedic efforts to address social and political issues are blunt and incredibly hilarious — leaving you laughing about social politics like never before. While many comics face the difficult task of ensuring skits remain relevant with the fast-turning trends of comedy, Jay's multilayered bits feel timeless — and in some scenarios, oddly more relevant, in the wake of a pandemic and the social revolution of Black Lives Matter.
Bluntly observant, like a child who points out the thing that most adults wouldn't dare voicing, yet an onion of depth that reveals a new layer of meaning with each revisit, Jay's hour-long special hosts a corner of hilarity for everyone. While each segment touches on a wide variety of subjects, each is threaded with her work's necessity of travel and the transitional state she finds herself in, at this stage of her life. "I think I was just highlighting the mind state of a person in their late 30s…I just think it's a walk through my mind as I'm in this phase of life," Jay says. Though her life hasn't involved much traveling due to COVID-19, she's been living the staycation life with her partner and reveling in this pivotal career moment.
For Jay, life in your late 30s means being torn between past (and current) routines and biological urges to seek security. "My life is kind of coming together in a lot of ways. With that, security and financial security [and thinking] 'okay, I'm in a career actually and it's going somewhere.' I'm starting to think about things like kids and the longevity of relationships, and it's making me look back on our childhood and how I was raised, and how [that will] translate into how I'm going to be with children." These themes are apparent throughout the special, and though many elements of what is often referred to as "settling down" may feel like big, scary life shifts for many, Jay helps us find the hilarity in our inner voice — playing devil's advocate in the perceived seriousness of it all.
Through preparing for her future, Jay has peered back into her early years, looking deeper into all the factors that have made her the woman she is today. "I was looking into what a selfless parent she was and what it takes to be a good parent… and it's a lot," she says with a chuckle. "I was really just breaking that down because my mom was ill and she just took so much time to prepare me for her not being here. To have to do that when you're also dealing with your own mortality, speaks to the level of selflessness that you need to truly parent well. It's been making me think… can you be that selfless or are you way too selfish for the job?"
"I'm experiencing this torn-ness between [the fact that] my life has just become what I wanted it to be, and I'm just getting access to money to be able to travel when I want and do what I want; but I'm also like biologically starting to want more settled things, children with a house and a yard — you know? Two parts of my brain are conflicting right now."
Though headlines and coverage of Jay often hold emphasis on the fact she is a queer Black woman, Jay's comedy resonates far beyond that. The special is of course written from this perspective. However, as a whole, themes like growth, transition and family are universal. While subjects like couples bickering while on vacation aren't anything new, it's Jay's authentic perspective that gives us a sense of newfound hilarity. For some, it's a new perspective they've never heard before; while for others, it's a familiar experience that makes them feel represented in comedy. "I think it's people's natural instinct to make you a token. I don't think it's this malicious intent as much as it's instinctual. I think that you as the artist just have to be aware of that. I am always weary of tokenization now because I have an issue representing what I am. I just don't ever want people to assume that I'm the only representation of what I am and that everybody [that] looks like me, thinks like me, because that's not true."
Jay doesn't want to be a voice or represent the Black community as a whole as she worries that her perspective will be seen as the answer and that people will think they must look no further. In scenarios like these, tokenization ends conversations about the queer or Black experience. Instead, they replace them with the notion that if a public figure feels this way, well then surely every queer or Black person feels this way. For Jay, there is no one way to be Black, as much as there is no one way to be gay, as much as there is no one way to be a person.
---
Jamila Pomeroy is an internationally published writer and journalist based in Vancouver, Canada. Aside from journalism, Pomeroy is also a commercial writer, screenwriter for television and documentary, model and actor. Through these forms of creative expression, Pomeroy hones in on a variety of subjects, including culture, art, social activism, fashion and sustainability. You can connect with Pomeroy on Instagram and her website.
---
Share this article