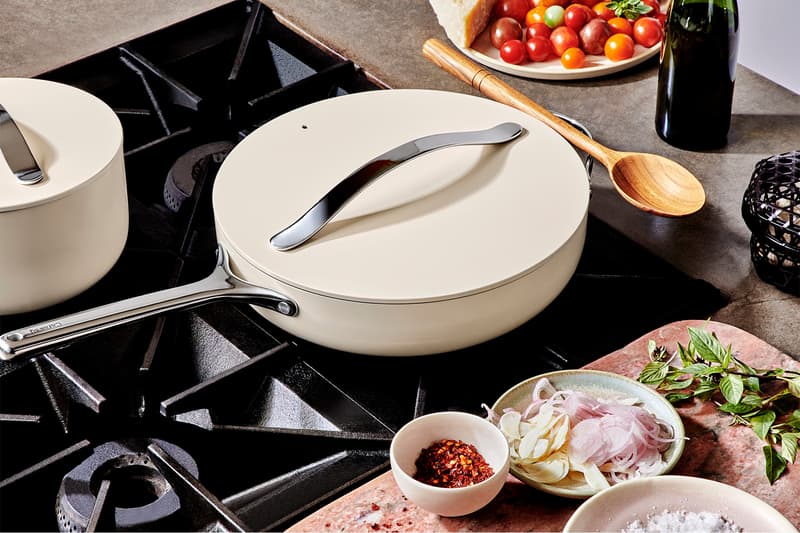 Art & Design
The Best Cookware and Kitchen Essentials for Your Stylish Home
From pastel pots and pans, to lemon squeezers and truffle graters.
The Best Cookware and Kitchen Essentials for Your Stylish Home
From pastel pots and pans, to lemon squeezers and truffle graters.
Cooking and baking have become popular pastimes in many parts of the world amid the pandemic. As we continue to adapt to this "new normal" lifestyle, we've put together a list of stylish cookware items from brands like Le Creuset and HAY to help you complete a stylish kitchen.
Our wish list features minimalist-chic utensils and accessories like squeezers and truffle graters that are designed with both aesthetic and functionality in mind. For sleek items that double as table centerpieces, you can look to Alessi's ergonomic cheese grater designed by Zaha Hadid, or Staub's pumpkin-shaped cast iron Dutch oven. To add soft pastel tones to your home, consider picking up Caraway's lineup of pans and pots coming in shades like ivory and coral pink.
Scroll down to see more beautifully designed cookware pieces. For more kitchen goods, check out our list of modern cooking appliances.
Crafted by Milanese label L'Abitare, this white porcelain squeezer boasts minimal aesthetics with a simple silhouette. The kitchen accessory can be used for making fresh and healthy juices in the morning.
A product from Maision de la Truffe, a Parisian brand that began as a family restaurant in the 1930s and now specializes in all things truffle, this grater is designed by experts to ensure your truffle stays fresh. The luxe utensil is a perfect housewarming gift option for any foodie.
Danish label HAY's chopping board arrives with rounded corners. Made with natural oiled oak, the 40-centimeter-long item can be used for preparing food or serving cheese platters.
American enamelware brand Golden Rabbit is known for its vintage-style swirl print on items ranging from plates and bowls, to pots and pans. This six-quart stockpot, crafted with traditional techniques dating back to the 18th century, is complete with a hand-dipped pattern on the outside.
Italy-based brand Alessi, popular for its unconventional shapes and designs, takes an artistic and experimental approach to items found in the kitchen. Its Zaha Hadid-designed Forma cheese grater comes with a sleek ergonomic stand that doubles as a table centerpiece.
Georg Jensen's pepper grinder is a timeless and chic piece to keep on your table. The seven-inch-long stainless steel accessory is part of the Danish designer label's signature silverware collection.
Le Creuset is a popular choice when it comes to stylish cookware. You can add the brand's red stoneware casserole pot to your lineup for oven-cooked dishes. The piece delivers temperature evenly to prevent food from burning, and features a glazed interior that allows for a quick and easy cleanup.
As quarantine life began earlier this year, New York-based brand Caraway has seen a surge in sales. The brand's non-toxic, nonstick sauté pan is a great investment item perfect for cooking everything from eggs to pasta.
For those looking for a bold, statement piece to add to their cookware collection, Staub has a range of pumpkin-shaped Dutch ovens that are carefully cast and enameled in France. The interior of the cast iron piece is complete with a textured matte finish to promote browning and searing.
Another staple item, Le Creuset's signature saucepan is made with lightweight cast iron and finished off with enamel coating. The French-made pot can be used in the oven or on the stove for various dishes.
---
Share this article