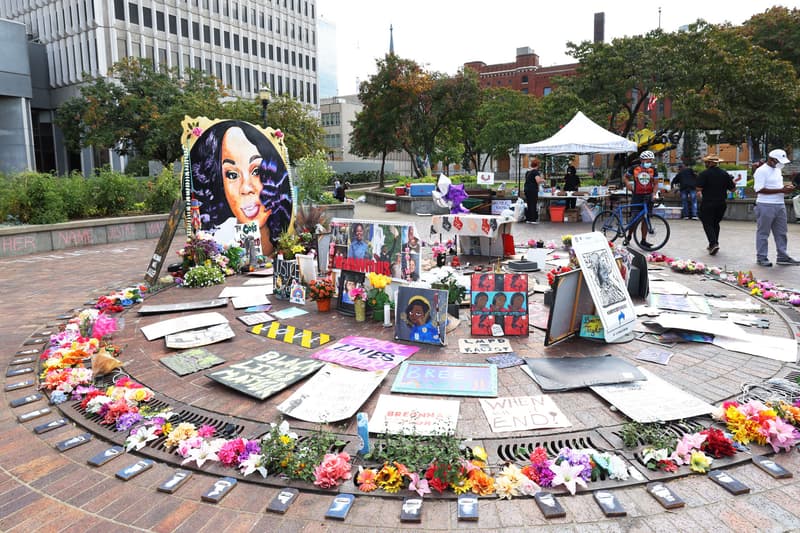 Culture
Breonna Taylor Was Denied Justice — Here's Where to Donate to Support Black Lives Matter
How to help the Black community in the wake of Louisville's verdict.
Breonna Taylor Was Denied Justice — Here's Where to Donate to Support Black Lives Matter
How to help the Black community in the wake of Louisville's verdict.
On September 23, a Kentucky grand jury decided that no homicide charges would be brought against three police officers who killed Breonna Taylor, a Black emergency room technician, in the middle of the night in her own home. Instead, the jury indicted one officer, Brett Hankison, on charges unrelated to Taylor's death. Hankison faces three counts of wanton endangerment for firing shots that entered an apartment neighboring Taylor's. The remaining officers, Jonathan Mattingly and Myles Cosgrove, were not charged with any crimes.
Responding to the jury's failure to hold anyone directly accountable for Taylor's death, protestors took to the streets in Louisville (her hometown), as well as New York, Seattle and Chicago. In Louisville, Governor Andy Beshear deployed the National Guard to provide "civil disturbance support," a move activists quickly condemned, pointing out that the city would rather spend exorbitant sums of taxpayer money on deployment than hold the police accountable.
Though no amount of money can compensate for the murder of Taylor, those saddened and outraged by the verdict can show their support for the Black Lives Matter movement, as well as Taylor's family, by donating to funds benefitting the Black community in Louisville and beyond.
Keep reading for 7 places to donate in the wake of Louisville's Breonna Taylor verdict.
Since 2014, the #SayHerName campaign has supported the families of Black women killed by police through policy advocacy, outreach and events specifically for grieving mothers. The initiative also started an emergency fund that provides new mother outreach, assistance and care packages.
Organized by Chanelle Helm of Action for the People (the Louisville chapter of Black Lives Matter), Healing for Louisville is raising money for BIPOC families living in the city in the wake of Taylor's murder. Helm also helps direct Reparations Roundtable, an organization that distributes funds donated by white allies among marginalized communities.
Bianca Austin, Taylor's aunt, is raising money for the Justice for Breonna Foundation, a cause Taylor's mother recently launched in her daughter's memory. The foundation will focus on police reform, youth programs and scholarships for those pursuing a career as an emergency medical technician or registered nurse. Money will also help cover legal costs Taylor's family faces throughout their fight for justice.
America's cash bail system works against those with the fewest resources, therefore disproportionately affecting people of color. Black and Hispanic Americans are more likely to be stopped by police and arrested for low-level offenses — they're also more likely to be unable to afford bail. The Louisville Community Bail Fund not only pays people's bail, but also provides post-release support and rehabilitative resources.
Phenomenal Media, a platform raising awareness of issues affecting marginalized communities, designed a charitable T-shirt whose proceeds will go to the Justice for Breonna Foundation. The back of the shirt bears a portrait of Taylor along with text reading "Say Her Name."
Another bail fund, The Bail Project works with public defenders and community-based organizations in cities across the U.S., including Louisville, to identify those in need of bail assistance. The organization also works with clients to ensure they receive the support they need and attend any necessary court dates.
Repeated exposure to media coverage of police brutality takes a huge toll on the mental health of BIPOC. However, therapy can cost hundreds of dollars per appointment, a cost barrier that often prevents the Black community from seeking the help they need. The Loveland Foundation has launched a fund aiming to provide over 5,000 hours of free therapy sessions for Black women and girls.
Image Credit

Patrick Smith/Getty Images
---
Share this article