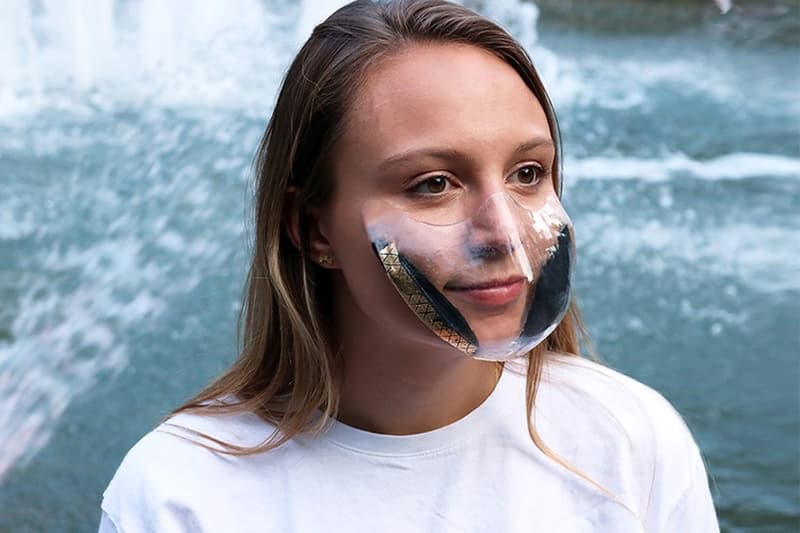 Health
For the Deaf and Hard of Hearing, Clear Face Masks Are More Than an Aesthetic Choice
The need for accessible PPE is greater than ever.
For the Deaf and Hard of Hearing, Clear Face Masks Are More Than an Aesthetic Choice
The need for accessible PPE is greater than ever.
Before the coronavirus pandemic first took hold in the United States, face masks were largely reserved for doctors and construction workers. The majority of Americans had to adjust to the newly necessary safety measure, as well as conflicting advice from the medical community and the Trump administration. Six months later, and face masks have (for the most part) been accepted as the new normal, pushing brands to expand into personal protective equipment (PPE), a product category unexplored by most pre-pandemic.
Despite the preponderance of face mask options available to consumers, one area remains woefully underrepresented: accessible PPE. When Real Housewives star Ramona Singer donned a clear face mask on Instagram Stories (the accessory continues to make appearances on her feed), the reality star was panned by social media users for what they deemed to be an extension of her narcissistic personality. To critics, it seemed Singer was too vain to cover her immaculately made-up face.
Despite her ridiculous on-screen antics, Singer was onto something. Whether she realized it or not, clear face masks are gaining popularity — in fact, a company called SEEUS95 raised over $380,000 USD in funding for its see-through silicone, self-adhesive N95 mask. Though an informational video on the bubble-like covering advertises its aesthetic advantages ("let's see your smile again," subtitles proclaim), clear face masks serve far more than stylistic purposes for those who are deaf and hard of hearing. "The ubiquitous use of masks may be necessary for safety reasons, but it does hinder communications for 48 million deaf and hard of hearing people," the National Association of the Deaf (NAD) writes on its website. NAD goes on to recommend clear face masks, which can help ease communication for those who lip-read and take cues from facial movements, as a more accessible alternative to traditional full-coverage PPE.
Allysa Dittmar, co-founder of ClearMask, the only FDA-approved clear face mask, realized the need for accessible PPE after undergoing surgery in 2017. As a deaf person, she found the experience alienating. "Everyone was wearing surgical masks, completely blocking communication between myself and my surgical team. I did not feel human and was completely isolated," she explained, adding that 55 percent of communication is visual. ClearMask, which is approved for single use only, is helpful not only for those who are deaf and hard of hearing, but also for people who benefit from emotional engagement via facial expressions, such as developing children.
Marissa Goldstein of Rafi Nova, whose Smile Mask is constructed with a clear rectangular panel at the center, was compelled to launch the product after a clinical speech pathologist pointed out how traditional masks raise a barrier to lip-reading and visual cues. "We jointly designed a clear face covering to 'unmask' masked communication with the deaf and hard of hearing community," Goldstein said. Sprayground, another brand expanding into the clear face mask category, makes an entirely transparent version featuring two valves, one on each side of the face, that single-use filters can be inserted into. Founder David Ben David shared that the brand has partnered with The New York Foundling's Family Services for Deaf Children program and will donate masks for distribution in the New York City area.
When asked about the safety and efficacy of clear face masks in protecting against COVID-19, Laura Geer, Chair of Environmental and Occupational Health at SUNY Downstate's School of Public Health, cites ClearMask as the only FDA-approved option. (Of course, ClearMask's unique position in the market highlights the need for more federally-approved, accessible PPE.) Sanctioned for use in healthcare settings as a Class II medical device, the ClearMask "has an impermeable plastic shield to block particle and droplet transmission, with low likelihood of aerosol exit or entrance through the open sides of the mask," Geer explained. "Products such as these are intended for single use," she cautioned, reminding customers that repeat use increases the risk of introducing viruses and bacteria for possible infection.
Elizabeth Helzner, SUNY Downstate's Interim Chair of Epidemiology, raised a second risk factor when it comes to clear mask usage. "Depending on the material the masks are made from, there may be some potential for off-gassing of materials that could be inhaled by the wearer," Helzner said, referencing the process by which a manufactured item releases chemicals in vapor form. The body of Rafi Nova's Smile Mask is made of 100 percent cotton cloth and its clear "window" uses a BPA-free plastic. Sprayground's clear mask is constructed from thermoplastic polyurethane (TPU). Notably, TPU is considered a safer plastic that doesn't off-gas as much as alternatives like PVC. It's also recyclable and biodegradable. Though supposedly BPA-free plastic can still pose risks, both brand's masks seem to be non-toxic.
When it comes to actually using clear face masks around those who are deaf and hard of hearing, NAD offers a comprehensive guide to best communication practices. (A particularly timely point, the guide specifies that, under federal law, police officers must provide effective communication for deaf and hard of hearing individuals — no matter what measures that may necessitate.) Paul Ferrell, Associate Director of Audiology Professional Practices at the American Speech-Language-Hearing Association (ASHA), also recommends general strategies for an effective exchange including using body language, having a voice-to-text app on hand, moving to a quiet setting and, if speaking to someone new, asking if there's anything you can do to make communication easier for both of you.
Between financial hardships and COVID-related anxiety, the pandemic poses myriad challenges for able-bodied people. In fact, it may not cross most people's minds how many additional safety, health and logistical considerations those disabled must take to simply protect themselves against the virus. The World Health Organization notes several of these considerations: regular hand-washing is difficult for those who have trouble using a sink by themselves or rubbing their hands together thoroughly. Those who rely on touch to obtain information from their environments may be at an increased risk of infection. Social distancing guidelines cannot be adhered to by those who need caregivers.
These hurdles highlight the need for accessible PPE and other products that can help disabled people safely navigate the pandemic. Brands were quick to churn out logo face masks and hand sanitizer back in March and now, it's time for them to take a closer look at their customers — if their products cannot be used by 61 million disabled Americans, who are they really serving?
Share this article