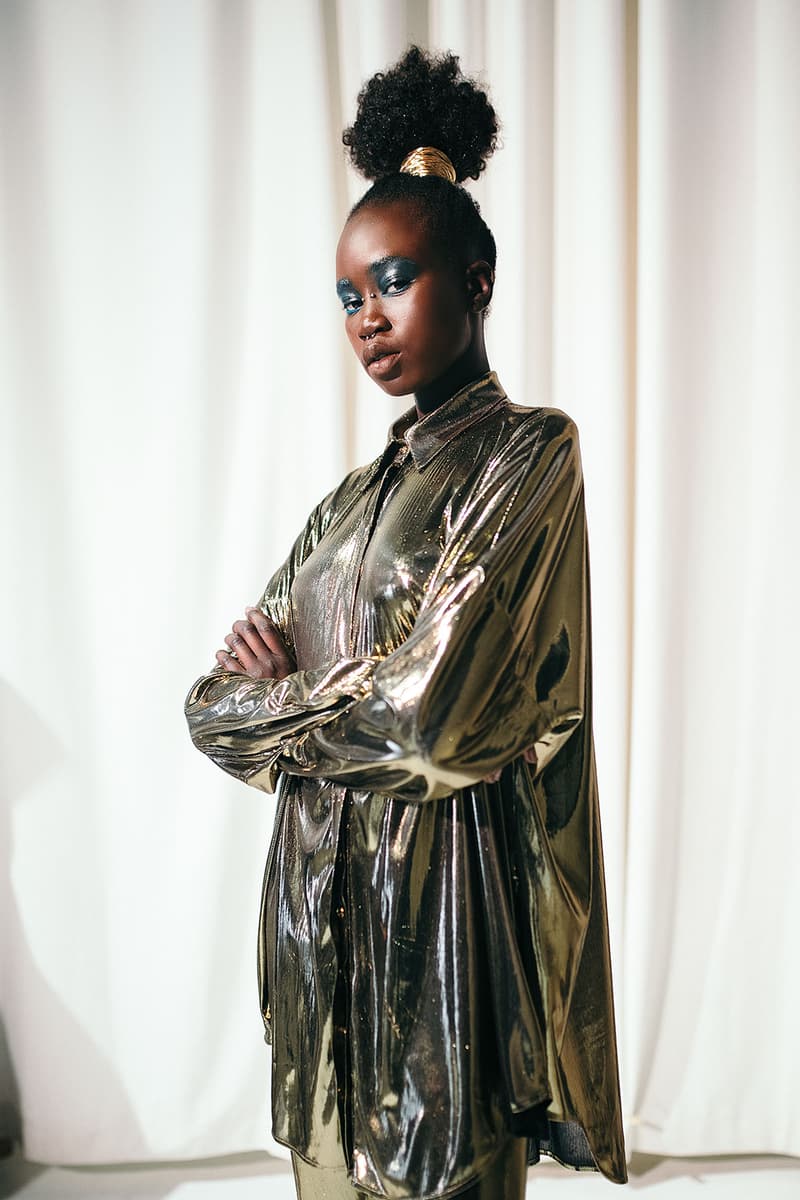 Harlem's Fashion Row Kicks Off NYFW SS21 With Virtual Event Showcasing Black Talent
Founder Brandice Daniel explains why brands need to make a 10-year commitment to fostering diversity.
Fashion
Harlem's Fashion Row Kicks Off NYFW SS21 With Virtual Event Showcasing Black Talent
Founder Brandice Daniel explains why brands need to make a 10-year commitment to fostering diversity.
Harlem's Fashion Row (HFR), a creative platform fostering Black and Latino talent, kicked off New York Fashion Week with a (virtual) bang, presenting a runway show and awards ceremony highlighting Black designers, editors and publicists making their mark on the industry. Founded by Brandice Daniel in 2007, HFR's mission is especially relevant this year as magazines and brands finally confront fashion's historical lack of diversity, inclusion and representation. Indeed, HFR built its Spring/Summer 2021 event around the theme "Black Is The New Black," a nod to the fact that BIPOC talent has existed in the industry long before the mobilization of the Black Lives Matter movement and widespread protests — "we haven't just arrived, we've always been here," Daniel proclaimed during the virtual show.
The first portion of the event, hosted on the CFDA's digital RUNWAY360 platform, was a pre-recorded fashion show highlighting three emerging Black designers: Patrick Henry of Richfresh, Kristian Lorén and Kimberly Goldson. In addition to their Fashion Week debut, the three promising creatives are also working on a collaboration with HFR and childrenswear label Janie and Jack, which will launch in October.
Henry, who goes by the nickname Fresh, presented a vibrant range of sports-inspired mens and womenswear. Describing the Richfresh ethos as "comfortable, Black luxury," Fresh incorporated the track stripe — in all its bold, graphic glory — into suiting, athleisure, loungewear and leather accessories.
Lorén, inspired by the color palette of desert sunsets, showcased feminine, '70s-inflected statement pieces including sequined two-pieces, glittery blazers and feather-accented gowns. The designer's muses this season, Cleopatra Jones and Foxy Brown, shone through the collection's high-sheen finish.
Lastly, Goldson drew inspiration from a dream her sister had about the beauty of Black women's hair. The designer, a Brooklyn native, celebrated the texture of natural hair with three-dimensional renditions of braids and afros applied to T-shirts and hoodies. Goldson also played with proportion, exemplified by elongated suit jackets, metallic culottes and silk button-down shirt dresses. To help designers like Fresh, Lorén and Golson scale their businesses and grow, Daniel announced the launch of HFR's Icon 360 Fund, backed by a $1 million USD contribution from the CFDA and Vogue's Anna Wintour.
In addition to championing emerging talent, HFR also honored several established figures working towards increased representation in the industry. Edward Enninful, British Vogue's first Black editor-in-chief, was awarded Maverick of the Year. Also in publishing, Lindsay Peoples Wagner accepted Editor of the Year for her work at Teen Vogue, as well as her newly launched initiative, the Black In Fashion Council. Tracee Ellis Ross presented Pyer Moss founder Kerby Jean-Raymond with Designer of the Year and lastly, publicist Nate Hinton of The Hinton Group was awarded for his work in brand development, marketing and consulting.
HYPEBAE chatted with HFR's Brandice Daniel about the evolution of her work, how the fashion industry can effectively support Black and Latino talent and advice for emerging designers of color. Head to the RUNWAY360 website to see Richfresh, Kristian Lorén and Kimberly Goldson's full collections from the HFR SS21 Style Awards and Fashion Show.
Harlem's Fashion Row has been around since 2007, yet the fashion industry at large hasn't had meaningful conversations about diversity and inclusion until recently. How has HFR and its work evolved since its inception?
When we first started out, we were very much still focused on press and how to get more visibility for designers. We were definitely trying to build bridges with the fashion industry. Our focus has shifted to really providing [designers] with the tools they need to grow their businesses, whether that's through our membership — we have different people from the industry coming in weekly or bi-weekly to provide some of that information that's hard to get unless you're already connected — or by providing collaborations with designers, brands and bringing actual product to the market. Those are the things we've been most focused on. We're also doing something called Designer Entrepreneur Residents (DER), which is a way for retailers to bring more diversity to their design rooms by working with an independent designer. 
What key changes does the fashion industry need to make to effectively foster Black and Latino talent in the long term?
There has to be, at minimum, a ten year commitment that's made with brands. As brands are thinking about how they're going to handle this particular moment or show up in this particular moment, there has to be a long-term commitment made at the beginning. Without a ten-year commitment, it's easy for this to be a trend for now and maybe next year. But four years down the line, five years down the line, things are back to business as usual.
I also think this is a time for brands to educate themselves. For the first time, we've started to talk about systematic racism and what that means exactly, and how that shows up: what school a person goes to or is able to go to, and what type of access designers have. When designers of color are talking about boot-strapping, they really mean bootstrapping. So I think digging into and educating ourselves on the impact and effect of systematic racism is what's going to lead to change. Every time I'm think about what we can do, I'm thinking, 'OK, what can last for the next 50 to 100 years.' Brands should be thinking the same. 
Once brands do make that commitment, are there particular programs or implementation you think are most effective?
I mentioned our DER program — it allows brands to really come in contact with untraditional fashion talent. Brands who are committed to bringing in more diversity — when it comes to Black and Latino designers, in particular — need to be open to untraditional talent. Black In Fashion Council has commitments that brands can sign up for. There's the 15 Percent Pledge from Aurora James. There are lots of options now, whereas before, a brand could say, 'I don't know what to do!' Now, there's no excuse. 
How did you select the three designers slated to show at this year's HFR Fashion Show?
The three designers are working with us on a collaboration. Last year, I met the president of Janie and Jack. She really wanted to figure out what we could do together with designers of color. I presented several to them — the three designers that were selected for the project are Richfresh, Kristian Lorén and Kimberly Goldson. I wanted everyone to be able to not just see this beautiful collaboration with Janie and Jack, but also the designers' original collections and their visions in terms of what they want to bring to the market. I think they all have distinct points of view to bring to the market that aren't currently represented. 
"Seek wisdom…It will save you so much time. It may take persistence, but people are open to having that conversation and to helping people out."
How did you select this year's honorees?
This year's honorees were selected by our honoree committee. We have a committee of stylists, publicists and other icons in the industry who have gotten awards from Harlem's Fashion Row before, and they all come together each year. We talk through — and it's a long, lengthy process — who we need to make sure is honored and celebrated this year. This year was particularly important — yes, they have all done great work, but more than ever right now, we need inspiration. Every last one of these individuals has inspired us all during this time when things feel so bleak. They are an inspiration for the industry, and they've taken such bold stands that have impacted change for so many other people. I mean, Edward Enninful — who's ever done that before? That takes courage. They're inspiring to me personally, and they're inspiring to all the committee members who selected them.
The pandemic has complicated basically every element of New York Fashion Week. What challenges did you face planning this year's HFR event compared with years past?
I probably shouldn't say this, but virtual is so much harder than in-person. Anything you do virtually requires about double the amount of effort. We've done four events virtually, but this is the first one we also wanted to film in-person, not just over Zoom, because it's so hard to see the designers' collections. Shooting everything while being socially distant and wearing masks, and making sure that everyone was safe was incredibly challenging but we felt like it was absolutely worth it.
Do you have any advice for young designers of color starting out in the industry?
Seek wisdom. So often we go out on our own, we're doing our own thing, and we have a very clear vision of what it is we want to do. There's a shortcut, and that shortcut is seeking wisdom and speaking to someone who has done it before. It will save you so much time. It may take persistence, but people are open to having that conversation and to helping people out. Especially now, I think there's been more of a sense of community than I've ever felt before in the fashion industry. 
Do you think that sense of community has been precipitated by the pandemic?
Absolutely. When you've got the president of a company who's taking calls from her home on Zoom, with her children showing up on Zoom, it kind of breaks down that wall of hierarchy. We're all at home; we're all going though the same thing. There's no one who is above what's happening right now. There's definitely a sense of togetherness that I haven't felt as much as I do right now. 
Beyond NYFW, is HFR working on any upcoming projects or events you can speak about?
We're working on one event that is going to be our very first kid's fashion event, and that's happening on October 10. That will be our official launch for the Janie and Jack collaboration. We were going to host a designer fashion tech summit at Gap Inc.'s corporate office in San Francisco and then of course the pandemic happened. We decided we would still move forward with it, so we're now doing it all virtually. That's happening November 5 and 6.