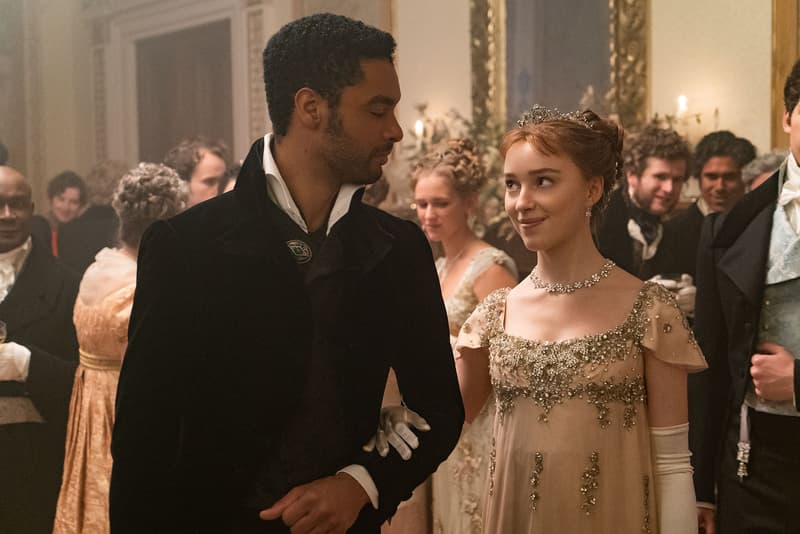 Film & TV
6 Shows To Watch if You're Obsessed With 'Bridgerton'
A list of scandalously romantic titles to binge now.
6 Shows To Watch if You're Obsessed With 'Bridgerton'
A list of scandalously romantic titles to binge now.
Bridgerton has been the talk of the town since its release on Netflix last month. From the charismatic cast members to the steamy sex scenes, fans can't seem to get enough of the characters portrayed by Phoebe Dynevor and Regé-Jean Page.
Based on Julia Quinn's best-selling novels of the same name, Bridgerton follows Daphne Bridgerton (Dynevor) who makes her debut onto Regency London's marriage market. With the aim to find herself a husband, Daphne struggles to find love due to the unrealistic standards of her eldest brother, Anthony (Jonathan Bailey). However, when the Duke of Hastings (Page) returns from London, Daphne finds herself falling for the emotionally unavailable bachelor despite their clashing personalities. On top of all the Bridgerton family drama, Lady Whistledown, a mysterious writer, releases a newsletter every day highlighting the town's major scandals throughout the season.
If you're looking to get hooked on another romantic drama TV show, we've compiled a list of similar period series to the Netflix title below. Read on for our top picks.
While you are here, check out our roundup of Bridgerton-inspired modern dresses you can wear to channel your inner Daphne.
Belgravia
Based on Julian Fellowes' 2016 novel, Belgravia's opening scene is set at the Duchess of Richmond's ball in Brussels, on the eve of The Battle of Waterloo. Guest Sophia Trenchard (Emily Reid) catches the attention of Edmund Bellasis (Jeremy Neumark Jones), the son and heir of one of England's richest and most well-known families. Unfortunately, as the war commences, Sophia and Edmund get separated. 26 years later, the two reunite in London's newly developed Belgravia. However, Sophia bears the knowledge of a family secret that could potentially ruin the Trenchard name.
Dickinson
Dickinson is a fictional take on the life of American poet Emily Dickinson. Played by Hailee Steinfeld, the show explores Dickinson's perspective of the limitations of society, gender and family. As she tries to figure out her identity, the writer also rebels against her strict upbringing and aims to have her voice heard through her poetry.
Downton Abbey
Set in the fictitious estate of Downton Abbey in Yorkshire between 1912 and 1926, this British historical drama highlights the lives of the Crawley family and their domestic servants. The first season kicks off right after the sinking of the RMS Titanic in 1912, and concludes during the outbreak of the First World War in 1914. The plot focuses on the search for a male heir to the Grantham estate, and follows the story of Lady Mary (Michelle Dockery) who attempts to find herself a husband.
Gentleman Jack
Co-produced by BBC One and HBO, Gentleman Jack stars Suranne Jones as Anne Lister, a landowner, and Sophie Rundle as Ann Walker, an industrialist. As Anne restores her family estate, she discovers that the land has a coal mine that two brothers attempt to steal. At the same time, Anne meets Ann, who she comes to develop feelings for, and records her encounters with her love interest in a diary in a secret code.
Outlander
Outlander follows Claire Randall (Caitriona Balfe), a married combat nurse from 1945 who gets sent back in time to 1743 by an unknown entity. When she encounters a young Scottish warrior named Jamie Fraser, she is forced to marry him in order to save her own life. However, Claire begins to fall for Jamie, leaving her stuck in a love triangle with two very distinct men from different times.
The Great
The Great, a Hulu original, is a fictional comedy series about Catherine the Great, the late Empress of Russia. Portrayed by Elle Fanning, Catherine arrives in Russia and is set up to marry Emperor Peter (Nicholas Hoult). However, as she settles into her new life, Catherine realizes she is of no use to her husband or the country. As a result, she plans to kill her husband, beat the church and get the court onside.
Share this article