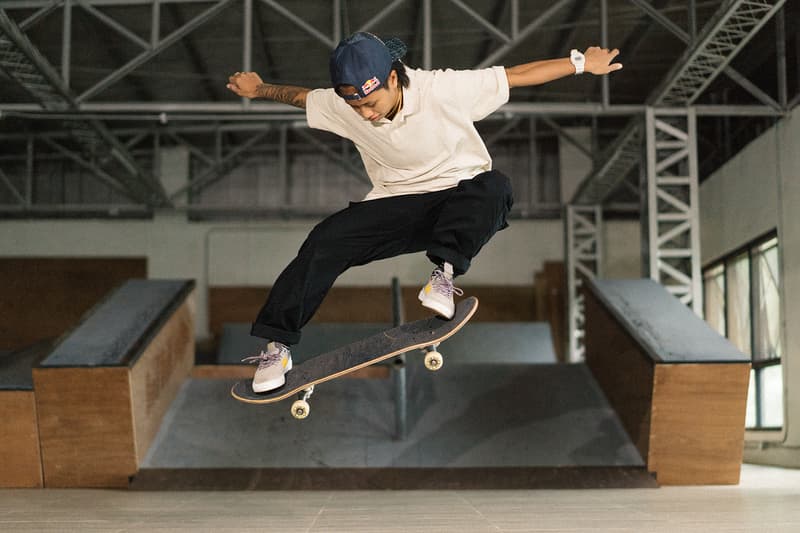 Culture
Skateboarding Runs Through the Veins of Filipino Olympian Margielyn Didal
The 22-year-old reflects on her journey as a skater.
Skateboarding Runs Through the Veins of Filipino Olympian Margielyn Didal
The 22-year-old reflects on her journey as a skater.
It's one thing to be the Asian Games' first women's street skateboarding gold winner, and quite another to represent your country at the Olympics — Margielyn Didal knows a thing or two about that.
Born and raised in Cebu City, Philippines, Didal grew up in a seven-person household. At the young age of 12, she discovered skateboarding at a parking lot at the University of the Philippines Cebu, where she'd help her mother sell "kwek kwek" — a classic Filipino street food made of quail eggs deep-fried in an orange batter coating — on the weekends. While working, Didal would observe a couple of skateboarders. She became curious about the sport and wanted to give it a go. "It instantly felt natural to me and I was just comfortable being on a skateboard — I was honestly surprised I could balance myself," the young athlete tells us.
Didal would join local events as well as enter competitions in the boy's division and "just beat everybody," according to her coach Daniel Bautista. After honing her skills and building her confidence, she entered the 2018 Asian Games where she became the tournament's first gold medalist in women's street skateboarding. Following her historic win, she participated in the 2019 Southeast Asian Games, where she took home two golds.
Having recently competed in the 2020 Tokyo Olympics, Didal shares with HYPEBAE her initial reaction when she found out she would be representing the Philippines at the Games. The skater also recalls some of the challenges she had faced, and talks about what made her commit to skateboarding.
What inspired you to pursue skateboarding? Can you recall the first time you tried to learn how to skate?
It's a fun sport and I just enjoy doing it. The first time I stepped on a skateboard was back in 2012. I was at a parking lot of the University of the Philippines Cebu, which was where I used to hang out a lot every weekend because my mom and I would sell food there. There was this one time when I saw a couple of skaters and I decided to join them. It instantly felt natural to me and I was just comfortable being on a skateboard — I was honestly surprised I could balance myself.
What made you decide to fully commit to your passion?
Initially, I did it for fun with my friends, but when I realized I could earn money from skateboarding, especially to help my parents out, that's when I decided to fully commit to my passion. Considering I was just starting out, I got to travel to Visayas with some experienced skaters to join a competition. I earned around ₱3,000 to ₱5,000 PHP ($60 to $100 USD) from that skate trip, which is a lot for a 13-year-old here.
What was the very first board you bought yourself or received as a gift?
I had actually never bought my own skateboard, until now. The very first board I received was from Demit Cuevas in 2012 or 2013 as a Christmas gift. I was skating at Concave Skate Park on Christmas Eve with my friends and Demit, who I'm a fan of and is my teammate now at New Balance Numeric, gave me his old board. That was the first legit board I ever received.
What were some challenges you had faced and how did you overcome them?
In Cebu, there are a few private parks you have to pay to skate at, but I couldn't afford that. When I discovered Concave Skate Park, I was allowed to skate for free in exchange for some small work tasks. At the time, I didn't have a board, so I would borrow someone else's. When they shut down Concave, that was my biggest challenge as a skater because there was nowhere else for us to skate. We ended up skating on the streets or in malls, where we would get kicked out by security. That was the biggest challenge for me back then.
How do you think your work ethic has changed since winning a gold medal at the 2018 Asian Games?
Before the games, I would just wake up, skate, go home late, eat, sleep and repeat. After winning the games, my work ethic has definitely changed. We have to stick to our schedules, attend meetings and even eat healthier. It's very different.
What initially went through your mind when you found out you would be the first Filipino to take part in the Olympics' women's street skateboarding category?
I was very hyped but I also couldn't believe it myself. From skating the streets to making it to the Olympics, it's a huge contrast. I have a lot of dreams, but I had never even thought about taking part in the Olympics.
How did the opportunity to work with your coach, Dani Bautista, come to be?
I first met Dani when I was still a kid skating at our local park — he was a college student at the time. He was a really good skater back then — he can still skate now, but I've got better tre flips. [Laughs.] Anyway, this one time I asked if I could borrow his board and we eventually ended up hanging out a lot. He then became a part of the national athletes and he was my coach. Despite us being friends at first, we can still keep our relationship professional.
What else keeps you busy other than training?
If I'm not on my skateboard, I usually hang out with my family, my friends, my girlfriend or my dogs. I recently started a feeding program where I give out free packed lunches for kids here in Cebu, which you can learn more about on my own YouTube channel.
We noticed your love for streetwear. What are your top three go-to sneakers?
The Margielyn Didal x New Balance Numeric 379, New Balance Numeric 1010 and New Balance 991.
What about your top three fashion brands?
FTC Skateboarding, 8FIVE2SHOP and "ukay-ukay" (thrift stores).
What advice do you have for young aspiring athletes out there?
Dream big, but also don't forget to have fun.
---
This interview has been edited and condensed for clarity.
Share this article