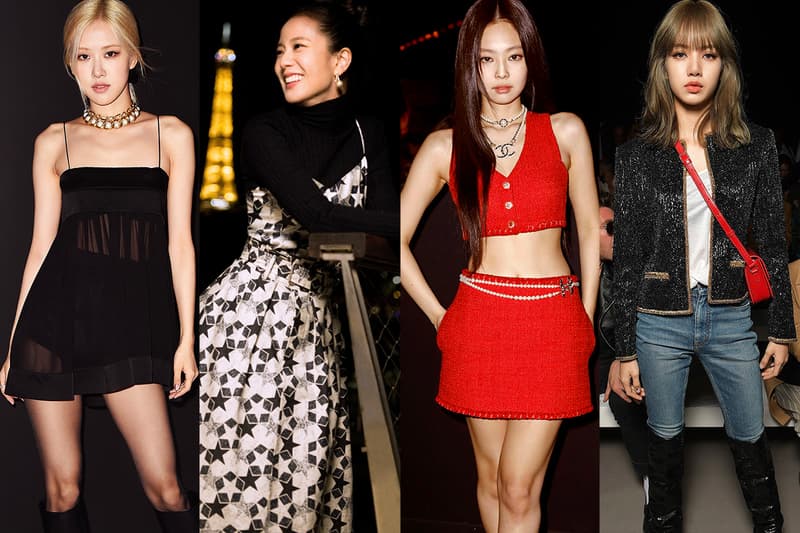 Fashion
A Look at BLACKPINK's Most Stylish Fashion Week Outfits
Rosé, Jisoo, Jennie and Lisa never miss.
A Look at BLACKPINK's Most Stylish Fashion Week Outfits
Rosé, Jisoo, Jennie and Lisa never miss.
If there's anyone who can command attention at the starry front rows of fashion weeks these days, it's the members of BLACKPINK. It's no secret that the K-pop group, formed by Jisoo, Rosé, Jennie and Lisa, has become not only one of the biggest acts in music, but also an influential name in fashion. From their chart-topping hits to their showstopping style on and off the stage, the quartet is a force to be reckoned with.
During Paris Fashion Week Spring/Summer 2022, the first to arrive the French capital were Jisoo and Rosé, who attended Dior and Saint Laurent's presentations respectively. Seated front row, Jisoo wore a mini dress embroidered with a graphic of the ancient Greek goddess Athena, and accessorized with a micro Lady Dior bag in gold and silver. Rosé, who looked Parisian chic with a low ponytail and soft, smokey eyes, styled her little black dress with knee-high boots and a gold chain choker with pearls.
The final member to make an appearance at the event was Jennie, who was invited to Chanel's SS22 show. The singer stunned in a striking coral red two-piece ensemble featuring a cropped vest and a mini skirt crafted from bouclé tweed. For accessories, Jennie went for a pearl choker and a double "C" logo necklace, as well as Coco Crush rings and a glass pearl belt. A red Chanel bag and a pair of black sandal heels completed her look.
Despite being spotted at the Incheon Airport leaving for France, CELINE and BVLGARI global ambassador Lisa was unfortunately absent this season — it's reported that her agency preferred she did not attend any events while in Paris due to COVID-related reasons. The singer and rapper was seen wearing a tweed Chasseur jacket, CELINE's Romy bag and white sneakers to the airport.
Until the next season arrives, take a look at Jisoo, Rosé, Jennie and Lisa's most stylish looks from previous fashion weeks below.
2021: Jennie at Paris Fashion Week SS22 for Chanel
2021: Rosé at Paris Fashion Week SS22 for Saint Laurent
2021: Jisoo at Paris Fashion Week SS22 for Dior
2021: Jisoo at Paris Fashion Week SS22 for Dior
2020: Jennie at Paris Fashion Week SS21 for Chanel
2020: Rosé at Paris Fashion Week FW20 for Saint Laurent
2020: Lisa at Milan Fashion Week FW20 for Prada
2019: Jennie at Paris Fashion Week SS20 for Chanel
2019: Rosé at Paris Fashion Week SS20 for Saint Laurent
2019: Lisa at Paris Fashion Week SS20 for CELINE
2019: Jisoo at London Fashion Week SS20 for Burberry
2019: Lisa at Paris Fashion Week Men's SS20 for CELINE
2019: Jennie at Paris Fashion Week FW19 for Chanel
2018: Jennie at Paris Fashion Week SS19 for Chanel
2018: Lisa at New York Fashion Week SS19 for Michael Kors
Share this article