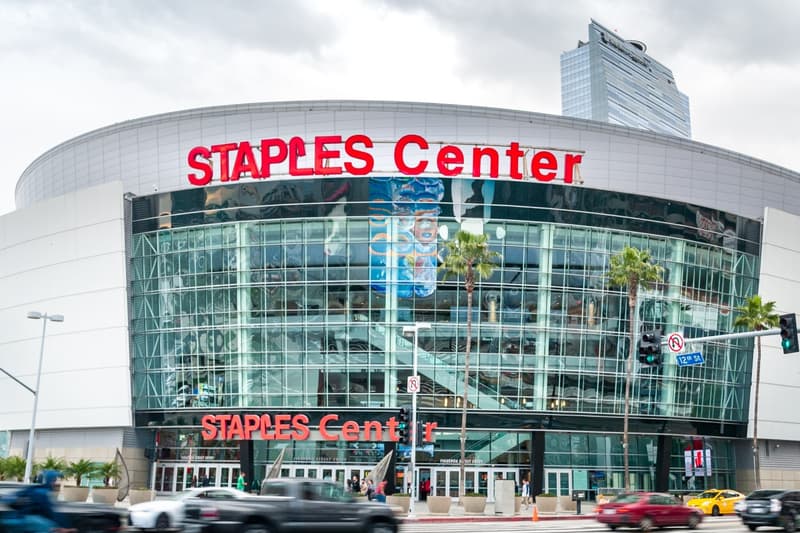 Staples Center To Be Renamed Crypto.com Arena
Debuting on December 25.
Staples Center is getting renamed the Crypto.com Arena as part of an agreement deal between the cryptocurrency website and AEG for the next 20 years.
"This partnership represents the fastest-growing cryptocurrency platform and the biggest sports and live entertainment company in the world converging to drive the future of sports and live entertainment, as well as the incredible legacy of this arena for decades to come," Todd Goldstein, Chief Revenue Officer of AEG, said in the press release. "It marks an exciting new chapter in the history of our company and our respective industries, and we couldn't be more thrilled to have such a visionary partner like Crypto.com supporting our global fan base and local community."
Since it was founded in 1999, many famous concerts and iconic award shows have taken place at the downtown venue. It's also been the home to the Los Angeles Lakers, Clippers, Kings and Sparks, and it will continue serving as the home for these major sports teams. Crypto.com will also become an official cryptocurrency platform partner of the Los Angeles Lakers and the LA Kings.
A new logo in addition to internal signage of the newly named Cypto.com Arena will be unveiled on December 25 during the Los Angeles Lakers and Brooklyn Nets game. All remaining external changes to the LA venue will be replaced by June 2022.
See the tweet below for more details.
AEG and https://t.co/mht717OBXs announce their historic naming rights partnership for one of the world's most iconic sports and live entertainment venues formerly known as STAPLES Center. For full press release visit: https://t.co/jWHLBF7YUv pic.twitter.com/Q6OhDTIZu7

— STAPLES Center (@STAPLESCenter) November 17, 2021
Share this article