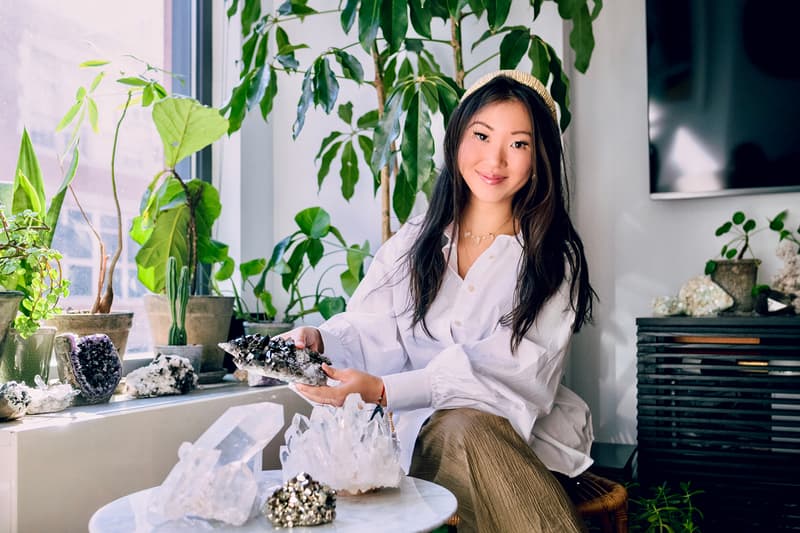 Home
How To Use Chakra Crystals in Your Home for Better Energy
From smoky quartz to amethyst, find the right healing crystals for your space.
How To Use Chakra Crystals in Your Home for Better Energy
From smoky quartz to amethyst, find the right healing crystals for your space.
Known for its ability to help relieve stress and anxiety, the practice of crystal healing is becoming more popular than ever. Apart from their remedial properties, chakra crystals also double as beautiful home decor pieces. According to Net-a-Porter's Senior Fashion Market Editor Libby Page, many shoppers are now looking to bring something joyful, such as crystal clusters, into their home. "What's resonated best with our customers are jewel-like tones such as purples like amethyst, and blues like celestine," Page tells HYPEBAE.
If you are wondering about what crystals you should be getting for your home for better energy, Jia-Jia Zhu, the founder and designer of jewelry and crystal specimen brand Jia Jia, shares with us a list of must-have quartz for beginners. Sourced globally with care, Zhu's line of crystals offers energies that will help support your intentions.
Read on for our interview with Zhu, who breaks down how to use specific crystals for different spaces in a home, the inspiration behind her designs and more.
You can shop Jia Jia's crystals exclusively at Net-a-Porter.
Why is there a need for specific crystals for different spaces?
Crystals attune to their beholder and the space they are placed in. If the beholder can tap into how they want the space to feel, the crystal will attune to the energy they want to create. Each type of crystal has its own specific healing properties and energetic components, which can create its own unique vibrations.
How you do personally incorporate healing crystals into your everyday routine?
I'm lucky I get to work with crystals every day. Routines change over time and I like to ask myself, "What feels good?" and "What requires a shift?" We just had a baby, so I am in a space of re-inventing my routines. Meditation with crystals has been supportive for me — it's a place where I can align with its energy and it can attune to how I need to be supported that day.
I get to design jewelry with crystals and my designs are inspired by the crystals that I am aligning with at the moment. For instance, since my daughter was born, I have been drawn to turquoise and have been designing with them — it just so happens it is her birthstone. Some days require us to travel to source crystals for our clients, which is always an adventure and an uplifting experience.
In what ways do your crystals differ from those from other brands?
I personally hand-select each crystal and they go through an ancient purification process so it is ready for its new home. It can be a lot of work. However, it is a lot of fun and we always surround the process with great vibes. We take great pride, attention and care on how and where we source the crystals, who we source them from, how they are handled in the transportation process, how they are packaged, and how they are delivered to our clients. We see ourselves only as a vessel to these crystals and our work is to gently shepherd them to their beholders.
Who or what are the inspirations behind your jewelry?
I'm inspired by the world around me. Currently, it is the process of life and the dichotomy of being. After a year of being in lockdown, we have spent most days inside or within our community. Externally, it can feel like groundhog day, but if we look a little deeper within ourselves, immense change is happening every day, through the day. Sometimes it's not about reinventing the wheel, it's about working with what we have. Energy is always there — we are made up of it — it is always changing, shifting and moving. It is how we notice it, attune to it and work with it.
Being around our infant daughter has been a beautiful reminder to see how she goes through a vast array of emotions in a day and purely based on her impulse and needs. There is a lot of wisdom that comes with that. I'm inspired in peeling back the layers of armor we build over time as we become adults and creating a playful environment where we can just be in our impulses like a child. This ties back to our designs as I work with crystals in their purest form to make jewelry from the earth that feels good, and with the intention to support us to look within ourselves — to trust and welcome the process of life as it unfolds.
What kinds of crystals would you recommend a beginner getting for their home?
The crystals we have on Net-a-Porter are great to start with for any home. The buyers have done phenomenal work on offering different kinds and price points. Our recommendation is always to choose the crystal that you are gravitating towards. There is no wrong answer and no levels in crystals. The most essential crystal is going to be the one you initially feel is right for you — this is a practice of following your intuition and your heart.
If we had to recommend, we would recommend the smoky quartz and crystal quartz points and clusters — these are great as the first crystals to bring into the home. Next are the pretty blue celestine and purple amethyst.
How To Use Crystals in Your Home
Crystal Quartz Clusters and Celestite Clusters: Crystal quartz is the master of all healing crystals. They are known to amplify, manifest and empower the beholder at their finest expression. Celestine is known to bring peace, tranquility and mindfulness into a space like your living room. Its vibrations are gentle and soothing. The clusters in the crystals represent community, which is perfect for a living space that is meant for a gathering of friends and family, and for one to relax in during their downtime.
Smoky Quartz: Smoky quartz is a beautiful grounding stone for any room, especially a place where we do work. It works hard to neutralize electromagnetic energies in our modern technological world that can overstimulate us, which is why I love placing them in an office space.
Rose Quartz: Rose quartz is the stone of the heart that supports us in acts of love, compassion, peace and nourishment. It is perfect for the bedroom, especially in pairs, as it is a place where we sleep and reset. Sleep and rest are some of the most important acts of nourishment and love to our bodies.
Amethyst: This is best placed in a room where we feel most called to create. It can be placed on a living room mantel, an altar space (a collection of objects that inspire us) or even a garden.
Share this article