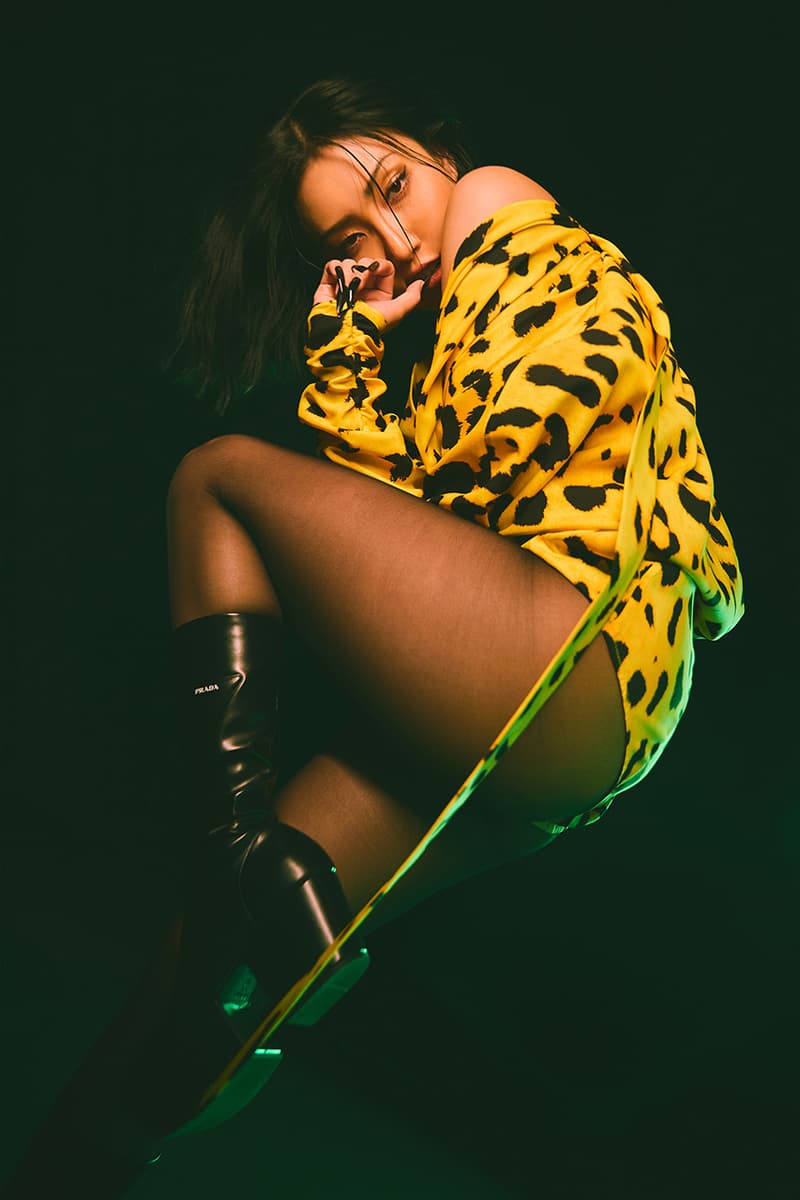 Hwasa Unleashes Her Creative Imagination for 'Guilty Pleasure'
The MAMAMOO member returns with a new solo single album.
Music
Hwasa Unleashes Her Creative Imagination for 'Guilty Pleasure'
The MAMAMOO member returns with a new solo single album.
One of the most popular K-Pop idols, Hwasa of MAMAMOO is back with her highly anticipated single album, Guilty Pleasure. Following her debut release "Twit" and "María," the singer is giving us a glimpse into her life and mind with her new solo project, led by the single "I'm a 빛." Hours ahead of the release on November 24, the 26-year-old star revealed in an online press conference that she wrote "I'm a 빛" as an apology. "Through the lyrics, I tried to say sorry to my family and friends in a witty way," said Hwasa, as reported by The Korea Times.
From the single, it's clear that Hwasa went through an experience of growth as she developed and refined her artistry. "When I think about it now, everything was new to me when I was preparing my first [solo] album, so I think I was a little inexperienced. Although María received a lot of love from more people than I expected, I think there was some room for improvement on the visual end. That's why I put a little more focus on the visuals this time around," she tells us. "Through this album, I learned a little more about what I need and what I should do for the next one." While fans may notice differences between songs like "María" and "I'm a 빛," for Hwasa, this doesn't change anything for her. "While the way I express [myself] may be a little different [each time], in the end, the fact doesn't change that [my music] is a storytelling of who I am," she shares.
Guilty Pleasure consists of three tracks. with "I'm a 빛" as the title track. and "FOMO" and "Bless U" being the other singles. Hwasa co-wrote "I'm a 빛" and also composed "Bless U," displaying another form of her artistry and talent. "The title track 'I'm a 빛' and the B-side track 'Bless U' are the two songs for which I participated in the songwriting. Although writing lyrics was not easy, I worked earnestly to share my story," she says. "Through the song 'Bless U,' I attempted a melodic rap for the first time in a while. Even though it wasn't anything extraordinary, it was a meaningful process to challenge myself with new things and share my story through diverse approaches."
Furthermore, Hwasa notes that "FOMO" is a song about hoping to find peace in your heart after overcoming your fears. "It's also the track that opens up the universe for my next album," she reveals. "It's an all-English song, which complements the overall mood of the track. I worked hard in preparing it."
When the first social media teaser of the project was unveiled in November, many fans assumed that Hwasa's new solo single album would feature a concept resembling that of the Marvel Cinematic Universe, due to the similarities between the teaser, her 2020 MAMA performance and the "María" music video. Some fan theorists have even coined the term "María Cinematic Universe."
"I've been taking the story of 'Hwasa' and continuously searching for ways to express it more beautifully. While the title 'María Cinematic Universe' feels too grand and tremendous, I'm always working hard to show a newer and more special side of Hwasa, so please look forward to it," the songstress speaks about the creative direction behind Guilty Pleasure.
With Guilty Pleasure, Hwasa wants to focus on the visual aspect of the music, and to express her story to the best of her ability. "Throughout my schedule, [I would find time to] constantly communicate and share my ideas with the music video director, and I feel satisfied to see that the things I pictured in my head were well-implemented. I also worked with 14 dancers. And while working late into the night was exhausting [for everyone], we had good synergy and were able to make filming fun," Hwasa notes.
With the world on pause during the pandemic, Hwasa was able to reflect. "For a while, I wasn't satisfied with the work I was producing and felt stuck in the same place without making any progress. However, as I began working on this album, I used it as an excuse to try to meet with the people I've missed, and was able to overcome that stagnancy," Hwasa shares. She also mentions that the most difficult part was not being able to see her fans like before. However, the singer tries to remain positive and expresses immense gratitude towards those who support her. "I tried to stay positive by telling myself that I will show them an even more improved side of myself when we're able to meet again. I was able to overcome these tough times, because despite not being able to see each other in person, my fans stuck by my side. I am always so thankful."
Hwasa says the biggest highlight of her career, as of now, is "Twit." "It was not only my first solo [single], but it was so good that even the producer I worked with, Park Woo Sang, and we would ask ourselves, 'Would we be able to make music like this again?' A lot of people loved Hwasa onstage as a solo artist, and I have a lot of happy memories when I reflect back on the production process," she explains.
Like many of us, Hwasa likes to unwind by eating delicious food and just chilling at home. "Sometimes. I'll mindlessly watch anime," she shares. "I've been into pilates recently, which is something I initially picked up to protect myself from injury. Even though it's physically tiring, it's a stress reliever. It helps with my mental health, and I'm able to sleep well."
Finally, she leaves her fans with a thoughtful message. "To all the MOOMOOs who are watching and supporting me around the world, I am always thankful towards you. In order to reciprocate the love you have all been sending me from afar, I'll make sure to complete promotions [for this album] while staying healthy and happy. I am just truly so grateful," Hwasa says. "I can't wait for the day we can physically meet, and I can sing for you at a closer distance. I'll work hard as I wait for that day to come."
---
Bashirat Oladele is a freelance writer covering pop culture and politics. Her work can be found in Teen Vogue, Stylist, Polygon, Cosmopolitan and more. You can check out her work here.
Share this article