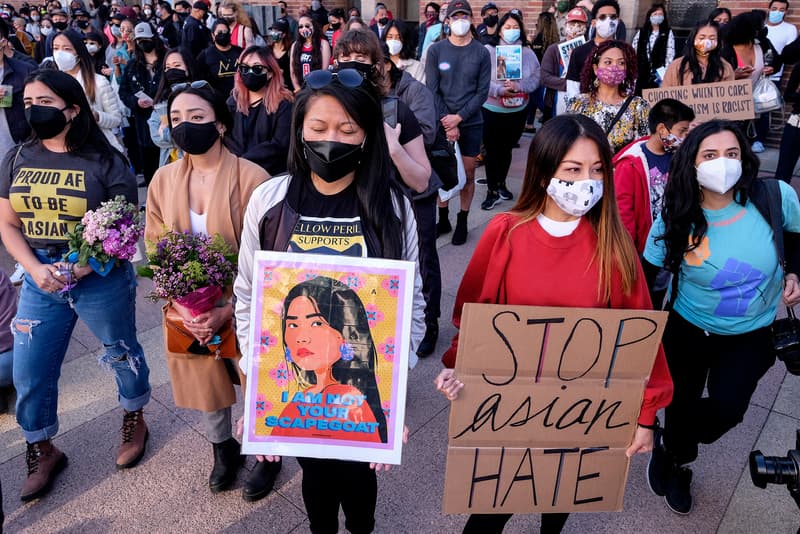 Culture
Anti-Asian Violence Is Surging — Here's How To Support the AAPI Community
The Atlanta spa shootings are a stark reminder of the racism Asian Americans have long faced.
Anti-Asian Violence Is Surging — Here's How To Support the AAPI Community
The Atlanta spa shootings are a stark reminder of the racism Asian Americans have long faced.
On Tuesday night, 21-year-old Robert Aaron Long was arrested in connection with three shootings — all at Atlanta-area Asian massage parlors — that left eight people dead. Six of the victims were Asian women, indicating that Long's spree was a racially motivated hate crime. Long, who is white, confessed to carrying out the shootings and was charged with multiple counts of murder.
Long's rampage is the latest in a spate of violent attacks against Asian American Pacific Islander (AAPI) folks throughout the United States. Just yesterday, non-profit Stop AAPI Hate released a national study revealing that it received nearly 3,800 reports of anti-Asian hate incidents from March 2020 to February 2021. 503 incidents were reported during the first two months of 2021 alone.
According to The New York Times, investigators have not ruled out anti-Asian bias as a motivating factor in Long's killings. The perpetrator told authorities that the shootings were not racially motivated but rather a way to "eliminate any temptation" in regards to his sex addiction. Despite Long's claims, both racism and misogyny are inextricably linked to his horrifying crimes. In fact, South Korean newspaper Chosun Ilbo reported that a witness heard Long say, "I'm going to kill all Asians" during his rampage. "Racially motivated violence should be called out for exactly what it is — and we must stop making excuses or rebranding it as economic anxiety or sexual addiction," Marilyn Strickland, a Korean American Congresswoman, said during an address on Wednesday morning.
To support the AAPI community, it's crucial to both educate yourself on the longstanding history of anti-Asian racism in the U.S., as well as support organizations dedicated to combatting hate crimes and racial injustice. Below, we've rounded up a list of initiatives to donate to and educational resources for the AAPI community and its co-conspirators.
DONATE AND VOLUNTEER
18 Million Rising provides online resources highlighting the Asian American experience and organizes members of the AAPI community both virtually and in-person.
Asian Americans Advancing Justice – Atlanta
Advancing Justice – Atlanta is Georgia's first nonprofit legal advocacy organization that works to protect the civil rights of AAPI communities in the Southeast.
Another Georgia-based organization, the Asian American Advocacy Fund is a social welfare nonprofit that champions progressive policy in the state.
Asian American Feminist Collective
Asian American Feminist Collective creates public events and programs that engage with political issues facing the AAPI community through a feminist lens.
Asian Mental Health Collective
Asian Mental Health Collective works to de-stigmatize mental illness and increase access to mental health services.
CAAAV Organizing Asian Communities
Founded in 1986 in response to anti-Asian hate crimes, CAAAV advocates for low-income AAPI immigrants and youth.
Coalition for Asian American Children + Families
CACF combats the cycle of poverty in the AAPI community by advocating for policy change and providing leadership programs to AAPI youth.
Compassion in Oakland is looking for volunteers to chaperone elderly Asians in Oakland's Chinatown.
Center for Pan Asian Community Services
Located in Atlanta, CPACS provides services to AAPI immigrants, refugees and low-income individuals.
DRUM brings together South Asian and Indo-Caribbean immigrant workers and youth in New York City to champion education reform, civil rights and worker's justice.
Japanese American Citizens League
JACL works to protect and enhance the civil rights of the AAPI community, as well as preserve the history of Japanese Americans in the U.S.
National Asian Pacific American Bar Association
NAPABA is not a charity, but has established pro-bono legal resources to combat anti-Asian hate crimes.
Founded after a Flushing massage worker, Yang Song, was killed in a police raid, Red Canary Song is a labor rights organization that advocates for the decriminalization of sex work and an end to policing. The group is currently donating funds to the families of the Atlanta shooting victims.
Sikh American Legal Defense and Education Fund
SALDEF empowers Sikh Americans through youth education programs and other community-driven initiatives.
South Asian Americans Leading Together
SAALT is the only national, staffed South Asian orga­ni­za­tion that conducts pub­lic pol­i­cy analy­sis and advo­ca­cy to support South Asian American communities.
Founded in March 2020 as a response to an up-tick in anti-Asian hate crimes, Stop AAPI Hate allows anyone to anonymously report an incident they have witnessed or experienced.
They Can't Burn Us All is a movement to unite the AAPI community against hate crimes and racism.
EDUCATE
Asian Americans is a five-part documentary series that explores Asian American identity and the history of Asians in the United States.
#AsianAmCovidStories - YouTube
#AsAmCovidStories is a collection of short videos disrupting mainstream narratives about Asian Americans.
Asian American Journalists Association – Covering Asia and Asian Americans
AAJA has created a guide for journalists to use when covering AAPI news.
AsAmNews is a website that aggregates headlines and blog posts about AAPI issues from both mainstream and lesser-known outlets.
AsianFeed is a news, lifestyle and entertainment publication that brings attention to the millennial and Gen-Z AAPI experience.
Hollaback! Bystander Intervention Training
Hollaback!, an organization that works to end harassment, is offering several free bystander intervention training sessions specifically targeted to combatting micro-aggressions and violence against AAPI folks.
NextShark is a leading outlet for Asian American news in politics, entertainment and culture.
Reappropriate is one of the internet's oldest AAPI activist blogs, covering AAPI feminism, politics and pop culture.
Image Credit

David Ryder/Getty Images
Share this article