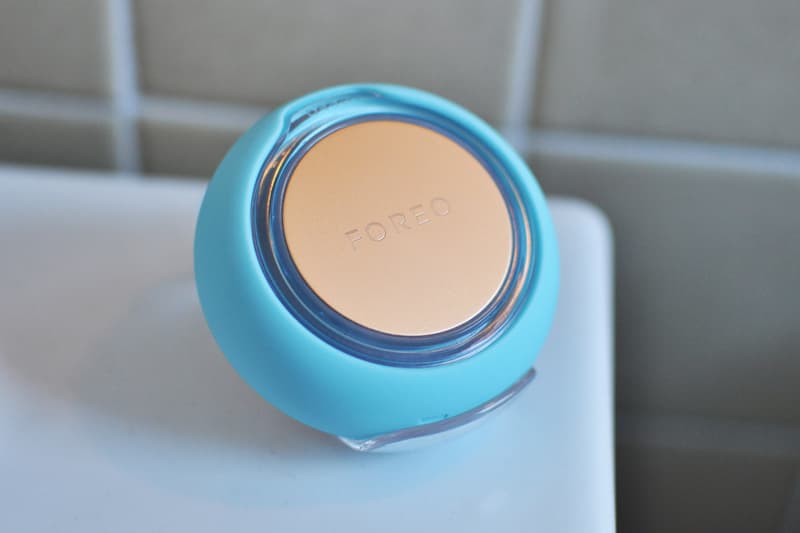 Beauty
FOREO's UFO 2, a High-Tech Beauty Device, Is Forcing Me To Focus on Self-Care
Here's why the palm-sized gadget is a game changer.
FOREO's UFO 2, a High-Tech Beauty Device, Is Forcing Me To Focus on Self-Care
Here's why the palm-sized gadget is a game changer.
FOREO's UFO 2, a palm-sized skincare device, promises spa-caliber facials in two minutes or less. Naturally, this premise was enough to draw me in — there's no better time than now to experiment with at-home skincare tools and, well, I'm always open to trying novel things. FOREO, a Swedish company, is known for its innovations that merge beauty and technology. You may have heard of the brand's hero product, the LUNA, which effectively sparked skincare's cleansing brush craze. Since its inception, FOREO has expanded its lineup to include the IRIS, an eye massager, the ISSA electronic toothbrush and most recently, the UFO 2, an updated version of the original UFO.
So, what exactly is the UFO? It's essentially a re-chargeable face masking device with built-in bells and whistles — such as LED light therapy and cryotherapy — that help the skin with product absorption, puffiness and breakouts. The UFO 2 is sold alongside sheet masks, formulated to target issues ranging from dryness to oiliness, specifically sized to fit the gadget. After downloading the FOREO app and pairing the UFO with your smartphone, clip the sheet mask onto the device itself. In the app, select the treatment that corresponds with the type of mask you're using, and you're off: as you glide the UFO across your face, an in-app animation and soothing voiceover will guide you through the two-minute treatment. Though it may seem complicated, the UFO 2 is quite simple to use, much more so than the ZIIP, another smartphone-controlled beauty device. Besides improving my skin, the UFO — which, admittedly, bears resemblance to a discreetly designed sex toy — has proved itself useful in regards to another concern: self-care and relaxation.
Keep reading for why this week's Editor's Pick is worth the investment.
WHAT IT IS: FOREO UFO 2
WHY IT'S WORTH THE HYPE: As mentioned above, the UFO 2 is sold alongside a range of circular sheet masks that fit perfectly onto the device. Sold in packs of six, masks include hydrating Bulgarian Rose, energizing Green Tea (a personal favorite) and calming Manuka Honey. Each mask corresponds to an accompanying treatment, which can be selected and downloaded onto the UFO 2 through the FOREO app. Those new to skincare will find this format easy to navigate, as there's no guesswork involved.
One of the UFO's highlights, the device also features built-in cryotherapy, heat therapy and LED light therapy, treatments typically only found at spas. The UFO 2 heats up to 115 degrees Fahrenheit at the beginning of each regimen, helping increase blood flow in the skin, and cools to as low as 41 degrees Fahrenheit at the end, reducing inflammation and redness. It also lights up in a spectrum of colors including red and blue, which are known to stimulate cells that produce collagen and kill acne-causing bacteria. These perks make a huge difference. Immediately after masking, I noticed a decrease in redness and puffiness. Treatments also resulted in an overall brighter and tighter-looking face, making the UFO 2 a welcome addition to my morning skincare routine.
Perhaps my favorite component of the UFO 2, though, is that it forces me to focus on self-care. Following along with FOREO's in-app demonstration of each treatment makes the UFO 2 experience a mindful one — you can't tune out the same way I tend to do while moisturizing or brushing my teeth. The app's voiceover is also strangely relaxing. There's no denying the simple pleasure of listening to a robotic woman croon the benefits of LED light and cryotherapy. Amidst a global pandemic, I'll take all the zen I can get.
WHERE YOU CAN FIND IT: FOREO's UFO 2 retails for $279 USD at the FOREO website.
Share this article