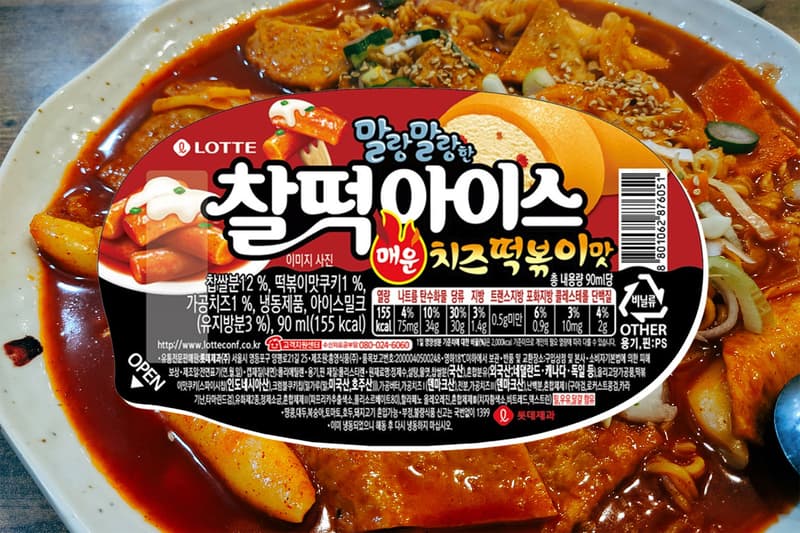 This Korean Sticky Rice Cake Ice Cream Tastes Like Spicy Tteokbokki
Dare to try?
Korean confectionery company Lotte has unexpectedly given its Chal-tteok Ice ice cream a tteokbokki (떡볶이, spicy rice cake) makeover. The new release blends the original chewy and glutinous dessert with South Korea's most classic street snack.
For those unfamiliar, tteokbokki is a dish typically made with garae-tteok (가래떡, cylinder-shaped rice cakes) and eomuk (어묵, fish cakes) in a gochujang (고추장, fermented red chili paste) sauce. Chal-tteok Ice, on the other hand, comes with two sweet and sticky rice cakes filled with ice cream on the inside.
Instead of the standard wrapper, the Chal-tteok Spicy Cheese Tteokbokki Ice Cream arrives with a jalapeño-flavored orange rice cake on the exterior. The snack is filled with cheddar cheese ice cream mixed with spicy chips and cookie crumbs. A menu that's "fun to eat," Lotte explains the dessert to have "the sticky texture of the rice cake and the sweetness of the ice cream."
Limited to 500,000 packages only, the Chal-tteok Spicy Cheese Tteokbokki Ice Cream is available now in Korea's local supermarkets and grocery stores for ₩1,000 KRW (approximately $0.90 USD).
View this post on Instagram
Share this article