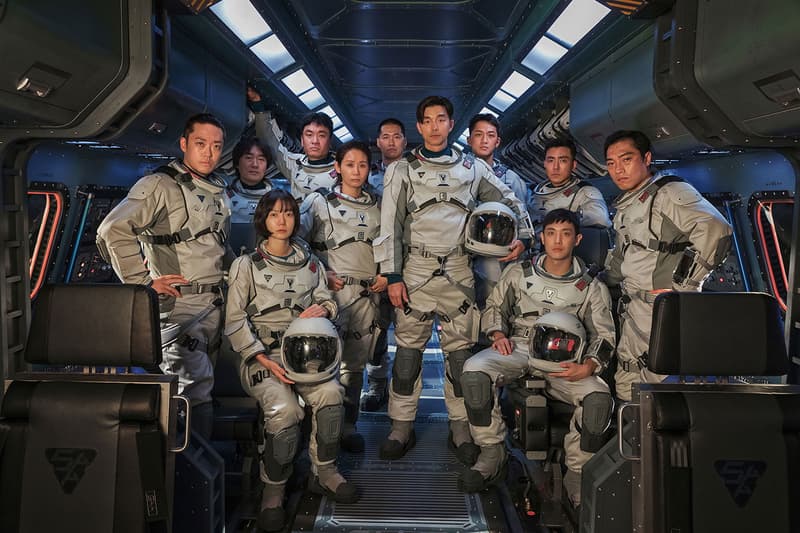 Film & TV
11 Original Korean TV Shows Coming to Netflix in 2021
Hours of binge-watching options coming your way.
11 Original Korean TV Shows Coming to Netflix in 2021
Hours of binge-watching options coming your way.
As announced earlier this year, Netflix has made a huge investment — ₩770 billion KRW to be exact — in the Korean entertainment industry in an effort to expand its Korean-language content. From K-dramas to reality series, we've compiled some of the most exciting TV show titles slated to arrive on the streaming platform in 2021.
For those who love the thriller genre, look to revenge stories like No Name and survival series such as Squid Game. Supernatural tales involving zombies and the afterlife are being portrayed through upcoming shows Hellbound and All of Us Are Dead. We're additionally looking forward to a spin-off episode of Kingdom, as well as the second season of Love Alarm. Sure to satisfy those who enjoy culinary shows, food researcher Paik Jongwon's reality series will explore the impact of Korean food.
Continue reading for all the Korean Netflix shows to look out for this year. While you're here, check out other K-drama releases lined up for 2021.
K-DRAMA SERIES
All of Us Are Dead (지금 우리 학교는)
Joining titles like Sweet Home and Kingdom, All of Us Are Dead is a new zombie series set at a high school, where those trapped struggle to escape and survive. The show is based on a webtoon of the same title that has topped charts since its rollout back in 2009.
Cast: Yoon Chanyoung, Park Jihoo, Cho Yihyun, Park Solomon
Expected Release Date: TBC
D.P.
Another live-action adaptation of a webtoon, D.P. is about an ordinary soldier who sets on a quest to track down military deserters. The original cartoon has amassed over 10 million views, making it one of the most popular series in the industry.
Cast: Jung Hae-in, Kim Sung-kyun, Son Seok-koo
Expected Release Date: TBC
Hellbound (지옥)
Hellbound follows the supernatural story of individuals that are unexpectedly forced to hell by Grim Reapers. The show will portray thrilling episodes based on a webtoon of the same title.
Cast: Yoo Ahin, Park Jungmin, Kim Hyunjoo
Expected Release Date: TBC
Kingdom: Ashin of the North (킹덤: 아신전)
As announced in November 2020, Netflix is set to release a special episode of Kingdom starring Gianna Jun (aka Jun Jihyun). Titled Ashin of the North, the spin-off will uncover the truth behind a mysterious figure in the zombie story.
Cast: Gianna Jun, Park Byungeun
Expected Release Date: TBC
Love Alarm (좋아하면 울리는) Season 2
Following the first season, one of Netflix's earliest original Korean series is set to return with a second installment. Jojo (Kim Sohyun) and Sun-oh (Song Kang) find themselves in a world where one's social status is determined from the number of hearts received on a mobile app.
Cast: Song Kang, Kim Sohyun, Go Minsi, Jung Garam
Expected Release Date: March 12, 2021
Move to Heaven (무브 투 헤븐: 나는 유품 정리사입니다)
Geu-ru (Tang Joonsang), a man with Asperger's, and his guardian Sang-gu (Lee Jehoon) come across untold stories as they run a keepsake organization business. The two work together to help deliver touching messages from the deceased to their loved ones.
Cast: Lee Jehoon, Tang Joonsang
Expected Release Date: First half of 2021
No Name (마이네임)
The World of the Married's Han Sohee is making a grand comeback in Netflix's upcoming series titled No Name. The actress plays the role of Jiwoo, who sneaks into a secret organization to reveal the truth behind her father's death. The series, directed by Extracurricular's Kim Jin-min, will showcase an action-filled story of revenge.
Cast: Han Sohee, Park Heesoon, Ahn Bohyun
Expected Release Date: TBC
The Silent Sea (고요의 바다)
Starring top actors such as Doona Bae and Gong Yoo, The Silent Sea is a sci-fi title set in a futuristic world where water and food are scarce. An adaptation of the original short film, the series follows a group of astronauts who are abandoned on the moon.
Cast: Doona Bae, Gong Yoo, Lee Joon
Expected Release Date: TBC
Squid Game (오징어 게임)
Squid Game reveals people's true desires through a mysterious survival game, in which one can win a final prize of ₩45.6 billion KRW (approximately $41 million USD). Lee Jungjae plays a man who has lost his job, while Park Haesoo appears as a character who is in trouble after inappropriately using his company's funds.
Cast: Lee Jungjae, Park Haesoo
Expected Release Date: TBC
SITCOMS
I Wish the Earth Would Fall Tomorrow (지구가 망해버렸으면 좋겠어)
I Wish the Earth Would Fall Tomorrow is a lighthearted sitcom around a group of international students residing in a university dorm. The show is set to feature K-pop stars such as (G)I-DLE's MINNIE and GOT7's Youngjae, as well as model Han Hyun Min.
Cast: Park Sewan, Shin Hyunseung, GOT7's Youngjae, (G)I-DLE's MINNIE, Han Hyun Min
Expected Release Date: TBC
REALITY SHOWS
Paik's Spirit (백스피릿)
For those unfamiliar, Paik Jongwon is one of biggest entrepreneurs in South Korea's food industry, owning multiple restaurant chains such as Bornga, Paik's Coffee and Saemaeul Restaurant. The food researcher sits down with individuals in diverse industries for a drink, discussing food and how it affects the Korean culture.
Cast: Paik Jongwon
Expected Release Date: TBC
Share this article