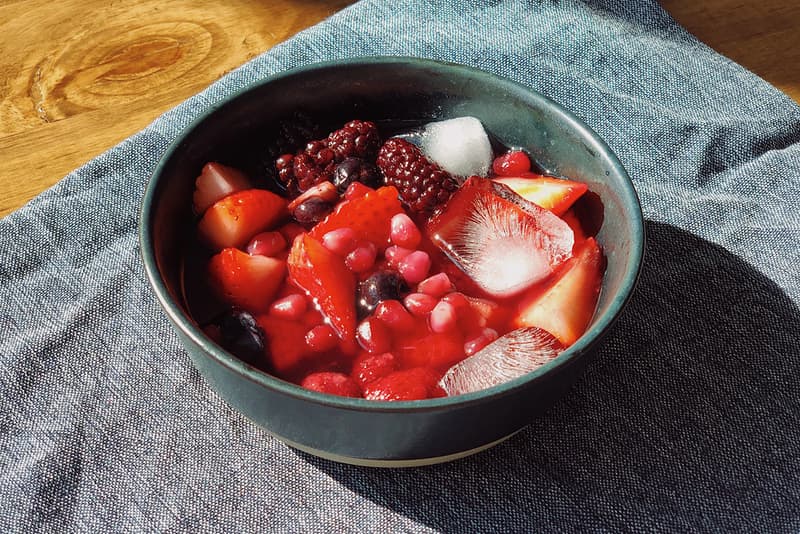 Food
How To Make Nature's Cereal, the Surprisingly Good TikTok Breakfast Trend
Cereal, but make it fruity.
How To Make Nature's Cereal, the Surprisingly Good TikTok Breakfast Trend
Cereal, but make it fruity.
TikTok is moving on from warm and hearty baked oats into its latest food trend, "nature's cereal," a fruity breakfast bowl filled with mixed berries, crunchy pomegranate and fresh, sweet coconut water.
The viral recipe, originally posted by TikTok account @natures_food, offers a healthy, fruity alternative to the traditional breakfast cereal. To prepare "nature's cereal," the TikToker combines blueberries, blackberries and pomegranate seeds in a bowl, then topping it with some coconut water. "The number one thing I notice when I eat this is my energy level — the energy level is through the roof," the content creator says in the video.
Given the addictive nature of TikTok, it is not surprising that the #naturescereal hashtag has already accumulated nearly 250 million views on the social media platform. Anyone who has been following the popular food trend will also probably know that Lizzo is a fan of the recipe. After trying nature's cereal for the first time and recommending it to her followers in a TikTok a week ago, the "Good As Hell" singer has since returned to the app to share a string of duet videos, in which she reacts to other TikTok users attempting the recipe.
Continue reading to watch the videos and learn how to make nature's cereal at home.
Ingredients
A treat for fruit lovers, nature's cereal is often prepared with several types of berries and served with coconut water. If you have access to pomegranate, its seeds will help add to the crunchiness of the "cereal." To keep things nice and cold, many TikTokers also like adding a few ice cubes to the breakfast bowl.
Here are some of the common ingredients for making the recipe:
Blueberries
Blackberries
Raspberries
Strawberries
Pomegranate arils
Coconut water, fresh or boxed
Ice cubes
Preparation
Requiring almost no prep work, nature's cereal is an incredibly easy-to-make recipe that can be put together in under a minute. Simply follow these steps:
1. Cut strawberries into bite-size pieces if using.
2. Combine fruit. Top with coconut water and ice cubes (optional) to serve.
Share this article