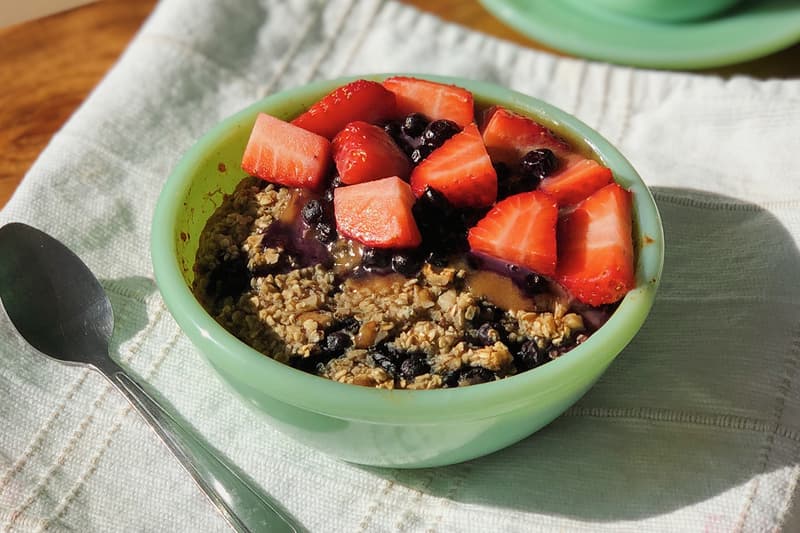 Food
How To Make Baked Oats, the Latest Food Trend on TikTok
Here are 12 viral recipes to try for breakfast.
How To Make Baked Oats, the Latest Food Trend on TikTok
Here are 12 viral recipes to try for breakfast.
Even if you aren't traditionally a breakfast person, these delicious, easy-to-make baked oats recipes that are going viral on TikTok might just turn you into one. Joining other quick baking ideas like banana bread and the three-ingredient peanut butter cookies (both of which have become hugely popular amid lockdown), baked oats are the latest food trend to take over the social media platform, with the #bakedoats hashtag racking up over 300 million views. With a fluffy, cake-like consistency, the recipe is often compared to freshly baked muffins.
On the video-sharing app, users are taking turns to share different ways of making baked oatmeal — some breakfast-friendly, while other variations can almost be savored as afternoon snacks or desserts after dinner. Continue reading for what you'll need to prepare baked oats, as well as some of the best TikTok tutorials to follow.
For more recipes to try at home, here's a guide to making the ultimate glass of matcha latte.
Ingredients
One great thing about baked oats is that you can make it in numerous ways. Depending on your dietary preference and what is available on your pantry shelf, you can adjust the recipe to your liking.
Some essential and other common ingredients for making baked oats include:
Oats
Baking powder
Mashed banana
Milk of your choice
Sweetener of your choice, such as maple syrup
Fruits, such as mixed berries
Chocolate chips
Optional toppings, such as peanut butter
Preparation
Every TikToker seems to have a slightly different set of directions for making baked oats, but here are the key steps to follow:
1. Preheat oven to 400°F.
2. Combine ingredients using a whisk or blender, then stir in fruits or chocolate chips.
3. Pour batter into an oven-safe bowl or ramekin. Bake for about 20 minutes.
4. Let cool and serve with your preferred toppings.
12 Ways To Make TikTok Baked Oats
To get inspired for your next breakfast, take a look at some of the best how-to recipes on TikTok below. From a strawberry cheesecake variation to an indulgent, cinnamon roll-inspired recipe that is surprisingly simple to make, these baked oats options are guaranteed to satisfy your tastebuds.
Blueberry Muffin Baked Oats
Banana Bread Baked Oats
Carrot Cake Baked Oats
Chocolate and Banana Baked Oats
Chocolate and Peanut Butter Baked Oats
Chocolate Chip Pumpkin Baked Oats
Cinnamon Roll Baked Oats
Mocha Baked Oats
Peanut Butter and Jelly Baked Oats
Lemon Drizzle Baked Oats
Strawberry Cheesecake Baked Oats
White Chocolate and Raspberry Baked Oats
Share this article