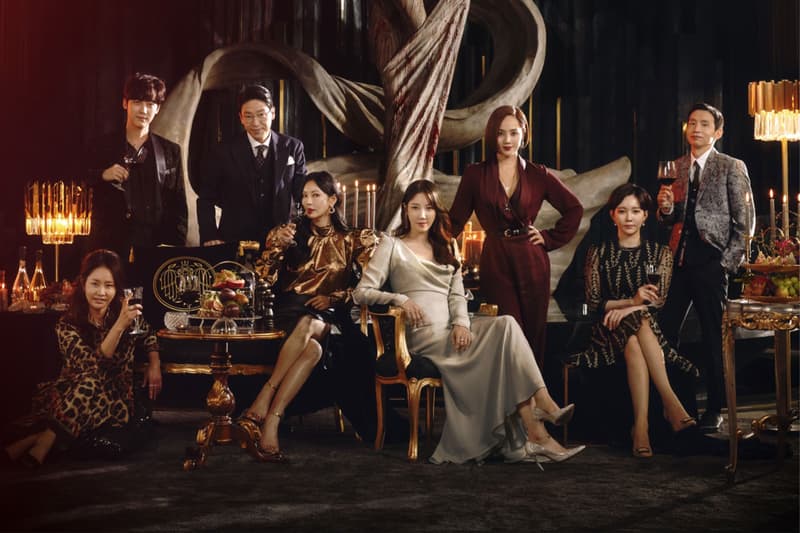 Film & TV
13 Korean Dramas To Look Forward to in 2021
'The Penthouse,' 'Hospital Playlist' and 'Love Alarm' will return with new episodes.
13 Korean Dramas To Look Forward to in 2021
'The Penthouse,' 'Hospital Playlist' and 'Love Alarm' will return with new episodes.
Over the past year, the K-drama industry has seen immense growth with a slew of buzzy shows including Itaewon Class and Crash Landing On You. Building on the success, Netflix has even made a massive $700 million USD investment recently to further expand its Korean content. With a hopeful year ahead for the country's entertainment world, we've rounded up 13 new titles fans need to pay attention to in 2021.
While it is quite uncommon for a K-drama TV series to release in multiple seasons, a number of hit shows will be making a comeback by popular demand. The Penthouse, which tells a story of greed, hate and betrayal, is set to return after topping TV ratings with its first season. Love Alarm, originally scheduled for renewal in 2020, will finally return with new episodes following COVID-related delays.
This year, some of the biggest names in Korean entertainment will also be starring in anticipated releases with attention-grabbing storylines. Jun Ji-hyun (aka Gianna Jun) will be acting in Cliffhanger alongside Ju Ji-hoon, best known for his role in Kingdom, as life-saving rangers at the Jirisan National Park. Meanwhile, Doona Bae and Gong Yoo will feature in a sci-fi thriller mystery titled The Silent Sea.
Continue reading for a list of the most exciting K-dramas premiering in 2021. While we patiently wait for the new series to air, why not revisit our favorite shows of 2020?
Beyond Evil (괴물)
Han Joo-won (Yeo Jin-goo) and Lee Dong-sik (Shin Ha-kyun), two detectives at a police station in the city of Manyang, attempt to catch a returning serial murderer who is connected to some gruesome killings from 20 years ago. Throughout their investigation, the two consistently come across obstacles that question which figures are truly evil or innocent.
Cast: Shin Ha-kyun, Yeo Jin-goo
Expected Release Date: February 19, 2021
Cliffhanger (지리산)
Seo Yi-kang (Jun Ji-hyun), Kang Hyun-jo (Ju Ji-hoon), Jo Dae-jin (Sung Dong-il) and Jung Goo-young (Oh Jung-se) are a team of rangers at the Jirisan National Park. Throughout the series, the characters explores undiscovered areas of the mountain, while rescuing survivors and lost trekkers. The star-studded series is written by Kim Eun-hee, the celebrity playwright behind Kingdom.
Cast: Jun Ji-hyun, Ju Ji-hoon, Sung Dong-il, Oh Jung-se
Expected Release Date: TBC
D.P Dog Day (D.P 개의 날)
D.P Dog Day is a K-drama series based on a webtoon of the same title. Ahn Joon-ho (Jung Hae-in) is a soldier given the task of tracking down military deserters, and experiences emotional struggles throughout his journey. The original cartoon has seen great success since its release, amassing over 10 million views. The show is slated to hit Netflix later this year.
Cast: Jung Hae-in, Kim Sung-kyun, Son Seok-koo
Expected Release Date: TBC
Hospital Playlist (슬기로운 의사생활) Season 2
One of our favorites of 2020, Hospital Playlist was loved globally after landing on Netflix. The series, which tells the story of five doctors that have been close friends since university, has been praised for its tear-jerking episodes as each character tackle different cases in their respective departments. The upcoming episodes will be a continuation of the first season, providing viewers with more realistic and heartfelt stories.
Cast: Jo Jeong-seok, Yoo Yeon-seok, Jung Kyung-ho, Kim Dae-myung, Jeon Mi-do
Expected Release Date: June 2021
Love Alarm (좋아하면 울리는) Season 2
One of Netflix's first original K-drama series, Love Alarm is another webtoon-turned-TV show. The series illustrates Jojo (Kim So-hyun) as a teenage girl who finds herself falling in love with Sun-oh (Song Kang). After a successful first season, the series is set to return with further development between the two characters.
Cast: Song Kang, Kim So-hyun
Expected Release Date: TBC
Marriage Lyrics and Divorce Music (결혼작사 이혼작곡)
Capitalizing on the recent success of makjang (a term that describes over-the-top dramas — think scenes like the infamous "Kimchi slap"), Marriage Lyrics and Divorce Music is another series expected to keep viewers on the edge of their seats. Three women in their 30s, 40s and 50s navigate unfortunate times with their significant others and attempt to search for true love.
Cast: Sung Hoon, Lee Tae-gon, Jeon Soo-kyung
Expected Release Date: January 23, 2021
Mouse (마우스)
Jung Ba-reum (Lee Seung-gi) is a young police officer that encounters a psychopathic predator that killed his parents when he was a child. Seeking justice, his entire life is changed after getting involved with the criminal.
Cast: Lee Seung-gi, Lee Hee-joon, Park Ju-hyun, Kyung Soo-jin
Expected Release Date: February 24, 2021
The Penthouse (펜트하우스) Season 2
The Penthouse was one of 2020's biggest hits in K-drama. The makjang series uncovers stories of betrayal, love and greed behind Hera Palace, one of Seoul's most prestigious and luxurious apartments. The first season mainly focuses on Shim Su-ryeon (Lee Ji-ah) seeking revenge and justice for Min Seol-ah(Jo Soo-min)'s death. Details surrounding the second season are still sparse, but viewers are anticipating more plot twists as the show gears up for its third installment scheduled to air later this year.
Cast: Lee Ji-ah, Kim So-yeon, Eugene, Park Eunseok, Um Ki-joon
Expected Release Date: February 19, 2021
Snowdrop (설강화)
Snowdrop gained much attention among K-pop fans after BLACKPINK's Jisoo was confirmed to star in the show. Set in 1987 Seoul, the story begins with graduate student Im Soo-ho (Jung Hae-in) jumping into a women's university dormitory. Eun Young-cho (Jisoo) falls in love as she helps Soo-ho hide from the dictatorial government.
Cast: Jung Hae-in, Jisoo, Yoo In-na
Expected Release Date: June 2021
Taxi Driver (모범택시)
Taxi Driver is centered around a mysterious "revenge-call" service, which helps clients seek revenge. Kim Do-gi (Lee Je-hoon), a former special forces officer, works as a driver for the service. Meanwhile, prosecutor Kang Ha-na (Esom) notices that the criminals she is looking for are slowly getting wiped out. The series additionally stars APRIL's Lee Naeun as a hacker for the revenge service.
Cast: Lee Je-hoon, Esom, Lee Naeun
Expected Release Date: April 2021
The Silent Sea (고요의 바다)
This sci-fi mystery thriller is an adaptation of the 2014 short film The Sea of Tranquility. Set in a world where the entire Earth has become a desert, the show is illustrated from the perspective of explorers and scientists Han Yoon-jae (Gong Yoo), Song Jian (Doona Bae) and Ryoo Tae-seok (Lee Joon). They set out on a journey to obtain a sample from an abandoned research facility on the moon. Produced by actor Jung Woo-sung, The Silent Sea will make its debut on Netflix.
Cast: Doona Bae, Gong Yoo, Lee Joon
Expected Release Date: TBC
Vincenzo (빈센조)
Park Joo-hyeong (Song Joong-ki) works as a lawyer in Italy under the name Vincenzo Casano. After getting involved in a war between mafia groups, he flees to Korea, where he meets lawyer Hong Cha-young (Jeon Yeo-bin). The two fall in love as they work together to bring individuals to justice.
Cast: Song Joong-ki, Jeon Yeo-been, Ok Taecyeon
Expected Release Date: February 21, 2021
Youth of May (오월의 청춘)
Lee Do-hyun and Go Min-si, the two actors who starred as siblings in Netflix's Sweet Home, are now set to play lovers in Youth of May. Set in 1980 around the Gwangju Uprising, medical student Hee-tae (Lee Do-hyun) and nurse Myung-hee (Go Min-si) fall in love.
Cast: Lee Do-hyun, Go Min-si
Expected Release Date: May 2021
Share this article