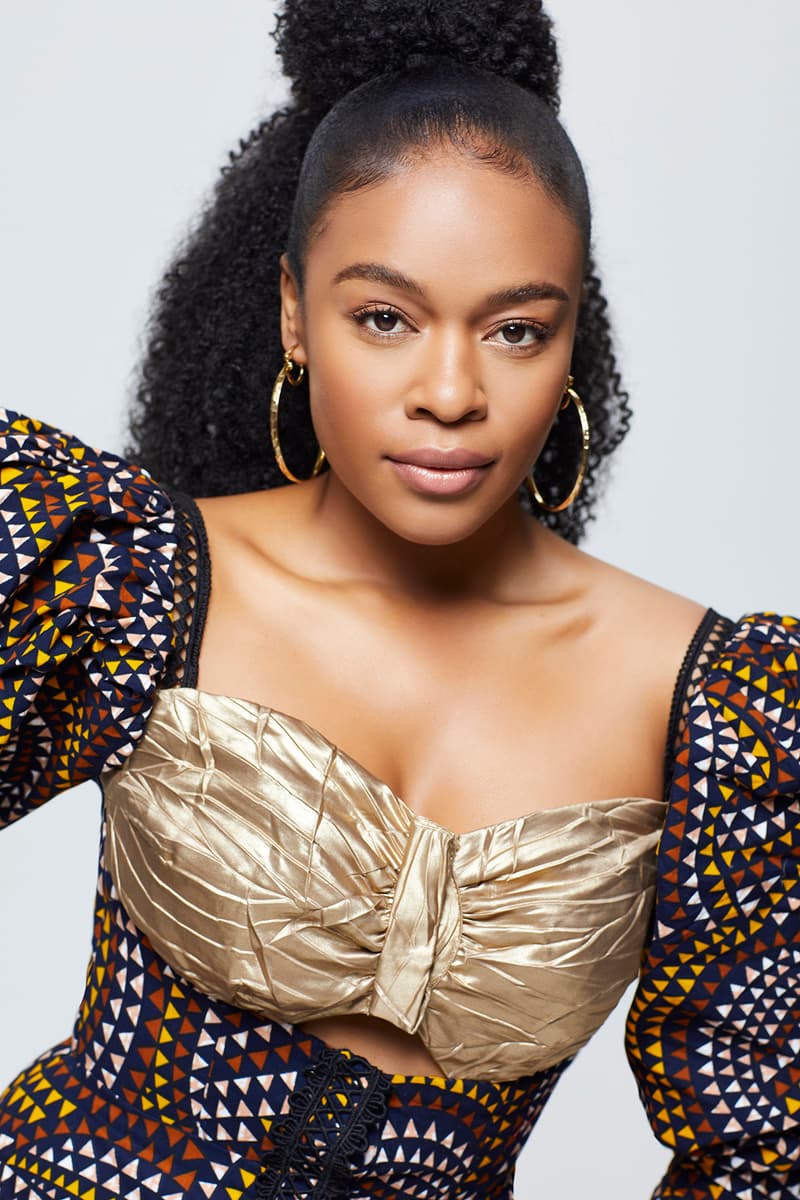 Nomzamo Mbatha Embodies True Royalty and Queendom in 'Coming 2 America'
We talk to the South African actor about the deep cultural significance of the movie.
Film & TV
Nomzamo Mbatha Embodies True Royalty and Queendom in 'Coming 2 America'
We talk to the South African actor about the deep cultural significance of the movie.
Known for her hosting gigs and roles in South African films, Nomzamo Mbatha had already been a sensation with over three million Instagram followers even prior to her international acting debut in Amazon Studios' Coming 2 America. Now, with the release of the movie in the beginning of March, the world is becoming even more well-acquainted with Mbatha's undeniable talent, charm and beauty.
Mbatha, who serves as a Goodwill Ambassador for the United Nations and became the first South African ambassadress for Neutrogena in 2015, stars as the headstrong and resilient royal groomer Mirembe — defying the odds of Zamunda's gender roles and patriarchy, the character is the only female barber in the nation. The 30-year-old KwaMashu Township native is one of South Africa's biggest stars, and this international introduction through Coming 2 America was perfect. Other newcomers featured in the film include Power actor Rotimi, singer and creative Teyana Taylor, The Old Guard's KiKi Layne and Bella Murphy, who stars as the daughter of King Akeem played by Eddie Murphy.
Read on for our interview with Mbatha, who talks about her audition and preparation for the role of Mirembe, working with the iconic Ruth E. Carter for costuming, and why Coming 2 America is so important to Black culture beyond film and entertainment.
Coming 2 America is available to stream now on Amazon Prime.
What initially made you want to make the leap from accounting to acting?
Honestly, I think I've always had a passion for the performing arts. As far back as I'm able to remember, my teachers back at school would always say, "You should be a news reader" or "You should go into television and be an actress." I just thought, "Oh my goodness, that's not gonna be enough money to be able to take care of my family." Back home, it's very hard to get any sort of financial aid or student funding for anything to do with the arts. It's easier to get scholarships to go study accounting and I got a scholarship, so I guess that's how I got to pursue that. I remember getting so discontented with my life and I knew that was not what I wanted to do. It was not until I went and auditioned to be a presenter that I was teleported into the limelight. Then suddenly, a casting director was watching the competition that I was on to become the next VJ for MTV back home.
I was later headhunted to audition for a TV role, and I remember dropping out of university to pursue that and telling my mom, "Yo, I'm dropping out of something and dropping into something," as Steve Jobs said. I remember the casting director found it strange that I wasn't even that happy that I got the role and I was like, "Well, I got a job so it's a job." Little did I know there would be a job that would catapult me into the biggest television show in South Africa, the biggest thing that would happen to South African media, and that's what Isibaya ended up being. From there, I ended up working with different brands and through all that I have achieved, I went back in the middle of all the stardom and glam to Cape Town to go and finish my degree — thanks to Drake who went back to get his high school diploma.
Tell me about the exact moment when you discovered that you got the part in Coming 2 America. Where were you, who were you with and how did you feel?
I found out on my grandmother's birthday. I was at dinner after having a long day and coming from the stadium, because there was a soccer tournament happening. I was so exhausted, I was at dinner and I was over it. It was the days where I was waiting for my agent to call me to say either I got it or I didn't. My manager called and she told me to step out, and she had my agent on the other line. They both got on and asked me if I knew what the call was about and I said, "Yeah, you probably want to lay it down easy. That's why both of you are calling me." They said, "No, you got it!"
It was a Saturday and they said, "Monday, I need you to get on a flight and come back to Los Angeles." I just remember crying because it was also my late grandmother's birthday and I was boohoo crying. It was such a surreal moment when something that you really worked hard for, really pursued and really prayed and manifested on comes true.
How did you mentally prepare for your role?
I rewatched the film a couple of times and I downloaded it onto my laptop on my way to Los Angeles. I was just picking up the nuances that I really wanted to bring into the audition room. I wanted to ground and remind myself that I am an African woman, so what are the small little things that one can be able to add to add texture to this role? I called my acting coach to go through certain scenes in terms of beats that I wanted to go through. I just remember turning to Koshie Mills — who happens to be Kofi Siriboe's mom — and she said to me, "You're there to make their day easier because they're looking for their girl. Walk into that room telling them that they don't need to look any further."
As a South African woman, how did you feel becoming part of this fictitious yet wonderfully comforting and exciting depiction of the African diaspora through Zamunda?
[It was] absolutely an honor, and I was happy that they would go for an African girl for this particular role. It would've been easy for them to go for another American girl to portray this role, but I'm glad that they went for someone who's from the continent. Obviously, there's always the big debates about how Africa is depicted, but with the Coming 2 America, I would like to think that Africa is depicted in a hyper-imaginative, royal way, as was Wakanda that depicted Africa in a royal way and in this beautiful and bold light. Obviously, there was a lot of pressure, but at the end of the day I was just excited to be a part of this because it did so much back then, and I know so many people have been wanting to see the sequel. It's been a long time coming.
As an international breakout actor, did you ever feel any self-induced pressure to perform with heavy-hitters such as Eddie Murphy and Garcelle Beauvais?
Honestly, it was a lot of pressure. I'm not even going to lie. It was a lot of pressure just because you know everybody is back to bring their A game. These are people who have worked in this industry that have changed the discourse of Black Hollywood, Black royalty and Hollywood royalty. To be able to stand on the same ground as them, occupy set and occupy a scene with them, I felt the pressure and I went through a phase of imposter syndrome. I went through a little phase where I was like, "Maybe I'm not worthy to be in this space. There are so many girls who are way more talented, way more deserving, more beautiful and who have been working for this audition and should be here. Why me?" Then that little voice will come to you and say, "Why not you? You've done an equal amount of work. You've put in the work, you put in the hours and you dedicate yourself."
It was a huge transition for me to break away from the imposter syndrome, while also realizing how big of a moment this is and how dare I not recognize it. I had to show up in a really big way. Me and Jermaine [Fowler] didn't have a lot of scenes to be able to portray the love, but I wanted to make sure that I add the meat each time that we were given an opportunity to do a scene together. You have Eddie Murphy who's going to be playing four different characters with prosthetics, and that's what people wanted to see. You have so many other people who have done so much in the industry who are really gonna sharpen your skills. Craig [Brewer] was a fantastic director. As Tracy Morgan would say, "Sharpen that tool, nephew!" Just show up! I hope that I showed up in a good way that really made people resonate with the character.
As a Black woman, what did Coming to America and its sequel mean for you, and how do they make you feel seen?
The first film was obviously good for its time and that's why it's still relevant. We still enjoy it and we watch it over and over again. It was different though because it wasn't centered around female empowerment and the power of the female voice, whereas with this one, it is very, very clear that there's a very strong woman voice that is very evident. That's what I particularly enjoy about this film. With my character Mirembe, she is a traditional woman but she's so unconventional. She's not a bather or a rose petal bearer, which is what's expected in the world of Zamunda. She goes against the grain and she's a barber.
She's sassy, charming and witty and not submissive, so there's a strength about that. Then she wants to be an entrepreneur and own her own barbershop while women in Zamunda are not allowed to. The sequel had its finger on the pulse in terms of bigger conversations that are happening right now in this world that we live in, allowing the systems that existed before to be broken. Adding the comedic flare, charm and that royal hyper-imaginative story to it is what I loved, and a lot of people loved the heart of it.
When it came to the costuming, which was beautifully done by the legendary Ruth E.Carter, how did it feel to be dressed in a physical manifestation of Black excellence and royalty through fashion?
The first time I met Ruth was for fittings and she was so sweet. She was like, "Hey love, how are you? You're tinier than I remember. Come through and let's start fitting." And I was looking at her like, "Lady, you need to stop. You are Ruth E. Carter!" I was wearing a maxi dress and I was panicking that morning, because I was thinking what one would wear if they're going to meet Ruth E. Carter. It was an honor to work with this costuming professional, visionary and historian. The flowers that laid there at her feet and continued to be thrown at her feet — there needs to be more. Give this woman all the awards and all the bells and whistles. She is it and then some.
Why is the second coming of this film so important to Black culture, and what do you think makes the overall franchise so iconic?
If you look back at how Black people were depicted on television and in cinema in the '80s, it was completely different. Nobody imagined a royal family. No one imagined a Black prince, okay? That's what the original Coming to America did. It gave the royal flare and it gave Black people agency to show up in a grand way. It's a glimpse into how we would be living. When you look at that and then all the Halloween costumes for the past 30 plus years, without fail they will include a Semmi and an Akeem.
That tells you how important that film was in that everybody wanted to look, be and feel in that grand, big, beautiful way compared to how Black people were portrayed in film and media at the time. In this day and age, it continues that conversation. We want more fairytales and funny rom-coms from Black people. We wanted to be part of mainstream commercial films, and we just smashed streaming numbers. It goes to show the impact of how this film makes people feel.
---
D'Shonda Brown is a freelance culture journalist, public speaker and mental health advocate based in Brooklyn, New York with a passion for mental health, social justice and uplifting the Black community through her writing. As a mental health advocate and suicide attempt survivor, in 2019, D'Shonda became Mental Health First Aid Certified for adults and children, and graduated from the Advocacy Ambassador Program by National Alliance on Mental Illness. D'Shonda is a proud Spelman College graduate and has interviewed notable names from Angela Rye and Soledad O'Brien to Chloe x Halle and Justine Skye.
Share this article