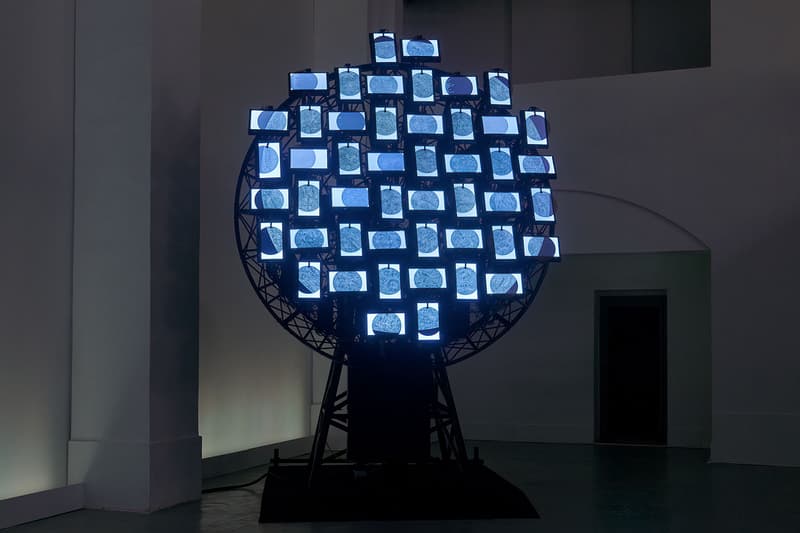 1 of 3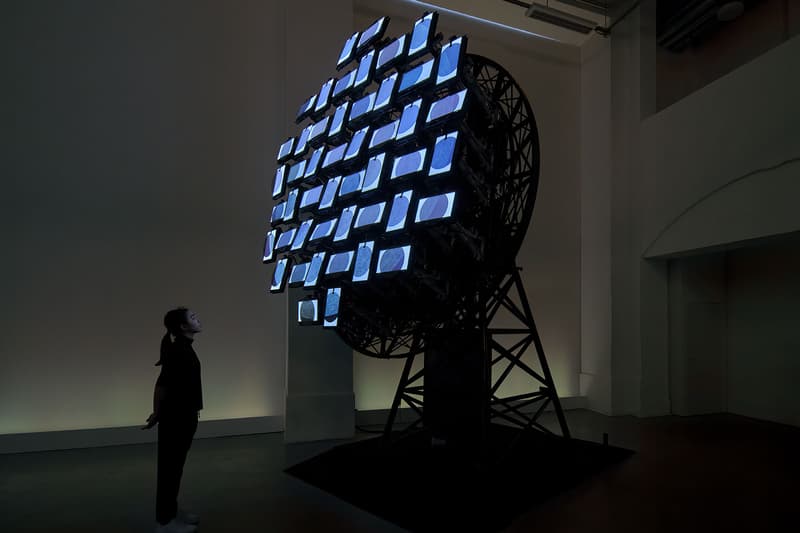 2 of 3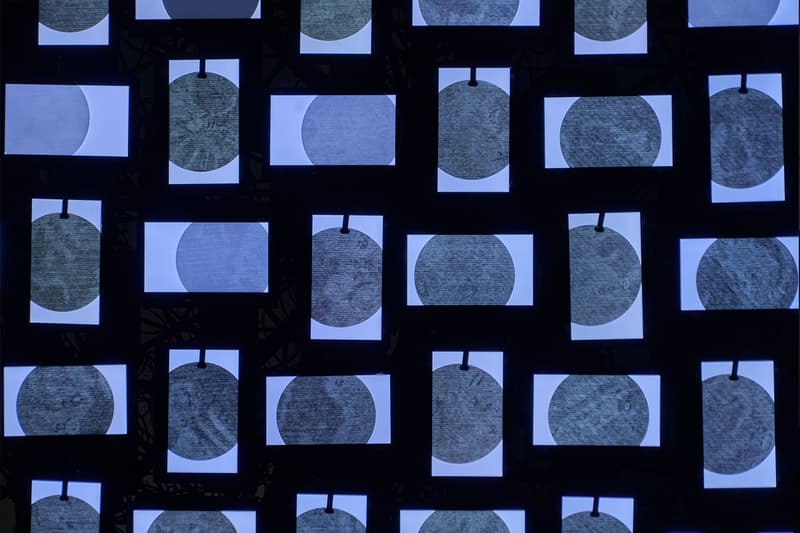 3 of 3
Art
Art Meets Science in Phoebe Hui's New Installation, 'The Moon is Leaving Us'
The Audemars Piguet-commissioned artist talks to us about her robot-driven work inspired by the moon.
Art Meets Science in Phoebe Hui's New Installation, 'The Moon is Leaving Us'
The Audemars Piguet-commissioned artist talks to us about her robot-driven work inspired by the moon.
Every year, Swiss luxury watch brand Audemars Piguet selects a rising artist to commission under its Contemporary division. For the fifth installment of its project, the house has chosen Hong Kong-based curator Ying Kwok and artist Phoebe Hui for an installation display at the heart of the city. Titled The Moon is Leaving Us, Hui's work bridges art with science, using a mechanical kinetic robot to draw unique renditions of the moon. We caught up with the creative to talk about the inspirations and development process behind the technical yet surreal piece of art created in partnership with Kwok.
"It all started when I visited Audemars Piguet's headquarters in Le Brassus," Hui explains, adding that she started becoming interested in the moon while she was in Switzerland. Combining her passions for creativity and new media technologies, the artist built Selena, a draw-bot that she says has its own personality. Instead of hand-drawing images of the moon herself, the artist used Selena to illustrate the celestial body in its diverse forms and states.
Read our interview with Hui below to learn more about her new installation. The Moon is Leaving Us is on display at the Duplex Studio in Tai Kwun Center for Heritage and Arts until May 23.
The Moon is Leaving Us
LG2 Duplex Studio, Tai Kwun Center for Heritage and Arts
10 Hollywood Rd
Central, Hong Kong

Tell us about yourself — how did you start your career in art and how has the past year been for you as an artist?
I have always been fascinated by [the act of] making and take particular pleasure in tinkering objects around me — opening them up and rearranging them in unexpected ways. My transition to becoming an artist started after I finished my studies back in 2008. I did my BA in Creative Media from the City University of Hong Kong, then pursued my MA in Fine Art at Central Saint Martins, and my MFA from UCLA Design Media Art.
The transition from finishing my studies to a day job made me realize that being creative was a necessity for me. I felt that there was something missing and I was less of my true self when I wasn't creating art. I was trained in both traditional and new media, and naturally started playing around with new media technologies. This project has given me the opportunity to bring these two components together on a new level.
This past year has been very difficult for me due to COVID-19, and like many people around the world, I faced unforeseen challenges. My research process and artwork production had to be adapted. I personally believe that making art, in general, requires the flexibility and openness to execute new concepts and ideas. It did allow me more time to reflect on my own practice. The pandemic allowed me to explore other exciting ways to my practice and brought new elements to it. It is a very rewarding experience.
Can you tell us about when and how you came up with the idea of developing art focused on the moon?
It all started when I visited Audemars Piguet's headquarters in Le Brassus. During my stay, I was invited for dinner at a family-run restaurant located in some snowy mountains nearby. We took a short walk through the snow and the experience was breathtaking, as there is usually quite some distance to nature in Hong Kong, where I grew up. I enjoyed the soundscape of the tranquil forest and was fascinated by the moonlight. One of the Audemars Piguet Contemporary curators told me that many people gather outside when the full moon's shimmering light illuminates the snowy mountains. I then began to conduct some early research about the moon and realized that it is actually leaving us at a speed of 3.78 cm per year — the same speed it takes for our fingernails to grow. Even if it won't have a large impact during our lifetime, that still matters to me. I also realized my understanding of our natural satellite is quite limited, and it led me to develop a project that responded to it.
How does The Moon is Leaving Us differ from your previous works? Which aspects did you pay attention to the most in developing this installation?
I used to draw comics and illustrations for local newspapers and magazines before I entered university. Although I occasionally produced experimental comics during my college years, I basically stopped drawing for a while. My interest in drawing never ceased, but I needed to find a drawing method that would not simply repeat all-too-familiar styles.
Searching for something new, I turned to computer programming. I saw generative algorithms as a source of ideas and styles beyond those that I had been previously exposed to. I would then execute those computer drawings using a draw-bot that I had designed and built myself. I still enjoy playing with the material properties of ink, color and paper, as well as the unexpected moments of drawing. All of these elements of traditional painting remain present for me in my new art practice. The computer often surprises me with results I could not have predicted, and the robot seems to have a personality of its own.
I am particularly interested in how technology relates to our life in modern times in terms of how we observe with our eyes or with an instrument, and how we record our observations. Technology is like the air we breathe nowadays. Like many contemporary artists who will introduce everyday materials as expanded media for their artwork, I am interested in expanding the traditional artistic media and bringing in technology as a new material within my own artistic expression.
What was the collaboration process like as you worked on the piece with curator Ying Kwok, and with support from Audemars Piguet Contemporary?
I could not have embarked on such an ambitious journey without Ying Kwok, who has brought me invaluable advice throughout this process. I've known about Ying's work and reputation for years. She is an extremely influential figure in Hong Kong's art scene and I was honored to work with her. She has encouraged me to explore areas beyond my comfort zone and I am immensely grateful to her.
The Audemars Piguet Contemporary team has also played a major role in the development of this project. For starters, I appreciate the fact that they give complete freedom to their artists to create something that aligns with their current practice and vision. While I had total freedom in creation, the Audemars Piguet Contemporary team was very hands-on in ways that substantially benefited the project. For instance, they introduced me to scientists, engineers and a former astronaut for idea exchanges. Their insights have been invaluable in the development of the artwork and I have no doubt that their help will have a long-lasting impact on my career.
I also want to take this opportunity to thank my Hong Kong studio team. I used to work independently and their generous sharing of knowledge and insights have also been very significant in the making of the project and bringing it together during this unprecedented time.
From your conversations with experts during the development process, what are some key points that have stuck with you?
Primarily their sheer knowledge and experience. The conversations with experts provided me with a source of fresh creative direction for this project. An astronaut showed me a video he had made about the moon seen from space. These awe-inspiring images — so remote from anything I had previously imagined — showed me how limited a person's ordinary experience is. Space travel for me represents the necessity of abandoning the every day and seeking out new ways of understanding reality, alternative perspectives from which to look at the world. The more I thought about how limited our ordinary horizons are, the more I realized that reality is not a constant but a variable. Without this insight, I could never have made this work.
What kind of similarities do you believe art and science share?
I am greatly inspired by both art and science and I find that they are intertwined, whether we like it or not. For example, both artists and scientists use visual media in their work. Scientists use various tools like telescopes to observe phenomena beyond our limited human point of view. These technological devices often generate innovative images that have both scientific and aesthetic value. In producing images, scientists need to think about what information to include and what to leave out. In a way, they are like artists who have to understand the importance of visual literacy.
What are you looking forward to the most for the display at Tai Kwun?
The Moon is Leaving Us has many different layers and can be interpreted in many different ways. I am looking forward to hearing how the public will experience the work. This in itself is fascinating to me. One of the positives that have come out of this year is that there is a real emphasis on the digital realm. I can't wait for people from all over the world to experience the work remotely, through a virtual exhibition tour and digital curator walk-throughs.
What are some other topics you are looking to explore in your future works?
The research element for any project is all-encompassing for me and many ideas come from it and form the basis for future works. I have been lucky enough to spend a decent amount of time preparing for The Moon is Leaving Us and have many new concepts up my sleeve as a result. I want to keep these under wraps for now and will hopefully be able to share them with an audience soon. One thing I have been very engaged in with the production of this project is playing with machine learning. I have learned some new skills and really want to further develop the new ideas I stirred up during the process of developing The Moon is Leaving Us.
Share this article